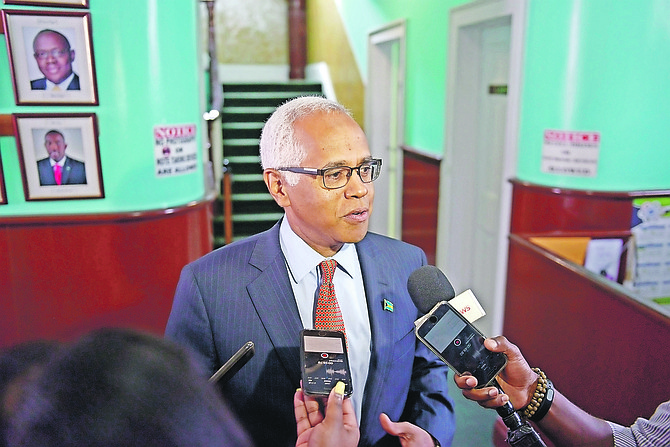 By MORGAN ADDERLEY
Tribune Staff Reporter
madderley@tribunemedia.net 
AFTER Bahamasair experienced a "nightmare" weekend of protracted flight delays due to a plane needing mechanical work during a busy weekend, Tourism Minister Dionisio D'Aguilar said as the slow season approaches, the state-owned airline should be able to meet demand even with a plane out of service.
He also apologised to the public for the recent chaos. 
On August 18, one of the airlines' eight jets was grounded. Some customers reported waiting more than 16 hours before their scheduled flight took off.
Bahamasair released a statement saying: "Over the past few days, we experienced flight delays due to required maintenance on one of our jets from our operation's rotation." The government-owned airline apologised for any inconvenience caused.
When asked how these delays have affected the aviation industry, Mr D'Aguilar told reporters at a press conference yesterday: "Bahamasair is exceptionally helpful to our tourism product. The problem with Bahamasair is that we only have eight planes.
"So when one plane goes down, it cripples us. And that's what's happened. The first two weekends ago when there was lots of drama, we lost a Boeing 737 on a Saturday in August, on a busy weekend. All the planes were full.
"So when that plane went down, we couldn't shift it to other carriers nor could we lease any planes on a very short-term notice. Because you know as you're fixing the plane, you're thinking 'okay it may take one hour, two hours.' But it ended up taking 36 hours to fix that plane."
Mr D'Aguilar said the solution was to use smaller planes to transport passengers. However, this contributed to the delays. 
"And so we had to go to plan B which is to use the ATRs to bring people back," the tourism minister continued. "An ATR is either 42 seats or 70 seats. A Boeing 737 is 120 seats. And if they're all travelling full, it causes enormous delays. 
"So we fix that plane. Now we have another one down. So, you know Bahamasair has the most impeccable safety record of any airline in the Caribbean. And sometimes it leads to 'let's err on the side of safety,' and that plane is now going to be out of service I think for the next month while we address some issues with that plane. 
"And it's unfortunate but it creates delays. Because we just don't have additional aircraft, redundant aircraft that we can pull into service. But I've instructed them to ensure — we're going into a slower period anyhow, September, October. So we think we can manage without that jet." 
Describing the situation as a "nightmare," Mr D'Aguilar said: "So I apologise to the Bahamian people for that, but it's the nature of the beast."
On August 19, Bahamasair Chairman Tommy Turnquest said the airline is susceptible to these kinds of problems because of its small fleet and demand for its services.
He noted a jet that flew to Fort Lauderdale on August 18 suffered a malfunction. 
That weekend, a video of angry Bahamasair customers in the Ft Lauderdale airport went viral. After they were told their flight would be delayed until 3.30am, the group became vocal, shouting at the customer service representatives: "You got to be joking," "this is stupid," "y'all do something man" and "I am not staying here." 
"Are we happy at what happened at the airport in Fort Lauderdale with all the persons carrying on? No, we're not," Mr Turnquest had said previously. 
"Everyone wants to travel on Bahamasair not only because of our safety record but also because it doesn't have a high volatility of ticket prices. The minute something goes wrong, it throws off the whole system." 
Mr Turnquest said Bahamasair will acquire a new 737-plane for December. 
"Hopefully that will give us some reliability for the upcoming Christmas season and also to mean we may have to also not make the schedules as tight as we make them," he said.