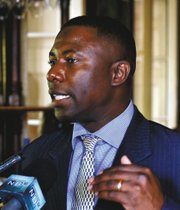 By NATARIO McKENZIE
Tribune Business Reporter
A Cabinet Minister yesterday said he intends to "push" for Bahamian involvement in designing, constructing and managing Nassau's cruise port, while revealing that the Government is exploring the possibility of a port in Mayaguana.
Renward Wells, the transport and local government minister, told the Bahamas Engineers, Architects & Allied Professionals (BEAAP) stakeholder forum: "Government intends to upgrade the Prince George Wharf and Potters Cay Dock. One of the things that is going to be pushed by me is the involvement of Bahamians in the design, management and construction of that cruise port."
The deadline for bids to take over the Nassau cruise port's management is today, and Mr Wells confirmed that a small number of Bahamian groups are also vying to take over operations at the Government's newly-constructed Abaco commercial port.
"It's an excellent opportunity for engineers as well, and those interested in expanding their horizon," he said. "The Government is looking for a group to manage the port, but we want individuals who will bring the requisite experience because we don't just want to offload it to anyone but someone who can operate a word-class shipping port."
Mr Wells said the Government was exploring similar port development opportunities in the southern Bahamas, particularly Mayaguana - suggesting this could offer similar benefits to the Panama Canal.
"The canal allows shippers of commercial goods to save time and money with a shorter route. That opportunity is now also available to us in The Bahamas. Should the Government approve this port in Mayaguana it is going to be to the tune of billions of dollars," the Minister said.
Mr Wells also spoke to the quality of The Bahamas' ship registry. "The Bahamas has one of the largest and highest-quality shipping registries in the world, logging a total of some 1,680 ships registered under The Bahamas flag. The registry is only one part of a diverse Bahamas maritime offering," he added.
Having recently been to Japan for the opening of this nation's newest maritime office, Mr Wells said there was a "substantial amount" of interest from ship owners in that country. "We are looking to capitalise on that over the coming months," he added. "The Bahamas Maritime Authority contributes some $6m to our consolidated fund and my goal is to at least double that."
More like this story