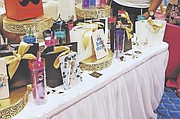 By ALESHA CADET
Tribune Features Reporter
acadet@tribunemedia.net
ALL over the world, there has been a rise of millennial entrepreneurship as young men and women are starting more companies and holding managerial positions.
The Bahamas is no different, as with the help of social media, new business ventures are popping up all over the place. Let's take 26-year-old Angelique Curry for instance. She attends festivals and shopping events like The Little Pink Party to showcase her personalised gift boxes and bags under her very own brand called Tingsy.
"I am a wife, daughter and teacher who's creative, determined and ambitious. I am passionate about life, family and friends. I also have a serious love for nice things. I tingsy bad," said Angelique.
When speaking of her products, Angelique said her gift bags can be seen at weddings, kids' birthday parties and corporate retreats, as there isn't much ground party-wise that Tingsy cannot cover.
"Surprisingly, most people that come to spend their money never say the products are too expensive or try to bargain with the prices. They usually say my products are really nice and they wish they brought more money, which I guess is a really good sign," she said.
Following all the positive feedback, Angelique is now looking to expand her on her product lineup.
"We are currently working towards being able to provide luxury stationery and gift boxes for all sorts of events," she said.
Angelique said her story as an entrepreneur began on Valentine's Day of this year when she had received a gift basket from her husband Rico Johnson. While she thought the basket's presentation was very nice – it included a teddy bear, chocolates, a picture frame and a mug – the price tag shocked her.
"I couldn't believe that he would spend so much on a gift basket. And it was then and there I knew that I wanted to create gift bags and boxes of quality, something that you know you would not mind spending your money on, something that would give you a bang for your buck. In addition to that, my husband and I were talking a few months later about creating quality gift bags and boxes, bringing something new instead of the same run of the mill gift baskets that you see every holiday season," she said.
Today, Angelique said she is happy to have the support of her husband and mother, Antona Curry, as she builds her own brand of gift accessories.
For the young entrepreneur, the goal is to take Tingsy to a point where she attracts an international clientele.
"When persons come to the Bahamas to host events I want them to think of Tingsy first. There is one quote by Oprah Winfrey that I live by, it states 'Create the highest, grandest vision possible for your life, because you become what you believe.' And that's exactly what I'm doing," she said.