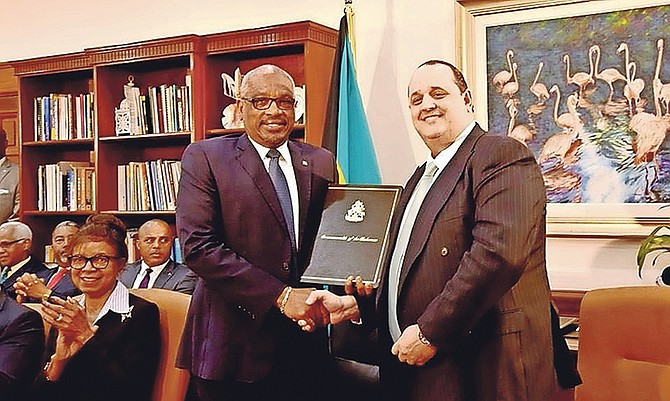 By RASHAD ROLLE
Tribune Staff Reporter
rrolle@tribunemedia.net
THE multi-billion dollar Oban Energies project for East Grand Bahama has passed the government's due diligence assessments, Prime Minister Dr Hubert Minnis and officials of the oil refinery and storage company said yesterday.
A heads of agreement between the government and the developers was signed at the Office of the Prime Minister, though the agreement will not be disclosed to the public until it is tabled in the House of Assembly tomorrow.
Asked what criteria the company was required to satisfy prior to the negotiation of the heads of agreement, Dr Minnis did not provide much details but said the Bahamas Investment Authority (BIA) performed its due diligence work.
"(The BIA) would've done financial assessments to ensure funding is there and that (Oban) can complete the project," he said. "We would insist the environmental impact assessment and environmental management plan are done to ensure complete safety of each and every Bahamian as well as the environment."
Critics have questioned whether the project can produce 600 jobs when completed, as touted by officials. Buckeye Partners, an oil storage facility in Grand Bahama with greater storage capacity than what Oban Energies plans to create, employs fewer than 200 people, by contrast.
"I read in the paper this morning," Dr Minnis said, "some concern about the number of jobs. If you listen very carefully, the oil or storage facilities in Grand Bahama now, Buckeye, are mainly concerned with storage. You'll notice this (project) is both storage and refining and hence the increase in jobs."
Likewise, Peter Krieger, executive director of the company, said the Oban Energies project is more ambitious than what is currently offered by companies like Buckeye Partners and Statoil.
"The refinery is a major asset that differentiates us from either Buckeye or the Statoil facility," Mr Krieger said. "This allows us to process crude oil and refine them. It opens up a market much larger than just storage and the storage support needed for the refinery is quite significant so it allows us to have a much more diversified group of customers that we will be serving and it allows us to offer a lot more different products to those customers."
Mr Krieger said it is hoped that construction on the $4.5 billion project will begin by the end of the year, within 30 days after building permits are given.
The Progressive Liberal Party has questioned whether Oban Energies has adequate funding to execute the project. The former Ingraham administration is said to have been concerned about this when a proposal for the project was before that administration.
Mr Krieger, however, said millions have already been spent to assure stakeholders the project is viable.
"We have all of our financing in place," he said. "We've already spent a significant amount of money, many millions of dollars in preconstruction to this stage. We've done our geo-technical work, our engineering work, our environmental survey, marine engineering work, we've already made a significant investment. However, in order to move forward with the banks, we need to deliver certain deliverables such as our approvals from the government, our permits and everything. Once we have delivered all that and there is a project to actually fund, at that point we will start drawing down on the money from the bank. All of that is there and waiting for us. We just have to go through the normal process that every financial institution would require you to go through before they allow you to access those funds."
Mr Krieger also dismissed criticism that the environmental impact assessment for the project should have been completed and available for public assessment by now, given the company has been seeking the approval of the Bahamas government for some years now across several administrations.
Noting he hopes the EIA will be completed in 45 days, he said: "We're actually ahead of the curve on that I would say. Typically, the environmental study, engineering and other preconstruction works would begin after you have your approval so that you know there is a project. Because our conversations with government have been so positive, we decided to take the first step forward by engaging with the engineers. We probably have about two dozen local vendors currently working on the job for the preconstruction. We wanted to be proactive and get ahead of the curve."
Mr Krieger also revealed that as part of the project, housing will be provided for up to 200 local residents post-construction.
"The housing programme won't just house workers during the construction phase," he said. He added that 80 per cent of jobs in the company will be preserved for Bahamians, and numerous training opportunities will be available as well.
The housing community will be "between ten and 20 miles away from the facility," he said.
Oban Energies will develop its project in phases, with the first stage to feature construction of four million barrels of crude storage; a harbour; and deep-sea loading dock to service large vessels. A 50,000 barrel per day refinery will also be built. The group, which says it has more than 30 years' experience in constructing large energy-related infrastructure projects, will build a 20 million barrel liquid bulk storage facility and a 250,000 barrel per day refinery.
East Grand Bahama MP and Minister of Finance Peter Turnquest has said the project will be a game-changer for his island.