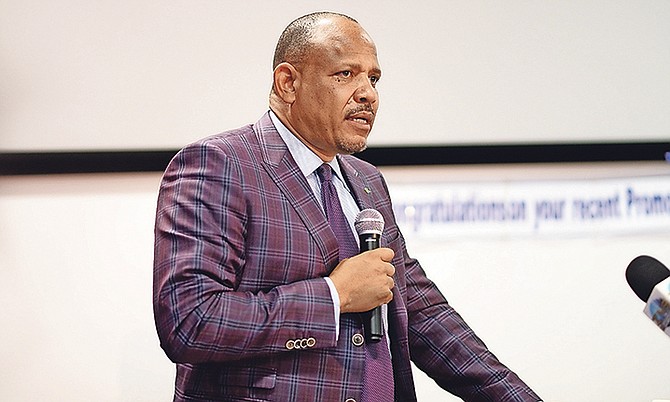 Reader poll
189 total votes.
By RASHAD ROLLE
Tribune Staff Reporter
rrolle@tribunemedia.net
HEALTH officials will recommend to Cabinet that a sin tax be imposed to pay for National Health Insurance, possibly impacting the cost of items like alcohol, tobacco, lard and substances containing high-fructose corn syrup, Health Minister Dr Duane Sands said yesterday.
He stressed Cabinet has not agreed to this position yet and he reiterated his long-held view that NHI cannot succeed unless Bahamians make sacrifices to support it.
"Certainly from (the Ministry of) Health, we feel so strongly about this that we are going to make the case that some of these things that are harming the lives and the health of Bahamians ought to at least be used to contribute to addressing the damage that is being created," he said.
"So, high-fructose corn syrup, grease, call it fat, lard whatever, shouldn't be cheap and other items, alcohol, cigarettes, which have contributed in a mighty way to the illnesses and injuries of Bahamians, they should not get a free pass."
In the early days of NHI's conception, when the former Christie administration relied on the advice of consultants Sanigest Internacional, a sin tax was among the proposals identified as a way to fund NHI. Sanigest suggested in a report that a payroll tax ranging from one per cent to five per cent could be imposed; it identified a sin tax on alcohol and tobacco as another option; and it said a tax on auto insurance premiums could be another possibility. Ultimately, the Christie administration insisted no new tax would be imposed, at least in the early stages of the programme, arguing to do otherwise would undermine the purpose of NHI. 
Nonetheless, Dr Sands revealed yesterday that health officials will also recommend a way to make the National Drug Prescription Plan sustainable. The plan was established in 2009 to improve access to prescription drugs and medical supplies in public and private pharmacies for chronic disease patients.
Dr Sands said: "While we have not had a Cabinet conclusion, we've had discussions that suggest there needs to be a sustainable funding mechanism which could include sin taxes (on) alcohol, tobacco, fat or grease, as well as the possibility of a contribution not only towards NHI, but also towards the continued sustained approach to the National Prescription Drug Plan. As you know the National Prescription Drug Plan had been funded through the medical arm of the (National Insurance Board). And although it has been phenomenally successful, there was no long-term funding strategy and that point would've been raised a number of times by the previous minister responsible for NIB, Shane Gibson."
Last year, Dr Sands said the NHI Authority (NHIA) and other stakeholders would relaunch NHI by the end of 2017. In so doing, he said they would answer critical questions like how the scheme will be funded and what model will be implemented. Yesterday he expressed some disappointment that NHI has not progressed as quickly as he would have liked.
He said: "I would like it to happen as quickly as possible but it has been a stepwise approach to dealing with this."
The legal concerns the NHIA board has about the substantial work it met in place has also not been completely addressed, Dr Sands admitted. 
"They are operating with the assurance as (previously) mentioned of the general position of the Attorney General's Office," he said. He was referring to the Office of the Attorney General's legal opinion that the NHI programme cannot be reformed unless the contractual arrangements board members met in place are directly addressed. The NHI Secretariat, established by the Christie administration, executed contracts with NHI providers before the NHIA board was appointed and before various parts of the NHIA Act had come into force. Although observers in the insurance industry said this means the NHI Secretariat's actions were unlawful and should not be ratified, the Office of the Attorney General has taken another view. The NHIA board, however, has yet to receive the written report containing that legal advice, and the board appears unwilling to make certain key decisions without it.
"Not making any apologies for the Attorney General's Office, but they have not been able to give us the final position within the timeline that we had hoped," Dr Sands said yesterday. "They're obviously dealing with other matters that their office might feel is slightly more of a priority. I speak of the immigration matters and others that have consumed a lot of resources of the AG's Office. And we're not entirely overwhelmed with that reality but we got to push on."
Nonetheless, Dr Sands noted the NHIA board recently announced the appointment of a managing director for the authority, Graham Whitmarsh, and has done "a tremendous amount of work to…put together the rudiments of a working plan."
"I'm also disappointed," he said, "and I'd like to be further along, but I can assure there has been a tremendous amount of effort being made by the appointed board."
More like this story