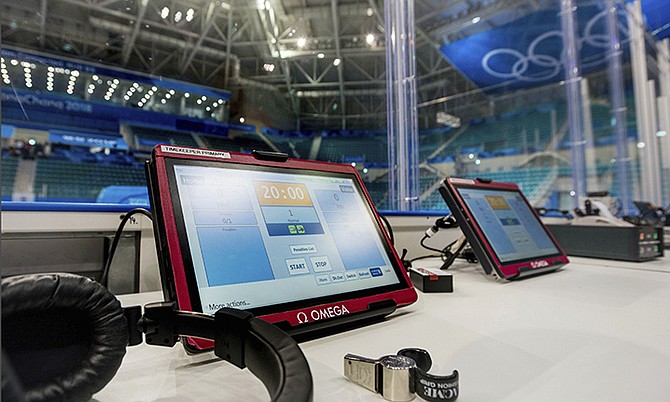 By STEPHEN WHYNO, 
AP Hockey Writer
GANGNEUNG, South Korea (AP) — Finland players looked at the numbers and laughed.
They couldn't believe captain Lasse Kukkonen only had five sprints in a game and Petri Kontiola had a whopping 46.
Even better: They don't even know what qualifies as a sprint.
"We were looking at the stats and average speeds and making fun of some guys," forward Oskar Osala said. "How can you have 46 sprints in a game? It sounds like a ridiculous amount of sprints."
At these Olympics, data on speed, acceleration, stopping, distance traveled, shift lengths and ice time is available to teams in what could be the next step for puck and player tracking across hockey, including the NHL. Referees even have whistles digitally connected to the clock so it stops immediately without the need for a timekeeper's quick reaction that will always be a step slow.
Yeah, this feels like hockey's future. The NHL has worked with technology companies and invested significant money to develop a system it can use. The Olympic men's and women's hockey tournaments are a valuable testing field that could speed up the process of getting it ready for use like it is in the NBA, Major League Baseball, Formula One and other sports.
"We're still searching for the right thing, but technology is developing so fast," International Ice Hockey Federation general secretary Horst Lichtner said. "We are still all looking for the right solution. Maybe it's two years. It'll be fast."
Lichtner and Alain Zobrist, CEO of Omega Timing, which is doing the tracking in hockey and ski jumping thanks to a deal with the International Olympic Committee, said their organisations have been in contact with the NHL about the technology.
The system includes microchips in the back of jerseys that can be tracked and cameras high above the ice at the Gangneung and Kwandong hockey arenas track the movement of the puck.
It's not quite Fox's famous "glow puck" from the 1990s, but it's similar to the testing the NHL did at 2015 All-Star weekend and the 2016 World Cup of Hockey. Omega gave the same combination of technology a run-through at the 2016 Youth Winter Olympics in Norway, and it was successful enough to try it with pros.
At the Olympics, a player's speed is sometimes flashed up on arena video boards and all the data is sent to teams. Unlike the NHL, iPads and other electronic devices aren't allowed on benches in international play, but if and when they are, the data could be available in real time for coaches and players to evaluate.
"We're able to measure the data, process it and distribute in less than 100 milliseconds," Zobrist said. "It might be a great tool for them to help their coaching."
Player performance tracking is a touchy subject off the ice. Players have expressed concern that data on speed, distance traveled, shot velocity and other things could be used against them in coaching decisions and contract negotiations.
"It's just all cons," said former NHL defenseman James Wisniewski, who's playing for the United States. "There's nothing pros for a player for that at all. It's not like you're going to make more money, get a longer-term deal because you travel more distance or you don't travel. All this is going to do is hurt you. Being a (NHL Players' Association) rep for eight, nine years, I really have a hard time believing that the PA's going to even let that go through. It's all negative."
Osala enjoys real-time data he gets as a golf fan and considers it a useful tool for athletes.
"I kind of understand how the pros approach their game and I think it's pretty cool how you can develop your game after you made a deep analysis of your performance in a long span," said Osala, who played three NHL games with the Washington Capitals and Carolina Hurricanes. "For me as a fan, it makes the game so much more interesting. Absolutely as a fan I would love to have the data in hockey."
It would be fascinating to see how fast Connor McDavid skates, how quickly Vladimir Tarasenko releases the puck or how hard Zdeno Chara shoots from the point on the power play. But there are questions about how practical that information is. Lichtner called Formula One's programme the "ultimate data experience" because fans know everything, including the G-force on a driver, but said he doesn't think that's important in hockey.