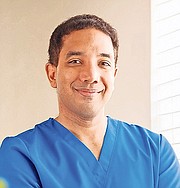 By DR GREGGORY PINTO
As a urologist I have treated thousands of men and women with kidney stones, particularly as a postgraduate fellow with world-leading kidney stone surgeon Professor Andreas Gross, in Hamburg, Germany.
I have seen macho men cry like babies from the pain of kidney stones.
An interesting study conducted in London sought to assess whether women who had a natural child birth experienced more pain passing kidney stones or having babies.
Nineteen women participated in this survey. Surprisingly, 14 out of the 19 stated that having kidney stones was more painful than giving birth.
These results were published in the scientific Journal of Pain Research.
About one in 11 persons will experience a kidney stone in his or her lifetime.
Persons may experience unbearable pain in either side of their flank/back, underneath their lowest ribs, with the pain often moving towards their groin. Blood in the urine is common as are repeated urinary tract infections.
Kidney stones often result from poor fluid intake and high salt and red meat consumption, and rarely from inherited disorders.
Another recent fascinating study found that riding a roller coaster could help in passing a kidney stone.
This study was conducted using the Big Thunder Mountain Railroad ride at Florida's Walt Disney World, and was conducted by a Michigan State University Urology Professor.
The Journal of the American Osteopathic Association published the results that riding the rear carriages of this roller coaster led to a 64 per cent chance of kidney stones moving.
Although you may find these facts interesting and amusing, when suffering from a kidney stone, seek the help of a urologist. World-class, minimally invasive kidney stone procedures are available in the Bahamas.
Urology Care Bahamas at the Centreville Medical Centre is a wise choice for the most advanced treatment of kidney stones. Don't wait to experience pain worse than child birth!
• Dr Greggory Pinto is a Bahamian urologist who has trained in South Africa, Germany and France. He is a member of the European Association of Urologists. Dr Pinto can be reached at Urology Care Bahamas at the Surgical Suite, Centreville Medical Centre, Collins Avenue and Sixth Terrace. Call 326-1929, e-mail welcome@urologycarebahamas.com, or visit urologycarebahamas.com