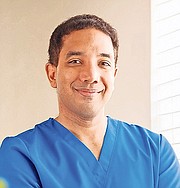 By Dr Greggory Pinto
Q: I am a 56-year-old male with hypertension and, for the past three years, I have woken up at least six to seven times a night with the urge to urinate. I also suffer from weak urine stream and dribbling. My wife also wakes up many times to pass water and, between each of us waking the other up, we feel exhausted every morning. The lack of sleep is adversely affecting every part of our lives.
A: Dear Sir, I sympathise with your urinary complaints and your dear wife's unfortunate predicament, and I commend you for discussing a difficult subject and for seeking help.
Firstly, you and your wife are far from alone. One in four adults, men and women, suffers from some form of bladder problem.
We all know the drill. You wake up with the urge to urinate right after you fall asleep. You make it to the bathroom and often wake up your partner/spouse and then pass urine and walk back to bed. You finally fall asleep and then wake up yet again to pass urine. The cycle repeats itself and you wake up more tired than when you went to bed.
This condition is called nocturia, which is frequent nighttime urination, a very common condition in both men and women of all ages.
Nocturia is defined as two or more episodes of nighttime urination. It can be multifactorial and worsened by certain medications, such as diuretics as well as high fluid intake before bed.
Enlarged prostates, overactive bladder, interstitial cystitis and urinary tract infections are also common nocturia causes.
As we get older, the frequency of nocturia increases. Up to 50 per cent of elderly persons have the complaint. About one in six persons above age 30 wakes up two or more times to urinate.
The impact on the quality of life can be profound. Spouses/partners, and even entire households, can be deprived of sleep due to family members' nocturia and frequent waking up to pee. Worldwide, nocturia is the number one cause of sleep disturbance. The Bahamas is no exception.
Unfortunately, nocturia can lead to depression, low self-esteem, poor work productivity and a reduced quality of life.
Researchers in Australia found that men and women with nocturia are at higher risk of developing serious health issues, such as congestive heart disease and diabetes.
In middle-aged men throughout the world, benign prostate hyperplasia (BPH) is frequently the cause.
An enlarged prostate, as seen in as many as half of men over 55, can lead to obstructing and irritative urinary symptoms:
Nocturia

Poor urinary stream

Daytime urinary frequency

Urinary incontinence/bladder leak

Recurrent urinary tract infections

Bladder discomfort

Incomplete bladder emptying

Decreased quality of life
Solutions - What can be done?
The first step is seeking confidential and state-of-the-art investigations and management.
The very common enlarged prostate may be initially treated with medications.
Newer advanced treatments include both Holmium or Thulium laser prostate vaporisation enucleation, that is a minimally invasive endoscopic procedure.
Overactive bladder and urge, urination incontinence/ bladder leak may be treated with advanced modern management such as FDA (2011) approved Botox bladder instillations that can provide significant reduction in urinary symptoms.
Also FDA (2011) approved advanced Neuromodulation - painless outpatient stimulation of the nerve behind the ankle - effectively reduces both nocturia and daytime urinary urgency and frequency as well as bladder leak due to overactive bladder.
Don't be embarrassed to talk. Seek confidential treatment from a urologist.
Advanced minimally invasive procedures, such as Botox bladder instillations and pain-free Neuromodulation and laser prostate enucleation vaporisation, are now available in the Bahamas
Finally get a good night's sleep and let your spouse do the same. Bring calm to your bladder and your life.
• Dr Greggory Pinto is a Bahamian urologist who has trained in South Africa, Germany and France. He is a member of the European Association of Urologists. Dr Pinto can be reached at Urology Care Bahamas at the Surgical Suite, Centreville Medical Centre, Collins Avenue and Sixth Terrace. Call 326-1929, e-mail welcome@urologycarebahamas.com, or visit urologycarebahamas.com