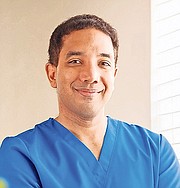 By Dr Greggory Pinto
The UroLift System, the FDA-approved, minimally invasive outpatient procedure to treat non-cancerous benign prostate hyperplasia, also called prostate enlargement, is readily available locally at Urology Care Bahamas.
The prostate is a walnut-sized organ situated underneath the bladder and it plays a role in aiding sperm in fertilizing the ovum.
Some 50 to 70 percent of men worldwide in their 50s and 60s are afflicted with urinary symptoms associated with non-cancerous enlargement of their prostates – benign prostate hyperplasia (BPH). It is estimated that 90 percent of men over 70 years old suffer from BPH.
The urinary symptoms include a poor urinary stream with often incomplete bladder emptying; increased urinary urgency and frequency, and sometimes urinary leak/incontinence.
Many Bahamian men suffer needlessly with a significantly reduced quality of life, whereby the overwhelming urinary symptoms dictate their everyday routine, and often sadly profoundly negatively affect their happiness and professional, social and sexual lives.
Nocturia, nighttime urination, related to BPH, has thousands of Bahamian men feeling more fatigued when they wake up then when they went to bed, often waking up four or five times in the night to urinate.
Spouses and partners are far too often also awoken by their man needing to rush to urinate throughout the night.
Bahamian men in many instances are sleep deprived, which can negatively affect their health and their relationship.
UroLift was FDA approved in 2013 and is widely used in many first world countries, in particular throughout North America and Europe. It is a minimally invasive outpatient, five to 10-minute procedure, done with minimal to no discomfort.
Patients do not have to be put to sleep. The procedure requires no catheter into the bladder afterwards.
UroLift is revolutionary in that it involves no destruction of obstructing benign prostate tissue, but it is immediately highly effective in alleviating even the most severe urinary symptoms related to BPH.
The UroLift System works using implants to lift and hold the enlarged prostate aside so that the outlet of the bladder and the urethra are no longer obstructed. The improvement in quality of life for BPH sufferers is immediate and no recovery period is required.
The procedure causes no new erectile issues and does not at all affect the ejaculatory mechanisms. The UroLift procedure is safe, quick and highly effective with verified durable positive results.
The most advanced urological minimally invasive procedures are available locally in the Bahamas.
Men of the Bahamas, get control of your bladder once again and regain your happiness and restful night of sleep!
Compassionate and confidential care with state of the art advanced urological procedures are available locally.
• Dr Greggory Pinto is a Bahamian urologist who has trained in South Africa, France and Germany under the world-renowned prostate minimally invasive pioneer, Professor Andreas Gross in Hamburg. He has a wealth of experience with all forms of minimally invasive endoscopic prostate procedures including bipolar transurethral resection of prostates and Thulium and Holium laser prostate vaporisation and enucleation, and the UroLift procedure. Dr Pinto can be reached at Urology Care Bahamas at the Surgical Suite, Centreville Medical Centre, Collins Avenue and Sixth Terrace. Call 326-1929, e-mail welcome@urologycarebahamas.com, or visit urologycarebahamas.com.