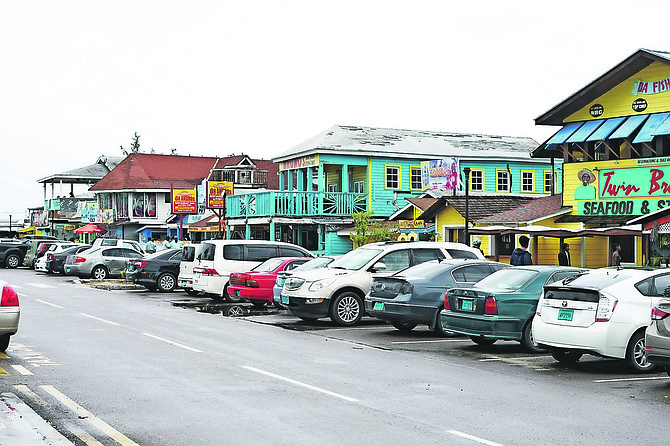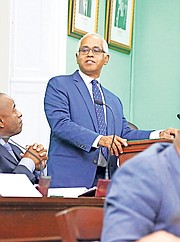 By RICARDO WELLS
Tribune Staff Reporter
rwells@tribunemedia.net
TOURISM Minister Dionisio D'Aguilar yesterday suggested no "major crime" occurs at Arawak Cay, insisting local reports "sensationalise" issues at the site.
Speaking with reporters before heading into a Cabinet meeting yesterday, Mr D'Aguilar said he wasn't "worried" about the safety and security of foreign visitors who travel to Fish Fry at Arawak Cay because the site only experiences "nuisance crime".
The Free Town MP said he has personally visited Fish Fry over the past three days to gauge the concerns of vendors and as a result he said he feels secure in his belief that only "petty crime" occurs at the site.
"There are people taking advantage of foreign visitors, selling them goods that they have no intention of delivering," he told reporters. "And so, yes, we need to enhance police presence on the ground to remove those nuisances. But there is no major crime going on down there. It is more nuisance crime."
In interviews in the wake of the US State Department's most recent advisory to its citizens warning them to avoid visiting Fish Fry at night, vendors have suggested "illicit activities" and solicitation have plagued the site.
During a press conference at Arawak Cay on Friday, members of the Arawak Cay Conch, Fish, Vegetable & Food Vendors Association said government mismanagement, insufficient police presence and poor lighting are among the many factors contributing to the current state of the Fish Fry.
The vendors have also called for immediate intervention to help alleviate the issues.
In response yesterday, Mr D'Aguilar stated: "In every city there are areas that are of concern for foreign visitors. I always like to reiterate that you must exercise common sense when going to certain areas whether it be at night or other times that would be considered dangerous."
He furthered: "So, when you develop tours or you develop excursions into areas where you are concerned about security, obviously as a businessman if you are putting together such an event, you are going to engage the police and security forces to ensure that you guest have a safe event."
Mr D'Aguilar emphasised that on average, 6.3 million foreign visitors come to the Bahamas annually, and of that number, in excess of 99 percent come and leave without incident.
He said the country does itself a disservice by only focusing on the few incidents of trouble, adding in other Caribbean countries issues are reported but aren't sensationalised.
"When you compare the Caribbean and you compare Nassau, the Bahamas to other major cities in the world, if I was a foreign visitor I would feel safe. When you go to London, you always have to watch out for some terrorist or someone gone amuck.
"Or you go to New York, I was recently at Grand Central Station and they had a compliment of armed forces in there with sub-machine guns and everybody is always looking around and you are always worried about who is going to come in there and start creating havoc or which terrorist is going to create havoc.
"We don't have that in the Caribbean. The Caribbean is safe from that perspective. You are going to have the one-off events of a robbery or something more dangerous, but by and large, we have to focus on the good stories and not constantly beat ourselves over the bad stories. And sometimes, we are our own worst enemies. In our quest to sensationalise an event, we damage the destination."
"So, if you think about Mexico, you think about Jamaica - they have far worse crime problems than we do, but they have mastered the art of reporting it, but not sensationalising it. That is maybe what we have to focus on," he contended.
Mr D'Aguilar said his ministry is working closely with its law enforcement counterparts to ensure areas frequented by tourist are secured and properly monitored.
He presented the case of Cabbage Beach, where his ministry has realigned the types of services offered and implemented a licencing system for vendors.
However, he said enforcement, or the lack thereof, continues to be his ministry's biggest concern and focus.