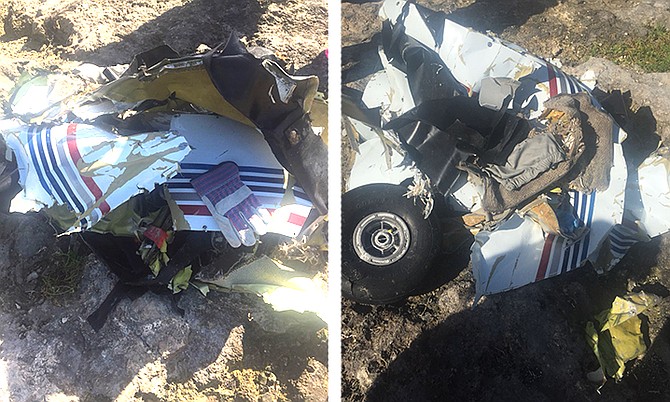 YOU CAN READ THE LATEST ON THIS STORY HERE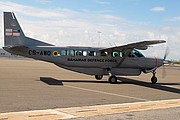 4.25pm UPDATE: The Royal Bahamas Defence Force has released the following details of its involvement in the search for the aircraft: "Four military divers and a patrol aircraft from the Royal Bahamas Defence Force are assisting local authorities in their search for a Bahamian registered light aircraft that crashed in waters off the east coast of Mastic Point, North Andros yesterday with six persons on board. The Defence Force was informed of the crash by officials from Operation Bahamas Turks and Caicos yesterday afternoon.
"A US Coast Guard conducting a search for the aircraft yesterday afternoon sighted debris and a body in waters off the east coast of Mastic, Point, Andros but was unable to assist further due to severe weather conditions. The Defence Force deployed its aircraft earlier this morning along with four military divers to assist local authorities in finding the aircraft and its passengers.
"The Defence Force is also searching for Mr Samuel Moss from Nassau. Mr. Moss, who was reported missing since 15th January 2018, had departed Bimini for New Providence in a white 21 foot single engine Angler small craft on Monday15th January 2018. Anyone knowing the whereabouts of Mr. Moss is asked to inform local Police or the Defence Force's Operations Centre at 362 3814/5."
4.15pm UPDATE: Officials have suspended their search and recovery efforts for the day.
3pm UPDATE: Family members have identified Desiree Shaneig Russell and her 10-year-old daughter Destinque Wilson as the two remaining passengers on board the ill-fated Andros charter flight which crashed in the ocean Wednesday.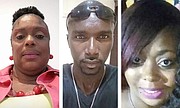 By RICARDO WELLS
Tribune Staff Reporter
rwells@tribunemedia.net
TWO bodies were recovered yesterday and four others are feared dead after a plane travelling from Andros to New Providence crashed in waters just off the coast of Mastic Point.
There were three men, two women and a teenage girl on board.
After hours of unsubstantiated claims and social media rumours, yesterday afternoon Department of Civil Aviation officials confirmed the crash of a small single engine Piper Aztec. It is believed that all on board died.
The Tribune has identified four of the six persons on board as Darren Clarke, believed to be the pilot; Carter Campbell, a local store owner; Maggie Adderley and Valentino Knowles.
The remaining two victims are believed to be a mother, identified only as Nique, travelling with her daughter.
Authorities up to press time confirmed two bodies were seen in rough seas just east of Mastic Point. The bodies were discovered in the vicinity of debris, but officials were unable to determine if the plane did go down at thst point.
According to reports, the aircraft disappeared while travelling to New Providence. It is suspected the plane encountered bad weather shortly after its 8am take-off and attempted to return to Andros.
In an interview with The Tribune yesterday, Delvin Major, chief investigator at the Air Accident Investigation Department of the Department of Civil Aviation, said his office was notified at 11am that a plane en route to New Providence could not be located.
Mr Major said the aircraft, which was only identified by its make and model at the time, had not arrived in Nassau or reported back in Andros.
He said it was at this time that authorities in Nassau organised resources to find the plane.
Shortly after 2pm, North Andros and Berry Islands MP Carlton Bowleg said the aircraft was located in waters off Mastic Point and all on board were believed to be dead.
He told The Tribune: "This is truly yet another sad day in what seems to be a run of chaos and tragedy in my community."
Mr Bowleg, elected for the first time in the May 2017 general election, said he was notified by members of his community that a small plane, piloted by his childhood friend and classmate, Darren Clarke, had crashed on the way to New Providence.
Overwhelmed with grief he added: "Just that first part was hard to understand, but it went on."
"I knew every soul that perished on that plane in one form or another," he said, after a pause. "Carter (Campbell) is my son's uncle; Ms (Maggie) Adderley is the wife of one of our community leaders in Mastic Point; Tino (Russell) is form Low Sound, I know him well; then there is Nique and one of her two young daughters."
Mr Bowleg added: "On all sides this is a sad ordeal. North Andros, rather all of Andros, is still grappling with the outcome of those recent hurricanes and now this.
"I mean, after all that has happened, for this to have happened and the way it apparently did, it's a tragedy on all fronts.
"The people of Andros have developed a true fear of the weather. We see clouds pile up and we get worried. Add this to the mix, it's truly too much to put into words. My heart aches today."
Tourism and Aviation Minister Dionisio D'Aguillar also confirmed the crash, indicating the US Coast Guard, along with Bahamas Air Sea and Rescue (BASRA) officials, had discovered two of the six bodies in rough seas and were attempting to identify and secure an official crash site.
In statements last evening, several prominent politicians, including Progressive Liberal Party Leader Philip "Brave" Davis and (PLP) Chairman Fred Mitchell, extended their condolences to the families of the deceased.
Aviation officials plan to travel to Andros today to continue search and recovery efforts.