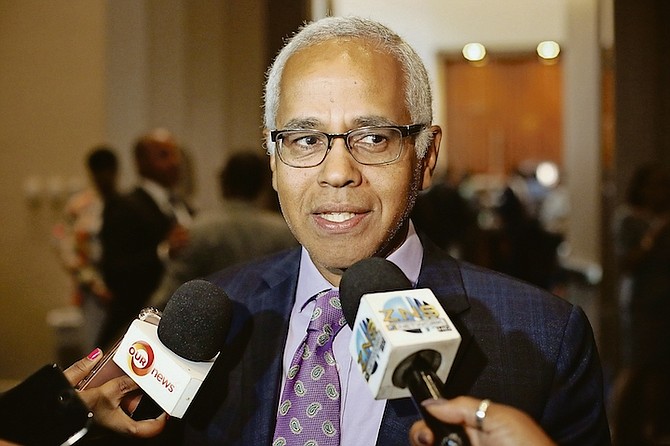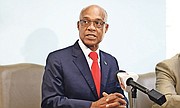 By RICARDO WELLS
Tribune Staff Reporter
rwells@tribunemedia.net
THE air charter industry could see more stringent regulations implemented in the coming months, as two Cabinet ministers called for sweeping changes for the sector in the wake of last week's fatal plane crash in waters off Andros.
In a scathing rebuke of current regulations and oversight, Tourism and Aviation Minister Dionisio D'Aguilar and Education Minister Jeffery Lloyd called for an end to sub-standard practices in the sector.
In interviews with reporters, the ministers said it was both shocking and reprehensible that the industry was allowed to run as is.
Last week's tragedy claimed the lives of six people – including pilot, 45-year-old Darren Clarke.
In the wake of the devastating crash, many described Clarke as a "hacker." The term is used when referring to a person providing transportation services at a reduced price without having the necessary licence to operate in the industry. 
Clarke was not licensed to run commercial flights nor operate multi-engine planes.
Mr D'Aguilar yesterday said he was shocked by what has been uncovered in recent days as it relates to procedures and policies that allow for pilots, such as Clarke, to work as "hackers".
The Free Town MP said he has instructed Civil Aviation Authority Director General Charles Beneby to draft a policy document on how to best address the dilemma.
Mr D'Aguilar said the reality that the word "hacker" is so often used in the country's aviation sector illustrates how serious the state of the country is in.
"So, I told (the director general), I empowered him, I said look, 'if we need to change regulations in order to tighten this up, we should have a zero tolerance.' And if that accident, that loss of life, which is a very sad event and devastating, if we don't attempt to change the paradigm so that when a Bahamian or a flying passenger gets on a plane they can rest assured that plane has been checked for air-worthiness and that pilot has the appropriate licence before they get on that plane, then we have failed in our mandate.
"That is what we need to do, and I don't see any reason why we should not be able to do it.
"Let's change what we need to change. Let's empower who we need to empower. Let's make it happen. It just seems straight forward to me, I don't understand what the issue is here.
"Why hasn't it been done? So that is what I am going to do. What is most important is life. That is the most important thing that we have. Yes we have an economy, but we are not going to compromise our safety.
"We are not going to comprise the loss of life just to make a dollar; that isn't right. If you go to them families down in Andros who have lost a loved one, they're asking why and they are turning to the government, how could we as a people have prevented this?
"And that is the most important thing. If you got to go and get your licence, then go get it. If you got to have your plane checked, then have it checked. If you got to go do the required maintenance then do the required maintenance. That is the cost of doing business, and if you got to raise your rates to do that, then raise your rates. But it is more important that it is safe than not. So let's do what we got to do," Mr D'Aguilar insisted.
Meanwhile, reflecting on last week's tragedy, Mr Lloyd said he does not care whose toes are mashed or egos assaulted – the situation mandates the government take a look at "the rogue circumstances" that exist in the sector.
"Let's be frank about this. It is out of control. It is poorly regulated," Mr Lloyd said yesterday. "We recognise and accept that the agency responsible for regulation and oversight is under resourced. We accept that. But the decline that we need to bring to the Commonwealth of the Bahamas and this environment needs to be expressed in all subdivisions of our government; in government life, in national life and this airline/aviation industry is no less than one such area."
Asked if he had communicated his sentiments to his Cabinet colleagues, the South Beach MP stated: "Well, the Cabinet has not had the opportunity yet to discuss this, but when that opportunity comes forth, then, of course. The Cabinet is well aware of what we need to do."
Mr Lloyd later added: "We have come to the offices of the Cabinet, the prime minister and the government on the theme of transformation, and that transformation speaks to doing things the way it ought to be done. And stop allowing slackness and indiscipline, and this unregulated culture that we have had here in these last 50 or more years of our country."
Mr Lloyd said based on the information received to date, there exists a certain "reluctance" to make the necessary changes in the sector, a reluctance, he said, the Minnis administration had the political will to address.
"…. The unfortunate thing is, when we delay, people's lives are placed at risk. We don't have any time to pander to egos . . . in the minds and hearts of our Bahamian people. This must be a society of discipline and order and respect, regulation and commitment."
Last week's crash was the first fatal one in the Bahamas in a year and a half.
However, a number of non-fatal crashes have taken place over the years, including several recently. Aviation officials are in the process of investigating "three non-fatal crashes" in recent weeks.