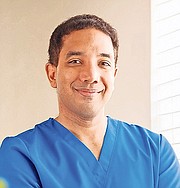 Q: Dear Dr Pinto, I am a 38-year-old married father with an embarrassing problem regarding a distressing curvature of my stiff penis that makes intimacy almost impossible. I am very depressed and my self-esteem is at a low point. Can you as a doctor of Urology give me hope?
A: Sir, I empathise with your unfortunate predicament and we can offer you multiple therapy options. You are not alone in your suffering.
Peyronie's disease is an often distressing medical condition with an abnormal curvature of the erect penis, with often devastating psychological and physical consequences. It is relatively common with some estimates of 13 per cent of the male adult population being afflicted and most commonly occurs between 55 and 60 years old.
The bent erect penis is caused by scar tissue, a plaque that results from some physical trauma to the penis itself.
Certain conditions predispose men to Peyronie's disease such as diabetes, tobacco use and Duputyren's contractures, abnormal bending of the fingers due to scar tissue formation in the palm of the hand.
The most common presentation is a penis that bends upwards when erect but the penis may bend downwards or to either side, and may or may not be associated with pain. A curvature of more than 30 degrees is considered clinically significant.
Sadly, many Bahamian men with Peyronie's disease have low self-esteem with profound psychological stress and they are unaware the highly effective minimally invasive treatments are available locally.
The only FDA approved medication for Peyronie's disease is the highly effective Xiaflex, collagenase clostridium histolyticum which is available locally at Urology Care Bahamas. Medications such as verapamil, pentoxfylline, Potaba, Colchicine and vitamin E have all shown variable success in treatment.
The relatively short recovery which would be apply to the surgical correction
There is a straightforward, minimally invasive office treatment that is available over several months which is a gradual process to correct the curved penis, or, in severe cases that have failed more conservative management, penile curvatures may be treated by surgery with high success.
In either case, the patient can then look forward to a return to normal, successful sexual activity.
• Dr Greggory Pinto is a Bahamian urologist who has trained in South Africa, Germany and France. He is a member of the European Association of Urologists. Dr Pinto can be reached at Urology Care Bahamas at the Surgical Suite, Centreville Medical Centre, Collins Avenue and Sixth Terrace. Call 326-1929, e-mail welcome@urologycarebahamas.com, or visit urologycarebahamas.com.