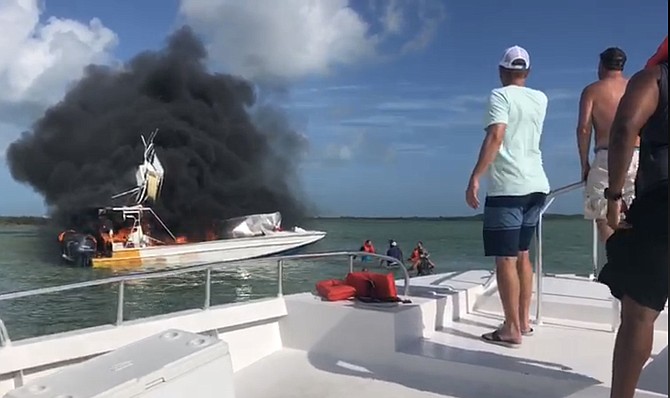 By RASHAD ROLLE
Tribune Staff Reporter
rrolle@tribunemedia.net
AN American woman died after a tour company's boat engine exploded off Barraterre, Exuma, on Saturday in an accident that left ten other people, including her 39-year-old husband, one Bahamian and nine Americans, injured.
Another Bahamian on board the boat was not injured, The Tribune was told.
The husband of the woman who died is now in the Intensive Care Unit of the Princess Margaret Hospital. Both of his legs are fractured.
A mother is in the hospital's private surgical ward with injuries, while her husband was not injured, nor was their 13-year-old daughter. However, the mother's 22-year-old daughter, who lost both of her legs and has a fractured arm, is in intensive care.
First-time visitors, like a couple celebrating their 15th anniversary, were among the injured.
The deceased and the tourists have not been publicly identified.
However, a Gofundme account was created by the family of several people who survived the crash and were treated at PMH. Stefanie Schaffer, according to the page, sustained life threatening injuries and experienced a double amputation. Stacey Bender, with whom she travelled, suffered multiple broken bones and injuries. Up to press time last night, the family had raised $15,863 of their $50,000 goal.
According to Health Minister Dr Duane Sands, six of the injured were taken to Princess Margaret Hospital on Saturday and were said to be in stable condition as of yesterday afternoon, but the status of four Americans airlifted to a hospital in St Petersburg, Florida, is not known.
Last night, hospital officials said three of the six people at PMH were discharged, among them the Bahamian boat operator.
Three other Americans remain at PMH, two of them in the Intensive Care Unit.
"The persons under the care of the Princess Margaret Hospital are from two families which are also being assisted by the US Embassy in Nassau as it relates to their care, and future arrangements for transfer to the United States," health officials noted in a statement. "One person fatally injured was transported to the hospital's morgue."
Some of the tourists had stayed at Sandals Emerald Bay.
The group was touring with Exuma's largest tour operator, Four C's Adventures, when one of the boat's engines exploded, police said, causing a fire that sent thick smoke billowing into the air and unleashed a frantic effort to save lives.
The explosion happened within minutes of the tour's launch and was observed by dozens of tourists and residents, The Tribune was told. A video posted on social media captured the reaction of anxious visitors in a nearby boat. Some of them jumped into the water to offer assistance. Others cried for their own boat to leave the area, fearing it too would catch fire.
Captain Horace Smith, owner of Sugar Adventure Company, said he was conducting his tour when he saw smoke coming from the Four C's vessel minutes before it exploded.
"We saw everyone was in the water," he said. "Two women were holding onto a guy. One of them said she couldn't feel her legs so my son jumped into the water to help her. There was a lot of blood on my boat from the lady whose leg was damaged."
Captain Smith said he is eager to talk to Captain Ron Watson, the commander of the destroyed Four C's vessel.
"I really want to speak to him so he could tell me what happened," he said. "If it was my boat and I saw smoke, everyone would be off the boat before the explosion happened but only he knows what happened."
The local clinic in Exuma is 45 minutes away from Barratarre so rather than wait for emergency services to arrive, residents took the injured in their personal vehicles.
"The injured were bleeding out," said Edmond Burrows, the owner of Aquadisiac Adventures, who cancelled his tour to provide assistance. "Me and my crew, we helped lift people on board our boat. We put them on plywood, lifted them off, put them in the back of the truck and tried to get them to the hospital with the assistance of a few of the Americans who were nurses and doctors. They told us to tie their wounded areas to stop the bleeding."
Mr Burrows held the hand of the woman who eventually died, comforting her after the explosion.
"I was on the truck with her," he said. "I held her hand straight until we met the ambulance. She had serious wounds. Where they tied her leg, she wasn't bleeding too much but she was in plenty pain. I had to talk to her to keep her conscious. She was slipping in and out. She held my hand with a tight, tight grip. I looked at her and said, 'honey you're not going to give up on me' and she gave me a big smile. She said she had a ten-year-old son and a husband. When I heard that she passed, I said wow."
The owner of Four C's Adventures, Clayton Patterson Smith, did not speak to this newspaper yesterday. When contacted, he said he was speaking to officers of the Royal Bahamas Police Force.
The Tribune was told his son was on the destroyed vessel but was not injured.
The Tribune also understands the vessel was built by his company, a fact likely to draw scrutiny as the investigation continues.
Exuma and Ragged Island MP Chester Cooper said the accident has led to a "moment of pause" for residents because it shows the importance of safety precautions.
"Our hearts go out to the American tourists, some of whom suffered severe injuries, as well as the family that suffered a loss of life," he said.
Residents of Exuma, meanwhile, are bracing for the potential fallout from the incident.
"I've gotten a lot of international enquiries from as far as Germany and also ABC News who made enquiries and want information," Mr Cooper said. "The general sentiment is that accidents do sometimes happen and, whilst it is regrettable and unfortunate, I believe Exuma will rise again. There will be a temporary dip in enthusiasm for the tours and what we do in Exuma but I'm confident it will be put into context by the international community and the people involved will recognise this was an aberration."
Robert Thompson, owner of Robert's Island Adventures, agrees.
"It will definitely impact the business for a little while until things settle down but we should be all right," he said.
One local tour operator who spoke to The Tribune anonymously said there is tremendous need for stricter oversight of Exuma's tour industry.
"We need more safety inspections," the person said, adding there is hope the incident will highlight the island's "hacker" problem even though it was a legitimate business that was involved in Saturday's incident.
To operate tours, businesses require a captain's licence, renewable boat licences and liability insurance.
The Gofundme page for victims can be found at https://www.gofundme.com/stefanie-schaffer-and-family.