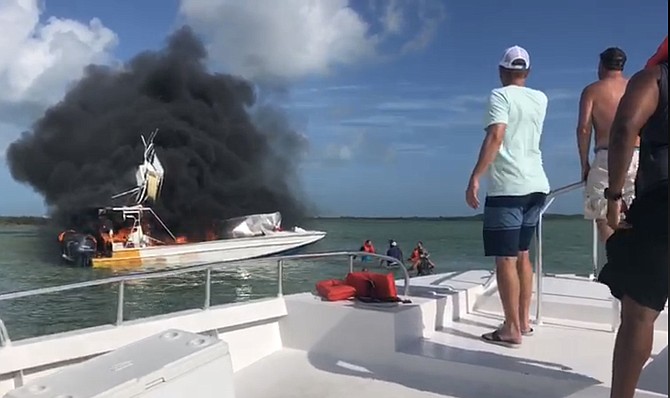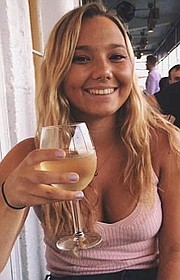 By RASHAD ROLLE
Tribune Staff Reporter
rrolle@tribunemedia.net
EXUMA's largest tour operator, Four C's Adventures, has been issued a cease and desist order to suspend operations pending an investigation into the accident that killed one American woman, caused another to lose both of her legs and injured nine other people on Saturday, according to outgoing Transport and Local Government Minister Frankie Campbell.
Four C's Adventures received the order on Sunday evening despite opening for business that day. The order was issued by the acting controller of the Port Department in conjunction with the Exuma Port Authority Board.
"I don't want anyone to interpret the fact that we asked the company to cease and desist its operations as any indication of a conclusion to the investigation," Mr Campbell said at a press conference. "It's normal procedure. There are a number of other vessels the company owns. It's prudent to ensure everything is in order, that we can assure and guarantee safety as we move forward."
The company's owner, Clayton Patterson Smith, declined to comment on the suspension yesterday, citing orders from police.
"I don't want to comment at all because right now I'm in the middle of this whole thing and I have legal counsel," he said.
Mr Campbell gave few details about the investigation and would not say if the operator had liability insurance, up-to-date inspection certifications or if the commander of the vessel, Captain Ron Watson, had the requisite captain's licence.
He could not say how long the investigation may take, but noted it is headed by registered port inspector and surveyor Captain Cyril Morley who travelled with a team of police officers to Exuma to conduct the probe.
Among the matters that will be investigated, Mr Campbell said, are the procedures undertaken by the Exuma Port Department office following the incident.
Contrary to initial reports from the Royal Bahamas Police Force, no engine on the vessel exploded, a fact Acting Port Controller Commander Raymond King confirmed during yesterday's press conference.
"I am unaware of what the police report stated but I'm sure the social media images would've revealed that the engines weren't affected as part of the explosion but I wish not to speculate about what may have happened," he said.
The vessel had just left Smith Creek, Stuart Manor when the accident occurred. The half-day tour was to cover three cays, culminating in a visit to Big Major Cay, home of the famous swimming pigs.
The vessel, Mr Campbell confirmed, was home-built and had two Yamaha engines.
"I'm aware that the family is a boating family and they have built a number of boats right there in Exuma," he said. "Home-built boats have been around for some time. I worked in Exuma in the early 90s as a police officer and from back then the Smith's family has been involved in building boats. To my knowledge and recollection this is the first accident of this kind. I don't want to speculate that the accident is a result of the fact that the boat was home-built. It can be so many more causes. The investigation will reveal the cause."
Mr Campbell said notwithstanding the weekend accident, the Port Department has been working with the Bahamas Maritime Authority to create and enhanced inspection regime for mailboats, cargo vessels, ferry boats and tour boats in the country.
The woman killed Saturday has been identified as Mrs. Maleka Jackson. According to a report by ABC news, she was celebrating her 15th wedding anniversary with her husband, Tiran Jackson when the accident happened. Before dying she told a rescuer that she had a 10-year-old son.
Mr Jackson was, up to Monday, in the Intensive Care Unit of Princess Margaret Hospital with both his legs fractured. In a statement yesterday, the Public Hospitals Authority said a man in the ICU was airlifted to Broward General Hospital in Fort Lauderdale, Florida. Arrangements are being made to airlift the remaining two women patients at PMH to the US, it added.
One woman from Vermont, Stefanie Schaffer, 22, experienced double amputation of her legs. Her family has launched a GoFundMe account that has already exceeded its initial goal of raising $50,000. Up to press time last night, loved ones had raised $65,743 to cover medical and travel expenses for the family. Ms Schaffer was on the boat with her mother, Stacy Bender, who sustained multiple broken bones and internal injuries, as well as her stepfather, Paul Bender, who suffered bruises and cuts. Her sister Brooke Bender, 13, also had bruises and cuts. On the page, the family said Ms Schaffer requires surgery on her spine for an L1 lumbar disc fracture while Mrs Bender requires surgery for her fractured legs. According to a report by the Daily Mail, Ms Schaffer was a dancer who "danced her whole childhood." The newspaper said it spoke to a relative of Ms Schaffer who described her as a "very outgoing" dancer who recently graduated from college.
"The scary thing is Stefanie doesn't know that she's lost her legs, and that's what really upsets me," the relative told the newspaper. "She's going to wake up from this coma and realise 'I don't have any legs.' It's breaking my heart."
Meanwhile, the status of the four people airlifted to a hospital in St Petersburg, Florida remains unknown.
Prime Minister Dr Hubert Minnis yesterday expressed condolences to the families affected by Saturday's accident. "I don't want to say anything on that matter at this time because it's an active investigation but we regret the tragedy," he said.