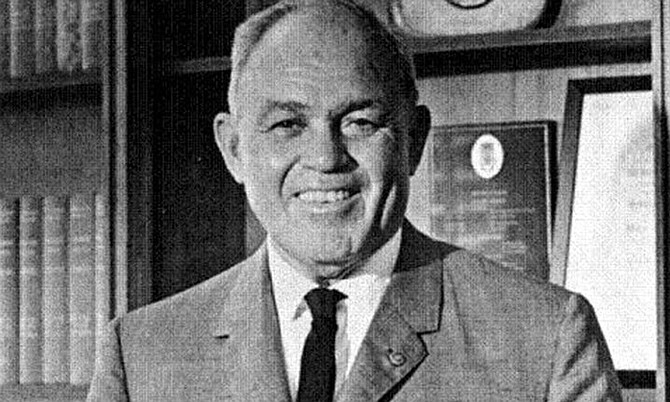 By MORGAN ADDERLEY
Tribune Staff Reporter
madderley@tribunemedia.net 
FREE National Movement Chairman Carl Culmer yesterday defended the decision to posthumously award Sir Roland Symonette with the Order of National Hero, saying the country's former premier singlehandedly "did more for black people" than some people of colour. 
Sir Roland's honour has been met with controversy, including allegations from the opposition Progressive Liberal Party that the former premier led a "racist regime" and opposed the fight for independence.
To this, Mr Culmer said that "no man is without sin" and defended Sir Roland's legacy.
The FNM chairman also suggested that Sir Lynden Pindling, the first black premier and prime minister of an independent Bahamas, oppressed black Bahamians through political victimisation.
Despite this, Mr Culmer told The Tribune that he was not against Sir Lynden receiving the award.
He added that any Bahamian who contributes to the development of the country should be eligible for the honour, and implored people to move past skin colour or political persuasion.
The first recipients of the Bahamas' National Honours were announced on Independence Day. Sir Roland received the top honour with Sir Lynden, Sir Milo Butler and Sir Cecil Wallace-Whitfield.  
PLP Chairman Fred Mitchell told reporters yesterday that it is the PLP's view that Sir Roland was not a "fitting, proper person" to qualify for that award.  
However, Mr Mitchell said that ultimately, the decision was up to Prime Minister Dr Hubert Minnis, calling on the nation's leader to justify the choice.
In a post to Facebook, Englerston MP Glenys Hanna Martin decried Sir Roland's award.
"I do not accept that a man who led a racist regime – Sir Roland Symonette – whose deliberate policies obstructed the natural human development and progress of the masses of Bahamian people can ever be deemed a 'national hero.' This decision is perverse and highly offensive. It is grotesque revisionism," she wrote.
Regarding the decision, Mr Culmer said: "My question to anyone: did Sir Roland contribute to development and also to the country? The answer would be yes.
"I had no issues with him receiving national honours. I have no issue with any Bahamian receiving national honours who contributed to the growth and development of our country." 
When asked about the backlash, Mr Culmer said: "I saw the comments, but the thing is we can say the same thing about the former prime minister from the PLP. He did a lot to black folks as well. Should he not be recognised? My thing is, yes, he should be recognised."
Mr Culmer clarified that he was referring to Sir Lynden, while also defending Sir Roland's legacy.
"(Sir Lynden) did a lot for black people. So my thing is, there's no man without sin. And during that era, I didn't hear nothing about Sir Roland being prejudiced.
"I heard and read where he did a lot for black people. He was the one that gave a lot of loans to black people, giving them opportunities that they didn't have normally. If the records are correct, he did more for black people — I'm talking singlehandedly — than many black people did for black folks." 
When asked to elaborate on the ways Sir Lynden oppressed black Bahamians, Mr Culmer pointed to political victimisation. 
"If you didn't vote or support the PLP, the PLP went out of their way to ensure that you didn't get opportunities, employment, educational benefits. If you had a job and you voted against the PLP or didn't support the PLP, they made it hard and in most cases, you ended up without a job. Or you couldn't get employment in this country," Mr Culmer said.
"And I could speak to that from my father and my grandfather, they went through that. I listened and I smile when I hear persons speak about racism. You know, we have some black people who are racist as well. And you have some of them that still exist today in this country."
Mr Culmer also called for more unity in the country.
Backlash
For his part, Mr Mitchell explained that he is a member of the advisory committee for National Honours, which has 10-12 people. Of those, the PLP has one seat or vote.
He added that the appointments are made by the prime minister, not the committee.
"So whatever the advisory committee advances, the prime minister can do whatever he wishes," Mr Mitchell said. "So it's really for the prime minister to defend what he has done.
"It is the (PLP's) view that Sir Roland did not fit the legal definition in the (law) for a national hero. We made that point clear in all of the correspondence…with the government on this matter."
Mr Mitchell added that it is the party's view that the one person who "without question" fit the definition in the law was Sir Lynden.
"That is without question, there can be no argument about it."
Regarding the backlash, Mr Mitchell said: "I think we have no specific quarrel, except that when we look at the law, we ask the question, how can someone who opposed all of the marches up to independence, all of the historical points up to independence, qualify for having made a seminal contribution to the development of the Commonwealth of the Bahamas? That's an answer which must come from the prime minister. That's our position.
"I'm sure that if appropriate, all of the background correspondence and back up to this can be revealed in the public domain. 
"But we are very certain on this point, that that particular name is not a fitting, proper person to qualify for that award. But, the prime minister has acted according to his powers in law, and so he must justify that choice."
Sir Roland was elected to Parliament in 1925 as a member of the mainly white United Bahamian Party. He became leader of the UBP and was made the first Bahamian premier in 1964 after internal self-government was introduced. He was one of the "Bay Street Boys," a wealthy group of merchants that opened up the Bahamas to tourism,  investment and casinos. He represented the Shirlea district in the House of Assembly and when he died had been the longest serving member of parliament, having served for 52years.
Sir Lynden and the PLP formed the next government of the Bahamas in 1967.