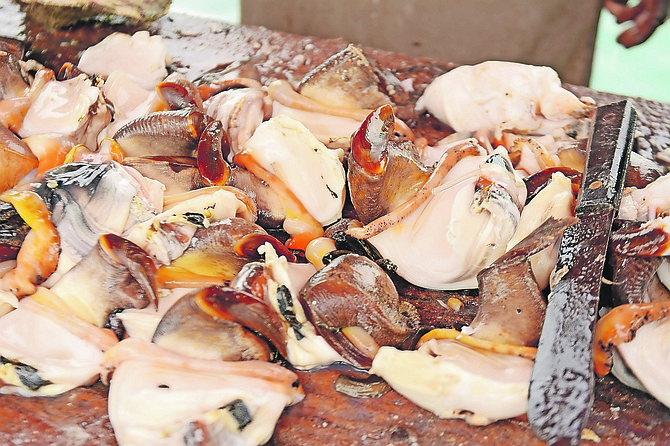 By MORGAN ADDERLEY
Tribune Staff Reporter
madderley@tribunemedia.net 
AS confirmed cases of conch poisoning continue to rise, the government intends to send inspectors out to ensure vendors selling and preparing raw conch are adhering to health regulations, including using fresh water to clean the seafood.
Those who do not comply with regulations face being shut down, although government officials have said they would rather have vendors comply with the recommendations instead of being punished.
While health officials are dealing with an increase of conch poisoning cases, the bacteria which causes the illness, vibrio parahaemolyticus, is becoming more resistant to antibiotics, Health Minister Dr Duane Sands said yesterday.
During a press conference, Dr Sands said that as of yesterday, there are 27 laboratory confirmed cases of conch poisoning and 22 clinical cases awaiting confirmation.
Calling this increase an "ongoing public health threat," Dr Sands added that laboratory reports reveal that the bacteria is "becoming more difficult" to treat. 
Dr Sands clarified that the number of antibiotics the bacteria is sensitive to has decreased. 
"Cases from the early part of this outbreak were relatively sensitive to a whole number of antibiotics that could be taken by mouth," Dr Sands said. "We have seen increasing numbers of resistant vibrio parahaemolyticus that are not sensitive to the usual antibiotics.
"What that means is, that those patients are harder to treat and their syndromes are more prolonged, and more severe. That has forced us to accelerate this public health initiative." 
The initiative is a collaboration between the Ministries of Health, Environment, and Agriculture, to mitigate against cases of conch poisoning. A major factor in this is the requirement for vendors to have fresh water. 
Conch poisoning occurs when raw conch contaminated with vibrio is consumed. Vibrio is found in seawater in tropical regions, including the Bahamas. 
As the weather gets warmer, particularly in the summer and also due to the effects of climate change, the presence of the organism has increased. 
Conch poisoning can be prevented by conch being washed in fresh water before being consumed raw. 
"In this regard, in accordance with current legislation, all vendors who wish to continue with the sale of raw conch dishes, such as scorched (conch) and conch salad, may only do so if they demonstrate the presence of fresh, running water linked to the city supply," Dr Sands said. 
"Additionally, vendors must also demonstrate the active washing of raw conch and (preparatory) surfaces at all times. And this applies throughout the Commonwealth of the Bahamas."
He also said the government will have to take action against non-compliant vendors. He added that the law does allow for vendors who do not comply with these regulations to have their establishments shut down. 
"We recognise that as this challenge has evolved, that there can no longer be only a voluntary participation in what is a significant public health issue," Dr Sands said. 
"And so there will be inspection teams verifying that people are actually following the recommended approach to conch preparation. 
"The legislature, or the legislation, allows for the various government agencies to shut down any persons who do not comply with the requirements of the law. 
"That is not our goal. We would like to see full compliance across the board. But there is a provision in the law, that allows for anybody who deliberately refuses to follow the advice, thereby worsening a potential public health hazard, to no longer be allowed to sell fresh products."
Dr Sands added that the general public and consumers must also be "vigilant," and ensure that any conch they wish to consume raw is thoroughly washed in fresh water. 
Also present at the press conference was Marine Resources and Agriculture Minister Michael Pintard who spoke about facilities at the Montagu fish ramp.
"With respect to Montagu in particular, for those of you that have visited the site, you would see that there…are hoses that are coming out of the ground, but the installation of water facilities are not yet complete," Mr Pintard said.
"So certainly, we will be moving with haste in collaboration with Water and Sewerage, with the Ministry of Works, to remedy that situation in that particular location."
When asked if fresh running water is a requirement, Mr Pintard said: "Again, we expect that they would use fresh water. It's not running water at this time. Several of the locations do not have pumps. 
"And so, we are moving with haste to make sure they are in place." 
Mr Pintard also called for vendors to keep their environment sanitary, and said there will be a meeting "this coming week" on the matter. 
"Then we'll take the necessary actions, which if necessary will include revoking licenses for persons who do not comply," he added. 
Dr Sands also underscored that while waters in the Family Islands have not been officially tested, it should be expected that the bacteria is present throughout the country. 
When asked about the nationalities of the conch poisoning cases, Dr Sands admitted that "some" were tourists. However, he could not confirm a specific number at the time. 
He also said that while the majority of the early cases were attributed to Potter's Cay Dock, people have got conch poisoning from other locations. 
When asked about the other locations, Dr Sands declined to give specifics, saying that some people may have eaten contaminated conch at a "private venue," but the conch itself was purchased elsewhere. 
"And so this has become even more complex, because not everybody would have consumed their conch at the place where it was purchased. And so we now have a number of additional venues. So, I'll just prefer to leave it at that," he said.  
Regarding the overall number of cases, Dr Sands said that while the clinical cases could take a "number of days" to confirm, those figures are not necessarily conclusive. 
"There are some people that may get conch poisoning, but never, ever show up at a doctor's office; never go to the emergency room," Dr Sands said. 
"So, the fact that we have now described 27 laboratory confirmed cases and 22 clinical cases awaiting laboratory confirmation does not mean that there have only been 49 cases of conch poisoning."