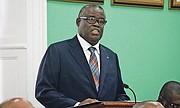 By AVA TURNQUEST
Tribune Chief Reporter
aturnquest@tribunemedia.net
NATIONAL Insurance Minister Brensil Rolle yesterday suggested officials will have to make a judgement call at some point on whether to increase National Insurance Board contributions as the government struggles to balance a "tremendous" increase in benefits.
Mr Rolle was asked about the financial stability of the NIB after Health Minister Dr Duane Sands said it was on the brink of bankruptcy.
Dr Sands highlighted the debts owed to NIB as he defended the government's decision to increase the VAT rate from 7.5 percent to 12 percent.
At Cabinet on Tuesday, Mr Rolle said: "What I can say is the benefits have gone up tremendously in National Insurance but the contributions have gone down, and we've got to make some judgements as to how we're going to make that balance so persons continue to get the good services of NIB."
Mr Rolle was then asked whether NIB contributions, currently at 3.9 percent for employees and 5.9 percent for employers (basic wage), would be raised.
"I can't say that just yet, we are considering some options," he said.
"NIB as you know is a collective service, we can only offer a benefit depending on our contributions, and if the contributions are going down and the benefits are going up at some point we're going to have to make a serious judgement and we're at that intersection right now."
In May, NIB announced its biennial rate adjustments to pensions, grants and the wage ceiling. The adjustment to pensions and grants are based on the change in the retail price index in the two previous calendar years, according to a notice on NIB's website.
Effective July 1, pensioners will enjoy an increase of up to 1.2 percent; the maternity grant will be increased by $10 to $490; the funeral benefit will increase by $30 to $1,810; and the insurable wage ceiling increased by $20 to $670 per week, and by $86 to $2,903 per month.
The insurable wage ceiling means that contributions are made on the contributor's weekly earnings up to a maximum of the insurable wage ceiling (currently $650 increasing to $670 effective July 1) even if that person earns more than the ceiling each week.