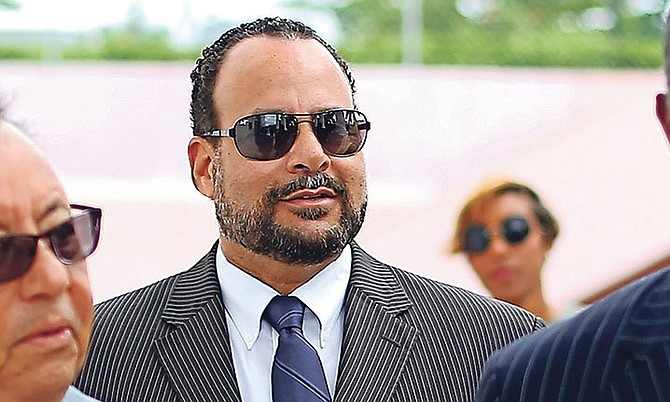 By NICO SCAVELLA
Tribune Staff Reporter
nscavella@tribunemedia.net
NATIONAL Security Minister Marvin Dames is expected to give sworn testimony today in former Progressive Liberal Party Senator Frank Smith's bribery and extortion trial, it was revealed yesterday.
Damian Gomez, QC, one of Smith's attorneys, told The Tribune after proceedings before Chief Magistrate Joyann Ferguson-Pratt that the defence will be cross-examining Mr Dames on a statement he gave connected to the trial.
Additionally, Assistant Commissioner of Police Paul Rolle, the officer-in-charge of the Royal Bahamas Police Force's Anti-Corruption Unit, will also take the witness stand concerning his involvement in the matter.
The case was was due to resume yesterday, after having been adjourned from May 17 following discrepancies between the call logs of Barbara Hanna, the virtual complainant in the matter, and Smith's phone bill.
However, it was ultimately adjourned to today, due to the Crown serving the defence with "a thousand" pages of documents sometime yesterday morning. And those documents, Mr Gomez said, revealed the existence of other documents that were not disclosed.
Last month, lead defence attorney Keith Knight, QC, suggested that a statement submitted by ACP Rolle could lead to at least one current Cabinet minister being called before the court.
Mr Knight revealed that his brief review of the written statement gave the indication that the senior officer was not the "first link in the chain" but rather "link number two or three."
While that statement was never read in court, Mr Knight, in response to concerns raised by the chief magistrate, said his brief review of the document led him to consider the need to call other witnesses to verify the contents of ACP Rolle's report.
And having read ACP Rolle's report, Mr Knight said he better understood certain aspects of Mrs Hanna's evidence, and the defence would have an "even greater understanding" of that evidence if it got a statement from a Cabinet minister.
Smith is facing 15 criminal charges concerning his alleged solicitation of $65,000 in bribes from a woman he is said to have assisted in getting a contract. He is currently out on $50,000 bail.
It is alleged that Smith, between April 2016 and April 2017, in respect of his duties as a public officer, demanded and obtained $5,000 per month from Mrs Hanna, knowing he was not lawfully authorised to do so.
He is also alleged to have attempted to extort another $5,000 from Mrs Hanna.
Concerning the bribery charge, it is alleged that he solicited $5,000 a month from Mrs Hanna for aiding her in getting a contract with the Public Hospitals Authority, where he previously served as chairman.
Smith pleaded not guilty to all the allegations during his arraignment.