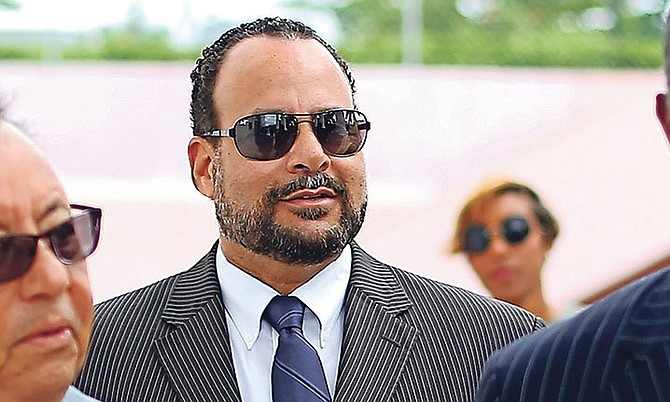 By RICARDO WELLS
Tribune Staff Reporter
rwells@tribunemedia.net
A WRITTEN statement submitted by Assistant Commissioner of Police Paul Rolle in the ongoing Frank Smith extortion and bribery trial could lead to at least one current government minister being called before the court.
In another twist yesterday, the defence's lead attorney Keith Knight, QC, revealed his brief review of a written statement submitted by ACP Rolle - the officer-in-charge of the RBPF's Anti-Corruption Unit - gave the indication that the senior officer was not the "first link in the chain" but rather "link number two or three".
While that statement was never read in court yesterday, Mr Knight, in response to concerns raised by Chief Magistrate Joyann Ferguson-Pratt, said his brief review of the document led him to consider the need to call other witnesses to verify the contents of ACP Rolle's report.
"I have received a record of the statement of Paul Rolle, Assistant Commissioner of Police. It answers questions and raises others," Mr Knight said.
He continued: "As it appears now, Mr Rolle seems to be link number two or three."
Chief Magistrate Joyann Ferguson-Pratt asked: "So, there is another person you require?
Mr Knight: "Yes, because he received information from someone and then he went to someone who gave him information."
"And, having read this," Mr Knight said while holding up ACP Rolle's signed statement, "I now greater understand aspects of the evidence of Barbara Hanna and I, let me say we; we would have even greater understanding of that evidence if we got a statement from a Minister of government."
He added: "Yes, a Minister of government is mentioned here, and I can't forget the expression used by (one of the witnesses). So I am going to look at it further with my colleagues."
While under oath Tuesday, the prosecution's lead witness in the case, Barbara Hanna testified that she, subsequent to her statement of account, met with ACP Rolle for a period of 15 to 20 minutes.
The defence requested a transcript of that meeting, however, the prosecution said it was unaware the meeting had taken place.
Mr Knight protested the fact, and again stressed that due to the nature of the case, both the court and the defence should have been made aware of the meeting.
Following up on the revelation yesterday, the court was informed that due to a family matter, Mr Rolle was unable to appear, and in turn, submitted a written statement of his interaction with Mrs Hanna.
The court yesterday also received and reviewed copies of Mrs Hanna's cell phone records, a submission the defence countered with the billing records of Mr Smith.
The Crown looked to highlight the number and duration of calls between Mrs Hanna and Mr Smith.
While the defence moved to make the case that the two rarely if ever spoke over the phone.
These discussions are expected to continue when court resumes today at 10am.
Smith is facing 15 criminal charges concerning his alleged solicitation of $65,000 in bribes from a woman he is said to have assisted in getting a contract. He is currently out on $50,000 bail.
It is alleged that Smith, between April 2016 and April 2017, in respect of his duties as a public officer, demanded and obtained $5,000 per month from Barbara Hanna, knowing he was not lawfully authorised to do so.
He is also alleged to have attempted to extort another $5,000 from Ms Hanna.
Concerning the bribery charge, it is alleged that he solicited $5,000 a month from Ms Hanna for aiding her in getting a contract with the Public Hospitals Authority.
Smith pleaded not guilty to all the allegations during his arraignment.