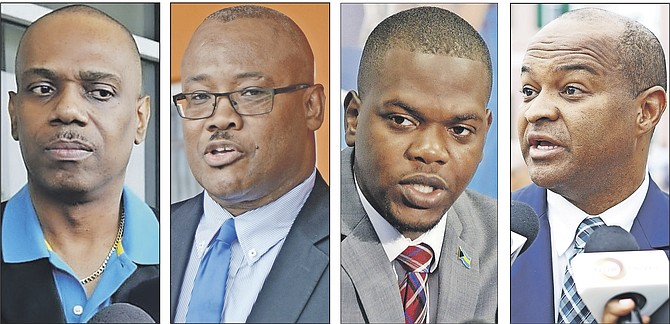 UPDATE: PRIME Minister Dr Hubert Minnis has fired Bain and Grants Town MP Travis Robinson and Golden Isles MP Vaughn Miller from their posts as parliamentary secretaries today for breach of the Manual of Cabinet and Ministry Procedure – See story HERE.
By RASHAD ROLLE
Tribune Staff Reporter
rrolle@tribunemedia.net
FOUR Free National Movement members of Parliament joined the opposition in voting "no" to the bill that would increase value added tax from 7.5 percent to 12 percent last night.
They were Golden Isles MP Vaughn Miller, Pineridge MP Frederick McAlpine, Bain and Grants Town MP Travis Robinson and Centreville MP Reece Chipman.
The actions of Mr Miller, Mr McAlpine and Mr Robinson came after they were warned that voting against any part of the budget package would create the expectation that they will resign their positions in government, in keeping with the Westminster system of governance.
Last night, Prime Minister Dr Hubert Minnis would not say what would now happen to them. When he wrapped up the debate earlier yesterday, he made an appeal for MPs to support the budget in its entirety.
Mr Robinson, the parliamentary secretary in the Ministry of Tourism, told The Tribune after the vote: "I said everything I needed to say in my budget speech and I stand by every word of that."
In his budget speech, Mr Robinson had lamented the impact an increased VAT would have on poor people in his struggling constituency.
Earlier, Mr McAlpine told the press he will not resign as chairman of the Hotel Corporation, adding that Dr Minnis is entitled to fire him if he wishes to do so.
For his part, Mr Chipman said he does not take threats lightly but noted he does not have a government post from which to resign. He was previously fired as chairman of the Antiquities, Monuments and Museums Corporation. He said he is not concerned that his actions might prevent him from getting a future appointment this term.
Meanwhile, Mr Miller, parliamentary secretary in the Ministry of Social Services, said Dr Minnis' comments earlier yesterday gave him no second thoughts regarding his decision to oppose the increase.
He said there was nothing personal behind his choice, but it merely reflects his desire to serve his constituents.
Several people were absent from yesterday's vote, including Central and South Abaco MP James Albury, Carmichael MP Desmond Bannister, South Andros MP Picewell Forbes, West End and Grand Bahama MP Pakeisha Edgecombe, Long Island MP Adrian Gibson, Central Grand Bahama MP Iram Lewis and Tall Pines MP Don Saunders.
Mr Bannister and Mr Gibson were both out of the country on government business.
All other MPs voted in favour of the bill, except the Speaker of the House who does not cast a vote.
The VAT amendment passed by a vote of 24 to seven.