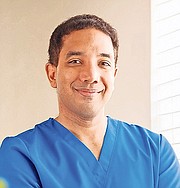 By DR GREGGORY PINTO
Do you cough, laugh or sneeze and pee all at the same time?
It is called stress urinary incontinence and it is a heartbreaking disorder that has tens of thousands of our Bahamian women afraid to laugh or reluctant to exercise, and even being mindful when bending to lift a child, all because they are going to leak urine.
Sadly it is relatively common for women in the Bahamas to have to wear panty liners or a pad or adult diapers daily because of stress urinary incontinence or urge urinary incontinence. Many women don't make it to the toilet when they have the urge to urinate. Many women have a mix of both stress and urge urinary incontinence.
Lack of urinary control is not a natural part of getting older or a consequence of vaginal deliveries of infants that women must just endure.
Women from their 20s to late in their older years are needlessly allowing urinary incontinence or an overactive bladder to control their lives and prevent them from enjoying simple things in life like laughing or going to the gym or playing with their children because of the embarrassing leak of urine.
The underlying cause of stress urinary incontinence is an anatomical abnormality due to a hypermobility of the urethra, a dysfunction of the connective tissue around the female urethra and a fall in oestrogen levels as women age and go through menopause. Any woman who has had even an uncomplicated vaginal delivery of a child is at risk.
Thousands of Bahamian women suffer from an overactive bladder with urge urinary incontinence that reduces the quality of their lives.
There are women who sadly are afraid to drink a glass of water or unable to sit through a church service. Some must plan their daily lives based on where the next bathroom might be.
Bahamian women, suffer no more!
Minimally invasive outpatient and relatively quick state-of-the-art procedures are available locally that will allow you to regain control of your bladder and thus your happiness. Throw away the pads and the panty liners.
Stress urinary incontinence can be cured with a 20-minute outpatient procedure with the placement of a synthetic urethral supporting sling or the placement of bulking agents at the level of the bladder neck and urethra.
Urge urinary incontinence and overactive bladder not related to bladder or organ prolapse may be successfully treated in 15 minutes, minimally invasively, with the placement of Botox into your bladder.
Bladder fall and organ prolapse can be treated minimally invasively with key hole laparoscopic surgery.
Bahamian women, enjoy intimacy again and live life with confidence without fear of the dreaded and embarrassing urine leak.
Confidential, supportive minimally invasive, painless procedures are readily available. It is time to stop buying those pads.
• Dr Greggory Pinto is a Bahamian urologist who has trained in South Africa, Germany and France. He is a member of the European Association of Urologists. Dr Pinto can be reached at Urology Care Bahamas at the Surgical Suite, Centreville Medical Centre, Collins Avenue and Sixth Terrace. Call 326-1929, e-mail welcome@urologycarebahamas.com, or visit urologycarebahamas.com.