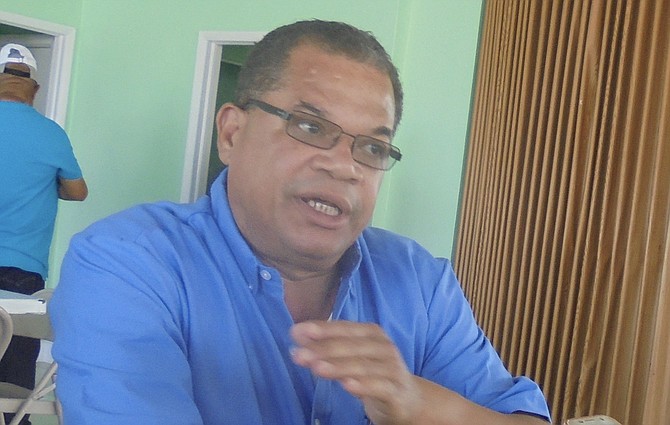 By DENISE MAYCOCK
Tribune Freeport Reporter
dmaycock@tribunemedia.net
GOOD things are on the horizon for Grand Bahama, according to Minister of Labour Dion Foulkes, who said some important announcements would be made soon by the government.
He did not elaborate or disclose much, but said the officials are very "optimistic" about what is about to take place on the island.
"There is excellent news with respect to employment in Grand Bahama," Mr Foulkes told reporters in Grand Bahama on Thursday at the Department of Labour.
"I don't want to preempt the prime minister, Minister of State for Grand Bahama (Kwasi) Thompson and the Deputy Prime Minister Peter Turnquest, but we are about to make some very important announcements with respect to Grand Bahama. Government is optimistic about Grand Bahama, and what is about to happen," he said.
When asked for an update on negotiations for the Grand Lucayan Resort, Mr Foulkes indicated that he is part of the sub-committee negotiating the sale of the property.
"We are very optimistic about the completion of it, he said. It's been sometime now, but we are very optimistic. I don't want to say much more because we are at a stage where we hope to bring some conclusion," he explained.
While in Grand Bahama, Minister Foulkes announced that Janet Russell had been appointed the new assistant director at the Department of Labour in Freeport. He also introduced the acting director of labour, John Pinder, to the staff in Grand Bahama.
Mr Pinder, a veteran trade unionist, was appointed on May 1, replacing Robert Farquharson, who was appointed to a senior officer post as an executive manager working closely with the minister and the permanent secretary.
Ms Russell, who now heads the office in Freeport, replaces Tyrone Gibson who has retired. According to Mr Foulkes, she comes with vast experience in the public service.
With respect to employment on Grand Bahama, he reported that the island is showing a decrease in the unemployment rate as a result of the boom in the industrial sector.
"The government is pleased with what is going on in Freeport, and the last report from the Department of Statistics revealed a decrease in the unemployment rate in GB - I think it was the only island that showed a decrease," the minister said. "And we were pleased with that notwithstanding the fact that at the Lucaya strip, two of the major hotels are still closed."
Mr Foulkes indicated that the industrial sector in Grand Bahama is doing very well. "That accounted for the decrease in the unemployment rate," he told reporters.
According to the minister, Bahama Rock increased its workforce in the last 12 months by 10 percent, and across the board all the industrial companies have been employing persons incrementally, adding up to big numbers.
"PharmaChem is about to embark on a multi-million dollar expansion, and Quality Services Ltd recently conducted a job fair with the view to employ some 60 persons," he said.
He also noted that GIBC Digital, a tech company which this week opened its doors in Grand Bahama, would employ a minimum of 50 persons in high paying jobs.
"We are very pleased about that, and six other companies we have approved and established in GB as a result of the Commercial Enterprises (Act)," he stated.
Mr Foulkes said that Clear Blue, which has a relationship with the Grand Bahama Shipyard, has trained 50 persons as welders and pipe-fitters who are all now working at the shipyard.
He said officials would be staging a second "Labour on the Blocks" job fair in Grand Bahama before the end of summer in the West Grand Bahama area.
Meanwhile, Mr Pinder said that he and his team would focus on the further reduction of unemployment in Grand Bahama by ensuring that persons in the government's labour database fill available positions.
He stated that they would also consult with vocational institutions to put programmes in place that will help Bahamians to qualify and gain necessary skill sets to fill vacancies on the island.