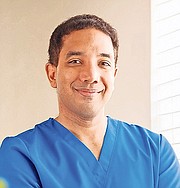 By DR GREGGORY PINTO
Question: Dear Dr Pinto, I am 47 years old and have never had a prostate check because of the dread of violation by the gloved finger prostate exam. My older brothers, cousins and most of my uncles also never go for prostate work up for the same reason. What other way can we all get a prostate checkup?
Answer: Sir, your concerns and fears regarding the dreaded rectal exam for prostate screening are very common. This fear keeps thousands of Bahamian men from having prostate cancer surveillance and potentially saving their lives by detecting Prostate Cancer at an early curable state.
Recent evidence from long term multi-centre studies has shown quite conclusively that routine digital rectal exams in prostate screening, serve no purpose in the vast majority of cases and should be abandoned.
An article in Current Medical Research and Opinion, authored by Wake Forest Baptist Urologist Dr Ryan Terlecki, proposes quite convincingly that, in the era of prostate specific antigen (PSA) blood testing, the uncomfortable and potentially embarrassing digital rectal prostate exam has minimal merits.
Dr Terlecki's research team reviewed medical literature and the results of a United States national prostate screening trial whereby over 34,000 men received both digital rectal prostate exams and PSA blood testing over three years. These same men were then followed for thirteen years.
Terlecki's team identified 5,064 men who had an abnormal digital prostate exam and a normal PSA blood test. However, only two per cent of these men had clinically relevant prostate cancer that needed either treatment or active surveillance.
For men of African ancestry, a PSA blood test starting at age 40 is all that is required. No digital rectal exam is necessary for routine prostate screening, as it provides minimal benefit.
The digital exam, in fact, has cost countless Bahamian men their lives as they have avoided prostate screening at all costs due to the fear and discomfort of the dreaded exam.
PSA is a protein produced by the prostate gland epithelial cells and its purpose is to liquefy the semen in the ejaculate and allow the sperm to swim freely in its search to fertilize the ovum, the female's eggs. PSA is prostate gland specific and not prostate cancer specific.
Many things can cause the PSA blood test to be high. Infection of the prostate or retention of urine in the bladder or even a very large non-cancerous benign prostate hyperplasia may all cause a high PSA, without presence of cancer.
If a PSA blood test is high, then parameters such as the PSA density and velocity are calculated and a free to total PSA ratio may be used to determine the likelihood of prostate cancer.
A urine liquid prostate cancer DNA test is available locally at Urology Care Bahamas to differentiate normal prostate from prostate cancer and low risk prostate cancer from high risk prostate cancer.
Multi-parametric MRI provides painless, extremely accurate detection of clinically significant prostate cancer.
The digital rectal exam for routine prostate cancer screening has zero role in my urology practice and I follow the established highest protocol standards.
The digital exam has merit in the active surveillance of men known to have prostate cancer and in men with suspected advanced prostate cancer.
Simply put, when PSA blood testing is done, then the dreaded digital rectal exam rarely aids in diagnosing clinically significant prostate cancer.
Men, 40 years old and over, start routine prostate screening, as early detection is the key to successful cancer cure!
Do it for your wife, children and loved ones and, of course, for the love of your own life.
Advanced prostate cancer could lead to bones being riddled with cancer, possible kidney failure from obstruction and even paraplegic conditions from cancer spreading to the spine.
There is no excuse for men of the Bahamas to avoid routine prostate screening, as the dreaded digital exam will not be performed.
• Dr Greggory Pinto is a Bahamian urologist who has trained in South Africa, Germany and France. He is a member of the European Association of Urologists. Dr Pinto can be reached at Urology Care Bahamas at the Surgical Suite, Centreville Medical Centre, Collins Avenue and Sixth Terrace. Call 326-1929, e-mail welcome@urologycarebahamas.com, or visit urologycarebahamas.com.