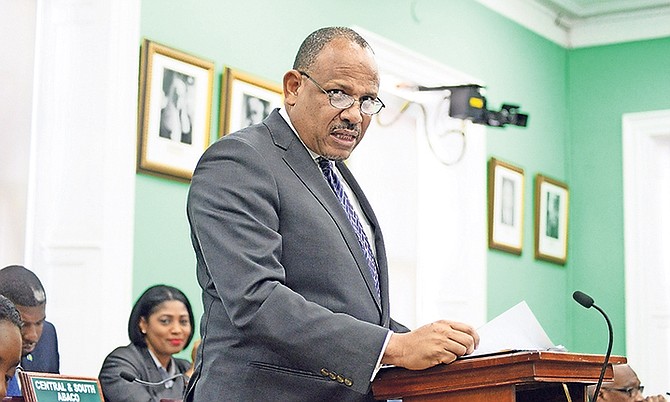 By KHRISNA RUSSELL
Deputy Chief Reporter
krussell@tribunemedia.net
A FORENSIC audit will be conducted on contracts issued by the Public Hospitals Authority (PHA) under the former Christie administration, with concerns agreements worth millions of dollars were issued "illegally" and "abnormally".
According to well-placed sources, what is most troubling for officials is the manner in which Family Island mini hospital and clinic contracts were awarded by the previous government.
Accounting firms were yesterday invited to submit proposals, via advertisements in the local dailies to carry out the audit, which could take months to complete.
Insisting in an interview this audit is not a "witch hunt", Health Minister Dr Duane Sands said the contracts for numerous facilities in the out islands are proverbially a "shot to the head" of the PHA and public health in the country because of the funding needed to satisfy what is now owed to contractors. 
Under the former government, PHA contracts worth $53,288,112.27 were issued to various companies for construction related work, public health related upgrades and equipment. Of this alarming figure, money totalling $12,874,117.85 was paid to vendors, leaving a balance of $40,413,994.32 outstanding.
Dr Sands said: "The real question that has to be answered particularly when there seems to be a disconnect between the known fiscal reality of the Public Hospitals Authority and contracts that bind the Public Hospitals Authority outside of the ordinary business of the PHA and which prevents it from carrying out its mandate.
"You have to look critically at the decision making process to be certain that there were appropriate and valid and reasonable basis for the determination and the decisions made and you want to know whether there was anything untoward in that process."
Asked whether the contracts were binding with no way to free the government from the obligation, he said: "The question is if you are bound to a contract that you are unable to pay or if servicing that contract prevents you from providing an essential service that you are mandated to provide by the Public Hospitals Authority Act, then is it indeed a valid contract?
"If the contract says I must cut my throat or shoot myself in the head, which this basically does then am I bound to do that?"
"Right now we are challenged to provide HIV medications, antiretroviral medications for HIV infected Bahamians. Right now we are challenged with providing reagents for diagnostic tests for sick Bahamians and this is in large part because funds have had to be expended to make good on commitments that should have never been made," he continued.
Dr Sands said while there is a Cabinet conclusion giving the nod for the contracts it doe not mean the agreements were legal.
"Again this basically comes down to a question of whether or not these contracts were appropriate and legal. Whether there was any abnormality or illegality involved and that forensic audit means that you've got to dot every I and cross every T. Was it done illegally or abnormally?
"This is not a witch hunt. This is ensuring that the interests of the Bahamian public is protected, but if you tell me that I am now obliged to spend and I have used this example repeatedly more than $10m of PHA money for new construction in Cat Island where there are 1,200 people give or take and that means that I don't have the money available to provide a decent and reasonable emergency room where the entire Bahamas population has to be served, then there is something implicitly and intrinsically wrong with that decision.
"So yes there is a Cabinet conclusion that directed the Public Hospitals Authority, its board and its managing director to do certain things, but that doesn't mean because the Cabinet directed it to be so that it is legal."
Of the contracts issued, Dr Sands has previously voiced issues with those for Cat Island and one proposed facility in Eleuthera.
Earlier this month, Dr Sands accused the former Progressive Liberal Party government of going forward with the $6.6m upgrade to the Smith's Bay Clinic in Cat Island despite a nearly 40 per cent decline in visits to clinics on that island in the past decade.
Dr Sands at the time at Parliament, insisted the decision did not follow the advice of the ministry's technical team, and projections show the expensive build-out of the clinic would have served an average five patients per day.
He has also suggested $535,348.77 paid to Carey's Construction for work on a new clinic at Palmetto Point, Eleuthera will be wasted as the government does not plan to continue work at the existing site.
Carey's Construction was awarded a contract worth $929,875 under the previous Christie administration for work at the site where the mini-hospital was to be constructed.
However, according to photographs posted to the minister's Facebook account, the contractor got no further than cutting into an existing hill at Palmetto Point, which created a cleared and smoothed off space presumably to place the clinic.
The facility was to cost a whopping $27m and has been called by the minister "the greatest of travesties" committed by the former government
Dr Sands has said the government is considering acquiring an existing building on the island to suit the needs of the community.