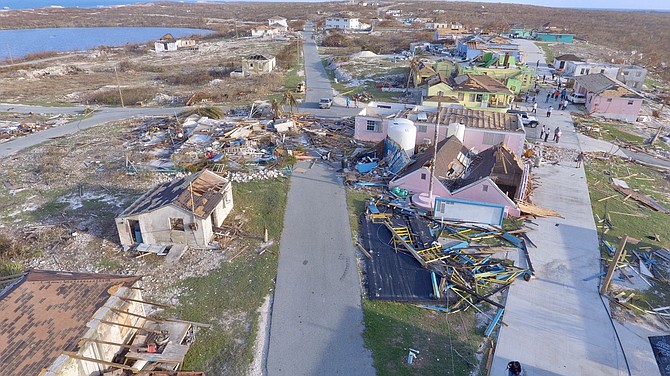 By AVA TURNQUEST
Tribune Chief Reporter
aturnquest@tribunemedia.net
FRUSTRATED Ragged Islanders are demanding the government prioritise critical restoration initiatives as protracted delays have handicapped local efforts to rebuild and restore normalcy to the hurricane-ravaged island.
Just one month from the start of the 2018 hurricane season, the island's association claims attempts to rebuild have been stalled by the scarcity of potable water and health services.
"They're talking about making it a green island, which is fine," said Dr Donovan Moxey, a member of the group's technical planning committee.
"They've done studies to determine what it will take. But that's about 12 to 18 to 24 months away, people need to live now. That's great you want to make this a green island but people aren't going to leave and come back, that's not going to work. Get people back to a certain level of sustainable life."
After more than two months of waiting on approvals, Restoration Ragged Island Association told The Tribune it received permission from the Water and Sewerage Corporation yesterday to install a more robust temporary reverse osmosis plant, which would take the current output of eight gallons per hour up to 1,500 gallons per day.
The plant was purchased by the association; but the RRIA claims it missed out on an earlier opportunity to have one fully donated by a company in California due to government inaction.
The island currently has around 60 residents, who only have access to running water one day per week, according to the association. Notwithstanding donations, residents have to purchase water delivered by mail boat every two weeks or use an old well that has recently come back on stream since it was contaminated by surge water from the category five storm.
Dr Moxey said: "The one thing that didn't come on stream (after the hurricane) was water. Water is required to live and water is required to build. You can't build anything with cement without fresh water because if you building it with salty water, that's going to eat away and erode the concrete as well as the steel and your buildings are going to crumble. "So nobody did any construction.
"What's spurring us now to come to the press is hurricane season starts again in June, (today) is the first of May. So you have one more month left for hurricane season, and people who had their roofs torn off and had their windows blown out, who needed repairs that needed to mix mortar, none of that has been done."
Dr Moxey added: "Tarp is still hanging off people's roofs, so here it is now the start of another hurricane season and nothing's been done to do anything. We're tired of talking, we need help."
The RRIA released an update on restoration efforts post Hurricane Irma yesterday, along with a list of short to medium-term exceptions from the government.
Topping that list is the need for return of government staff stationed on the island, like the police, a nurse and teacher with the use of trailers.
Dr Moxey said: "You need a full-time nurse, the government has to provide that for the start of construction because if someone cuts themselves or fall, somebody has got to provide health services, First Aid."
He continued: "Schools are starting again in September, when the storm hit all those kids went to schools on different islands away from their parents. Some went to school in Nassau or Exuma. We want to bring them back.
"We want to tell the government you have the whole summer to work out your strategy of getting the schools opened. You can bring in temporary trailers. Parents want their children. "Children have been schooled out of trailers forever so that's not a big issue. People have also provided nursing and government services out of trailers, that's not a problem at all."
The group is also asking for government assistance to repair the drain for the island's salt pond, which was costed at $200,000; and for concessions on all building materials used for reconstruction for a five to ten-year period.
In the long term, the association has suggested an extension of the airport runway to attract international airlift, incentives for private carriers to increase local airlift, and provide incentives for Ragged Islanders and their descendants to return home and increase economic activity.
"It's the need," Dr Moxey said when asked how the association justifies its demands given the small population, "but not only that these are services that were there prior to the storm. It's not like we're asking the government to give us new services, this is stuff prior to the storm. There was always a teacher, always a nurse, the only problem now is they don't have a school to go to or clinic to go in, we're saying bring in a temporary one.
"All we're saying to the government is give us the things that are fundamentally things that as citizens you are supposed to deliver to us as a government. Do those things for us that are fundamental, allow us to have some level of decency from a livelihood perspective and move forward, and water right now has been the key issue that we have.
"And everybody knows you can't do anything without water," he added, "you can't live without water."