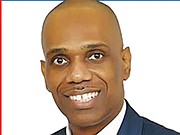 By RICARDO WELLS
Tribune Staff Reporter
rwells@tribunemedia.net
PINERIDGE MP Fredrick McAlpine yesterday backed away from the opportunity to respond to fellow party members who have scolded him for his public remarks concerning the Free National Movement and its policies.
Mr McAlpine yesterday told The Tribune he wanted to "reserve comment", when faced with claims made by FNM Chairman Carl Culmer and former Cabinet minister Tennyson Wells, both of whom called on Mr McAlpine recently to temper his assertions and claims when speaking of the party.
Often brash and opinionated, Mr McAlpine said now wasn't the best time to speak, implying that he may address the comments made by the men in the future, but in a forum with which he would be more comfortable.
"I will not comment now. I will reserve comment," he said. "Thank you for reaching out to me, I will reserve comment today."
At a church service marking the anniversary of the party's first year in government, Prime Minister Hubert Minnis warned party members not to attack each other or criticise the government's efforts publicly because it would prop up the opposition's campaign.
On Thursday, Mr Culmer said he and others in the party have continued to reach out to the first-time MP in an attempt to address his grievances.
However, Mr Wells said it would appear Mr McAlpine does not respect any of the party's protocols to address issues. He said the MP's conduct recently has been "most inappropriate", adding he should know what to say and when to say it.
While some have called for Prime Minister Dr Hubert Minnis or party executives to reprimand Mr McAlpine, Mr Wells said the right way to handle the matter is to allow the MP to "hang himself" by speaking negatively about his party.
Just a day before their comments, Mr McAlpine, while making a protest against the government in Rawson Square, had said that all Bahamians have the right to hold the government to account on national matters.
"You have a right to protest, once you do so decently and in order," he said.
"You have a right to hold your government accountable and transparent, and we should have no problem.
"The Free National Movement should have no problem with nobody protesting because after all they are people, and it's the people's time."
Mr McAlpine also used the opportunity to address the government's handling of the Oban Energies saga and the administration's failures in Grand Bahama.
"Grand Bahama has the potential to be touristic, industrial, a tech hub… but at the same time, let's just get it moving," he told The Tribune.
"Grand Bahama don't need 50 jobs or 100 jobs, Grand Bahama needs an economic infusion, and not at the expense of destroying the lives of people.
"So, we don't need just jobs, we need jobs that's going to get at least 2,000-3,000 people to work in order for Grand Bahama to feel the turn around and the economic impact that it needs to have."