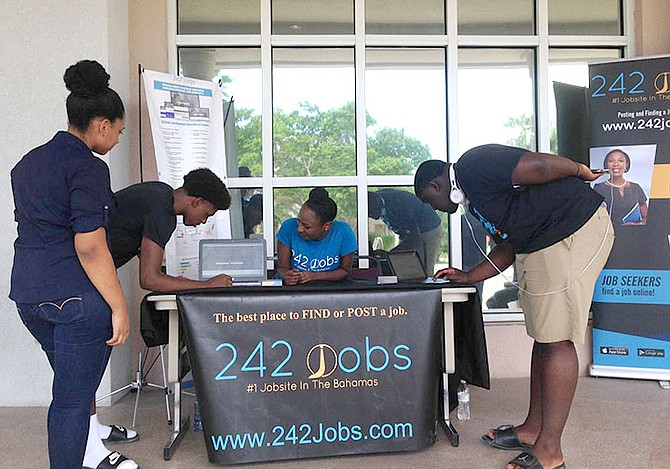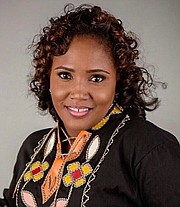 By FELICITY INGRAHAM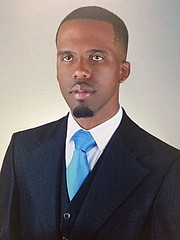 Donavon Powell was on a clear path to success in America, making strides in the financial arena after successfully completing college. He had everything going for him and no reason at this point in his career to stop climbing the corporate ladder in the land of opportunity. But instead he chose to follow a calling and try and make a difference in the land of his birth. He came up with an idea that had the potential to make a positive impact in The Bahamas and give him a chance to return home and earn a living.
He was sitting on his Ohio apartment floor in October 2016 when he had that light bulb moment. What had he learned from working for some of the top companies? That "data is the new all", and if he wanted to be successful, he needed to be able to provide that data and make critical "connections" available to those who need it.
"What I have learned from working with big companies with large databases is that you want to be a connection – it's all about making the right connections," he said, noting that doing it on a large scale is a great way to generate wealth.
"By working with some of the biggest companies in America with some of the largest databases, I could see that data is the new all. I was always keeping in touch with what was going on in The Bahamas. And in the news they would always talk about this high unemployment rate, a lot of job seekers and people being laid off from the hotels. I wanted to be able to do something to help my people. But I also wanted to make sure I could make a legitimate business from it. With everything being online, I found it fascinating that there was no effective website that could allow people to apply online within seconds like they do in the USA."
He saw where he could make a vital connection that would positively impact the Bahamian economy, and he came up with the idea for his company, 242jobs.com. He believed so much in his vision he quit his job at Morgan Stanley and opened his business in Nassau.
Donavon always had great ambition. He was just 16-years-old when he became a freshman at Tiffin University, in Tiffin, Ohio. He ran track and field and was president of his fraternity for two years.
While attending university, he worked during the breaks as a front desk manager at Cedar Points Resort near the school. He graduated with a double Bachelor's degree in International Business and a background in Hospitality Management and Tourism, and began on a successful track up the corporate ladder in the field of finance.
Initially, he moved to Columbus, Ohio where he worked for Cash Advance loans company. From there, he joined the team at JP Morgan Chase and a mortgage specialist. He was then promoted to the executive offices of the company where he worked as a writer, preparing legal documents for the company for any escalated complaints, and helped form communications for institutions such as the White House and Attorney General's Office.
Three years later, Donavon decided to open his own company, a car dealership. But a great job offer from Morgan Stanley brought him back into the corporate world. He was working as a broker at the company in the Global Stock Plan Division in the Wealth Management Department.
"During my time at Morgan Stanley, I got the chance to understand how some of the largest companies in America and in the world work," he said.
"We were handling portfolios like Google, Amazon, Merck & Co Pharmaceuticals and many others. I wanted to apply what I was learning to help the economic success of The Bahamas. I wanted to be able to allow Bahamian job seekers and companies all over the country including the Family Islands to be connected. I wanted them to find qualified talent faster and easier than ever before. I came up with 242jobs.com as an HR solution website that makes recruiting, hiring and managing talent faster, more efficient and more cost-effective than ever before."
He sat on the floor of his apartment every night after work for several weeks and learned how to create a website and did his research on unemployment in The Bahamas. At the time, he was working at Morgan Stanley and managing his website. He was making calls to The Bahamas and finding out from companies what jobs they had available. He let them know they could advertise initially for free on his website. In the first month of launching, he had over 350 job-seekers registered.
During this time, Donavon was reading Steve Harvey's book "Jump": "Steve said that there are some people who would stand on the edge of the cliff that could lead to success and jump and some who would just stand there and watch. He said that if you were really serious about your passion, you would jump. He said at first on the way down, the parachute may not open and you may get a few cuts and bruises. But if you have faith, eventually your gift would make room for you and that parachute would open. I took the jump and quit my job and decided to return home."
"I put my trust and faith in God and allowed Him to direct my path. I came back home in February last year and opened my business. It was Mahatma Gandhi who said that you have to be the change you want to see, and I decided to do that."
Today, the website has some 15,000 registered profiles of job seekers, more than 25,000 subscribers and more than 200 Bahamian companies that have utilized the website to make job placements. He plans to stay and build his vision and make a way for his fiancé, Shanta Drake from Birmingham, Alabama to join him in the islands and see why he loves his country so much.

In the meantime, he is proud to be able to build relationships with companies and bridge the gap between them and the unemployed.
"One thing that was a common complaint from companies is that people were coming to interviews unprepared and improperly dressed; they would be wearing jeans and slippers and scanty clothing," he said.
To address this need, his company started a clothing drive that provides professional outfits for interviews for those who need it most. People donated suits and office apparel that were too small or not often used, items that were in good condition and quality to the cause. Job seekers registered on the website can present their 242jobs.com confirmation of an interview to the Salvation Army and receive professional articles of clothing to wear for their interview. So far, there is enough available for just over a hundred applicants. The company has also initiated job readiness programs for its users.
This 28-year-old entrepreneur didn't come from a privileged background and he didn't have all of the funding he needed to pursue his vision, he simply had a lot of drive and made a lot of sacrifices to get this far.
His father, Odell Powell died when he was just three-years-old and his brother David was six, leaving his mother, Patsy as a widow. Odell grew up in New York and moved to the Bahamas at the age of 12 to attend Jordan Prince William. After graduating, he returned to the US and joined the military, when that was over, he found himself back in The Bahamas where he fell in love with Patsy, whom he had met at the church Odell once worked for The Tribune as a photographer before moving on to The Bahama Journal before he died. Patsy, who never remarried, did her best to raise her boys and give them a good education. Donavon attended St Bede's Catholic School and then Aquinas College before going off to Ohio to Tiffin University where his brother had studied. His brother took on that nurturing role in his life as they grew together without their father, who was described as a fun-loving character who was quite a comedian.
It was hard growing up without his father but he was greatly impacted by his grandparents, his father's parents, whom he describes as "two of the greatest people in the world".
Rev Dr Washington Powell was born in Long Island, New York and was the Minister of New York Community Baptist Church. He built the church with his own hands and the help of community members. Today, the church and a landmark in Gordon Heights, New York as it is the first Baptist church in the area. He met Donavon's grandmother, Doreen, while at seminary school where she, too, was studying to become a minister. The young Doreen had been sent by her church, St. James Baptist Church on Sutton Street to attend the American Baptist Theological Seminary.
Initially, the late Rev Dr Lavinia Stuart, first female minister of the Gospel in The Bahamas was to attend. But she decided to take up an offer of marriage from Rev Henry Start and stayed in The Bahamas, leaving her best friend Doreen to pursue studies. While in seminary school, Doreen met Washington and they fell in love. She did not return to The Bahamas but rather travelled to Long Island, New York with her husband and established the church there together.
Eventually, the pair would begin to visit The Bahamas more often. Rev Dr Stuart would visit and preach from their pulpit and vice versa. Their children, however, would all decide to return to The Bahamas to live, including Donovan's Aunt, Arthellia Isaacs, who shared much of the family's history during our interview.
Donavon was obviously emotionally moved as his aunt relayed stories of a family so connected to America yet who all seemed to feel the pull to return home and make a difference. It seems he couldn't help but follow in their great footsteps.