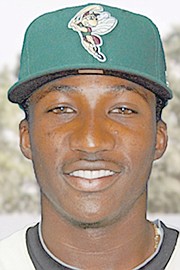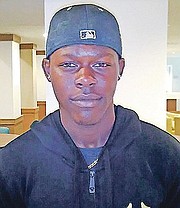 By RENALDO DORSETT
Tribune Sports Reporter
rdorsett@tribunemedia.net
JAZZ Chisholm and Champ Stuart broke out of their respective slumps in the most dynamic way possible - with home runs.
Chisholm hit three home runs in the last two games and continues his progression as one of the top prospects in the Arizona Diamondbacks organisation.
After a torrid April, the 20-year-old shortstop was hitting just .143 since the calendar flipped to May but had a breakout series last weekend for his Kane County Cougars against the Peoria Chiefs.
After an 0-4 appearance at the plate in game one of the series, Chisholm went 3-5 with two home runs and four RBI in game two, an 8-4 win for the Cougars.
He homered to right field in the first inning, hit a two-run blast to centre in the sixth and lined an RBI single to left in the eighth.
"I just changed my approach. I went back to my old approach. I just wanted to hit the ball hard. They were playing me different [while I was hot. So] I started trying to place the ball instead of just trying to hit it hard. I was just trying to get a bloop," Chisholm said to MiLB.com.
Chisholm led the organisaton's minor leaguers in home runs this offseason.
He has already surpassed his home run total from last season. A torn meniscus cut short Chisholm's debut season in Single-A baseball with the Cougars in the Midwestern League's Western Division.
He played in just 29 games - hit .248 with, three stolen bases, slugging .358, an on-base percentage of .325, an OPS of .683, 12 RBI and one home run.Through 28 games this season, Chisholm is hitting .277 with an OPS of .932, OBP of .352 and a slugging percentage of .352.
After his stellar weekend he now has seven home runs, with 18 RBI, 22 runs scored, 65 total bases with four stolen bases.
Despite the recent outburst, he insists he's not a power hitter.
"I'm not a launch-angle guy. I don't consider myself a power guy; I'm more of a gap-to-gap guy. The Diamondbacks have told me I need to cut down on my swing. Other guys say I'm a power guy, but I don't think of myself as a power guy. I really swing hard, really hard. Most of the time, I swing 110 per cent, almost every swing," he said. "They want me to have maybe a 75 per cent swing because I have easy power. I just need to cut down on my swing. Because when I cut down on my swing, my contact point is amazing."
The Cougars sent Chisholm to the 7-day disabled list on April 20 due to a hamstring injury. He left the Cougars' 13-2 win over the Wisconsin Timber Rattlers on April 18 after he awkwardly slid into third base. He returned on April 26 and closed out the month on a five-game hit streak, hitting .367 with two RBI.
Stuart's struggles have been well documented this season in his return to the Binghampton Rumble Ponies.
Stuart hit a solo home run in the third inning of Binghampton's 6-5 loss to New Hampshire on Sunday. It was his third hit in the last five games.
The 23-year-old outfielder has gone hitless in 23 of 28 games this season and his hitting just .094 with six stolen bases.
Stuart was assigned to the Las Vegas 51s, the Mets' Triple A-affiliate in the Pacific Coast League, this offseason, but was reassigned to Binghampton before appearing in a game. This offseason, Stuart also received a spring training call up from the Mets in Grapefruit League play at First Data Field in Port St Lucie, Florida.
In 101 games last season with the Double-A Binghampton Rumble Ponies, Stuart led the Eastern League with 35 stolen bases, hit .222, slugging .331, an on-base percentage of .310, an OPS of .641 and five home runs.