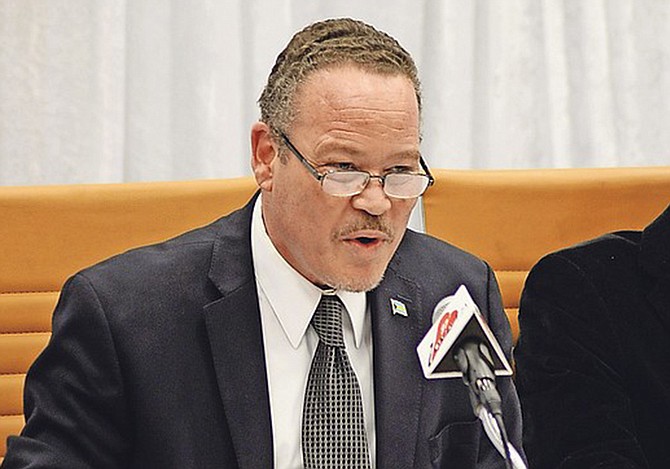 By RASHAD ROLLE
Tribune Staff Reporter
rrolle@tribunemedia.net
WITH as many as seven hurricanes expected in the region this summer, Attorney General Carl Bethel said the mandatory evacuation bill Prime Minister Dr Hubert Minnis promised last year is still in draft form and "difficult to craft because of constitutional limitations".
"Freedom of movement also means freedom not to move, no matter the threat," he said.
Mr Bethel was asked yesterday if the bill would be passed before the official start of the hurricane season next month. The National Emergency Management Agency (NEMA) expects between three seven hurricanes this year.
One thousand people were flown to Nassau from the southern Bahamas last year before Hurricane Irma made landfall. Hundreds failed to heed the government's evacuation plea, however, prompting Dr Minnis on September 10 to say a mandatory evacuation bill would be tabled in the House of Assembly the following week. The bill never arrived.
"I think it is essential that we have a mandatory evacuation [law]," Dr Minnis said. "Not only that, we must have a manual for evacuations so that we will have guidelines. A storm may be a category one or two, and that may not be a requirement for evacuation. But we would look and a requirement may be for a category four or five (storm). Those are the things that have to be discussed."
Like Dr Minnis, Former Prime Minister Perry Christie said several times that mandatory evacuations were necessary, although his administration never moved to introduce a law allowing for it.
NEMA's forecasts for this season are based on 30-year average predictions and project a total of 14 named storms and seven hurricanes, three of which will be of Category 3 or above.
Their findings are in line with a preliminary seasonal forecast released by Colorado State University (CSU) last month.
CSU's report predicted this hurricane season will be "above average".
The report also included the probability of major hurricanes making landfall.
For the entire US coastline, this is 63 percent; 39 percent for the US East Coast, including the Florida peninsula; 38 percent for the Gulf Coast from the Florida panhandle; and 52 percent for the Caribbean.
In an interview with the Tribune on April 6, Chief Meteorologist Basil Dean urged residents to start making preparations.
"Tend to those roofs that may have some needs and also you want to ensure that your shutters and things are in good working order," he said.
"This is also a good time to do tree trimming because we are now into spring, so you want to make sure those things are taken care of especially those near power lines."