UPDATE: A SUPREME Court jury has found Allister Williams unanimously guilty for the September 2016 murder of pregnant Charles W Saunders Baptist school teacher Marisha Bowen. Full story HERE.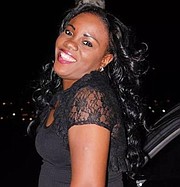 By NICO SCAVELLA
Tribune Staff Reporter
nscavella@tribunemedia.net
PREGNANT school teacher Marisha Bowen died as a result of six stab wounds to the neck and oxygen depravation, according to a pathologist's report.
The report from forensic pathologist Dr Caryn Sands said the half-dozen stab wounds caused injury and bleeding to the soft tissue and blood vessels in Ms Bowen's neck leading to blood loss.
Dr Sands' report also noted Ms Bowen, who worked at Charles W Saunders Baptist School, was approximately three months pregnant at the time of her death. An autopsy conducted on the woman revealed a "normally formed" foetus whose measurements were "consistent with a gestation of 12-13 weeks".
Additionally, the report said the 35-year-old had a belt around her neck with an underlying "furrow" consistent with pressure applied to her neck by the belt, which were associated with ruptured blood vessels in her eyes, mouth and larynx.
That would have caused lack of blood flow to her brain and contributed to her death, Dr Sands' report noted.
The report in question was tendered into evidence yesterday before Justice Carolita Bethel during Alister Williams' trial over allegations he caused Ms Bowen's death on September 9, 2016.
Williams is charged with murder, robbery and receiving in connection with the incident. Concerning the robbery charge, it is alleged Williams also robbed Bowen of two cellphones and an iPod.
The autopsy on which the report was based was performed on Ms Bowen's body by Dr Sands at the Rand Laboratory at the Princess Margaret Hospital (PMH) five days after the killing.
According to the report there were six predominantly horizontal stab wounds that measured from one inch to 1-1/4 inches in length and 1/16" wide after re-approximation.
The directions of the wounds were front to back, left to right, and upward.
The characteristics of the stab wounds on Ms Bowen's skin were consistent with being caused by a "single-edged sharp weapon", Dr Sands' report noted.
Also tied "loosely" around Bowen's neck was a dark, blood-soaked fabric belt, which was 19 inches long and 1-1/2 inches wide. Removal of the belt revealed a dark, red-brown furrow abrasion, which was more prominent on the right side of the front of her neck, Dr Sands' report said.
Dr Sands' report also noted details on Ms Bowen's unborn child which he said was normally formed.
Dr Sands' report noted Ms Bowen suffered numerous other injuries, such as upper lip lacerations and both lower and upper lip contusions, a contusion on the right side of the chest, intramuscular haemorrhage of the tongue and laceration to the mouth.
Dr Sands' report effectively signalled the close of trial proper. At the close of the Crown's case, Williams opted to remain silent but called two witnesses on his behalf--his mother and attorney Lessiah Rolle, whose evidence he used to corroborate with his alibi that he could not have been at the scene of the crime on the date and time in question.
His mother testified that on the date in question, her son was at home in Garden Hills before he left with her to do schools runs. She claimed she ultimately dropped him off in the downtown area. Mr Rolle, meanwhile, testifed that at 9:45am on the date in question, he met with Williams for an appointment.
Proceedings continue tomorrow with Justice Bethel's summing up of the evidence to the jury.
According to initial reports, police said Bowen was found shortly after 8am on the Friday in question in her apartment by other tenants of a complex on Red Sea Road, off Sumner Street. She was pronounced dead at the scene.
She had injuries to her neck and upper body.
During previous proceedings, Detective Corporal Javod Frazer said he saw blood on walls, the floor and miscellaneous items in the Guyanese woman's apartment before ultimately finding her "lifeless" and "nude" body lying in a "large accumulation" of blood in her bed.
Det Cpl Frazer said the woman had what appeared to be a yellow dress with suspected blood covering her face, as well as a black cloth belt wrapped around her neck. He said he noticed visible injuries to the woman's neck and chin and also a grey towel with blood stains in the area of her right arm.
After an autopsy commenced in his presence by Dr Dands, Det Cpl Frazer said the pathologist further pointed out injuries to the left and right sides of Ms Bowen's skull, and also pointed out Bowen's embryo.
Stanley Rolle and Marianne Cadet from the Office of the Public Defender represent the accused, while Roger Thompson and Fania Joseph are the two Crown attorneys on record for the matter.