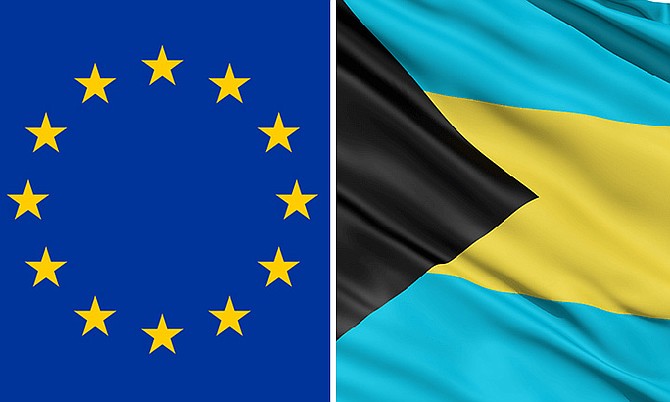 By RICARDO WELLS
Tribune Staff Reporter
rwells@tribunemedia.net
The Bahamas has been removed from the European Union's "blacklist" of non-cooperative jurisdictions for tax purposes.
The country has now been moved to Annex 2, commonly referred to as the grey list, and has until the end of 2018 to fulfill its commitments, according to a statement released yesterday.
Deputy Prime Minister K Peter Turnquest, in his capacity as Minister of Finance, said the EU made its decision based on "excellent coordination" with a technical working group, assembled by the government to address the scenario.
The group consisted of Ministers and their respective technical teams, along with financial services industry partners, according to Friday's statement.
Mr Turnquest said the Bahamas remains committed to constructive engagement with the Council of European Union Finance Ministers (ECOFIN) and the EU Code of Conduct Group's (CoCG) technical committee to meet, or exceed, global standards of conduct and cooperation in tax matters and to the timelines set for technical compliance and legislation to affect the same.
Moreover, Mr Turnquest said the Minnis administration remains committed to the financial services industry and to the success of the Bahamian professionals who form the foundation for its continued viability.
The Bahamas was "blacklisted" by the EU on March 13 despite a last-ditch effort by Mr Turnquest and Minister of Financial Services, Trade & Industry and Immigration Brent Symonette, who travelled to Brussels to engage the CoCG and the EU Council directly.
In the wake of the move, Mr Turnquest admitted the government was, to an extent, blindsided by the EU's decision.
At the time, he noted the government's decision to sign onto the inclusive framework for the implementation of the Base Erosion Profit Shifting initiative with the Organisation for Economic Co-operation and Development (OECD), last December.
Mr Turnquest said this was to solidify the Bahamas' international commitment to comply with measures to avoid the exploitation of gaps in tax rules to artificially shift profits to jurisdictions where there is low or no actual economic activity.
Yesterday's release added: "This is actually a positive signal that The Bahamas has been deemed cooperative. By the EU's own communications, the placement of The Bahamas on Annex 2 highlights that the jurisdiction has 'sufficiently demonstrated its commitment to complying with the EU and international tax standards'."