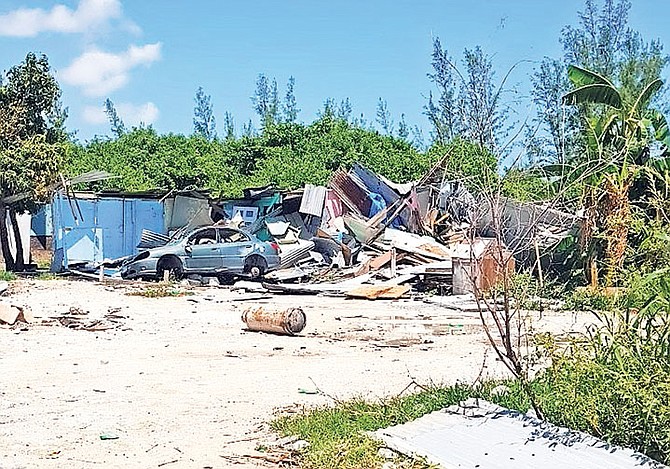 By KHRISNA RUSSELL
Deputy Chief Reporter
krussell@tribunmedia.net
OFFICIALS have conducted a study exploring affordable housing options to assist those who will be left homeless when the government continues shanty town demolition in New Providence.
Labour Minister Dion Foulkes revealed the study will be used to assist shanty town dwellers in finding affordable rentals to relocate, suggesting most residents could financially afford to live elsewhere.
Residents living in these illegal residential areas in New Providence have been given a deadline of July 31 to move along with residents of Abaco shanty towns, namely the Mud and Pigeon Peas.
He said: "I assure you there is no problem finding affordable rental units for residents of the shanty towns of whom most are working. Over 70 percent of all of the adults interviewed are gainfully employed. Some of them have two jobs.
"The other 30 percent you may say that they are unemployed, but that is not necessarily so. Then you have a huge percentage of married women and women who have relationships with men who have small children who stay at home and do not work. Just like you have in the wider society.
"So it isn't that they don't have money. It is very inexpensive to live in a shanty town. The rent is very low."
He continued: "What that does is it gives an opportunity for the Bahamian Haitians and Haitian nationals to send more money to their loved ones back in Haiti. It isn't that they don't have money to afford affordable housing because I know many Haitian workers who are here legally who live in regulated housing districts whether it is Fox Hill, Over-the-Hill, whether it's in the Carmichael Road area, whether it is in the south.
"But this survey did not capture that, this survey only captured the residents in the shanty towns. Officials will use the study to assist in finding affordable housing."
He said the survey was done in conjunction with the Haitian Bahamian leadership.
On Tuesday, Mr Foulkes, who is chairman of the Shanty Town Action Task Force, said a date had not been set for the start of a census in Abaco where there are several major shanty towns. He previously announced officials would conduct a survey on that island following the completion of a questionnaire in the capital.
"This week, I am meeting with the leaseholders of the land," the minister told reporters ahead of a Cabinet meeting.
"All of the shanty towns are located on land that has the legal vested right in Bahamians.
"And I want to meet with them to basically give them notice of what we are doing and give them the opportunity to rectify the situation."
Asked where people with status living in shanty towns were expected to go when their homes were torn down, Mr Foulkes said: "I do not want to announce it now, but we have a plan that we are going to follow. We have been giving this a lot of consideration and I want to assure the Bahamian people that it is very precise and it is going to be done in a methodical way.
"We are not going to be rushed and we are not going to be pressured. In shanty towns are children so we have to be extremely sensitive."
Preliminary census results released last week show that of the total number shanty town residents, an "overwhelming" 70 percent have a legal right to reside in the country.
The survey conducted by the Shanty Town Action Task Force (SATF) assessed 1,410 residents from the 428 households, and revealed most are long-term residents aged 40 or older with an average of three persons per household and total weekly incomes of less than $400.
Twenty-three percent of interviewees did not provide information on their legal status, and only six percent of residents that did were undocumented.
The largest grouping, 32 percent, held work permits, and 21 percent of interviewees had permanent residency, survey findings revealed.
Bahamian residents stood at 15 percent, and three percent of interviewees had a spousal permit.
The survey was conducted in ten shanty towns over a four week period from Elizabeth, Carmichael (Garden Hills), and Golden Isles constituencies, and with the help of 60 enumerators from various governmental agencies.