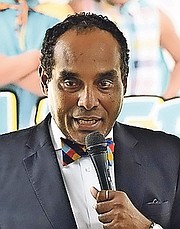 By RIEL MAJOR
ENVIRONMENT Minister Romauld Ferreira said the New Providence Sanitary Landfill's investment and management contract between the government and the selected bidder is 80 to 85 percent completed.
The minister told The Tribune yesterday lawyers are still actively working to complete the contractual agreement.
"I just got my update today, they spent all day on Thursday hashing out the final details...I have been advised that they're 85 percent complete so I look forward to them completing the other 15 percent," Mr Ferreira said.
Mr Ferreira said the new company will be able to manage the landfill after the lawyers have completed the contractual agreement and he is unable to confirm, at this time, when the remaining 15 per cent will be done.
"It is an urgent priority and so we've directed a lot of time and energy towards it," Mr Ferreira said. "We hope to have it finished as soon as practicable but since it's in the hands of lawyers and being a former practitioner it's difficult to say because they have to have mutual agreeable terms that both sides can live with that can have the desired result which is to endure for the benefit for the Bahamian people.
"I don't want to make any prediction."
Earlier this year, it was announced that Providence Advisors/Waste Resources Development Group Consortium had been chosen to assume management of the city dump.
At a press conference this summer, it was said the project will feature several sustainability measures and beneficial features for the immediate long-term health of the surrounding communities and environment.
These include but are not limited to extinguishing all fires at the site and implementing operational measures to prevent such fires in the future; remediating the existing site's leaking toxins and health hazards transforming an ongoing nightmare for the site's neighbours into a well-run operation with much reduced environmental impacts; as well as keeping the site clear, secure and green with a lush natural vegetation cap.