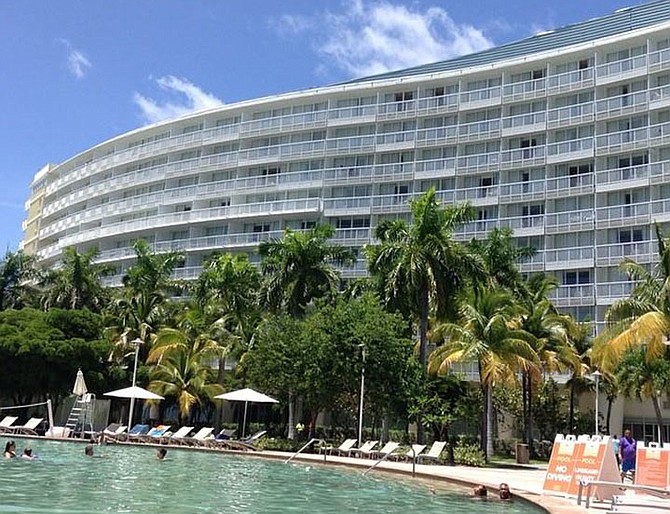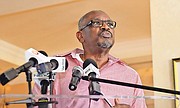 By DENISE MAYCOCK
Tribune Freeport Reporter
dmaycock@tribunemedia.net
PRIME Minister Dr Hubert Minnis revealed that of the 20 investor groups interested in purchasing the Grand Lucayan resort, there are seven serious contenders the government is looking at closely.
"We want to ensure that whomever purchases the hotel will have the funds to carry it forth to the future and vision of the Bahamas," he said while taking questions from reporters on Wednesday at the Grand Bahama Technology Summit in Freeport.
Dr Minnis is confident that the hotel property will be sold, but also indicated that the government will soon make a big announcement about a project for Grand Bahama. 
"We have a great project for Grand Bahama that hopefully we will be able to announce very soon, he said. "I won't give a commitment or date, but very soon we will announce a very great project that I think will assist in projecting Grand Bahama forward."
The unsold Grand Lucayan property continues to negatively affect the island's economy. Businesses at the nearby Port Lucaya Marketplace are closing one by one. The remaining stores and straw vendors are struggling to hang on until the hotel can be sold.
When asked for an update on the sale of the hotel, Dr Minnis said: "My understanding is that at least about 20 groupings are showing interest and about seven look very serious. The committee (overseeing the sale) is dealing with it."
He added that separation packages to hotel employees will be carried out in compliance with the union's industrial agreement and the country's laws in terms of what workers are entitled to. 
"I have not been intimately involved in negotiations (with the lawyers for the frontline employees), but they know they must follow the laws of the Bahamas and under no circumstance are we to compromise or marginalise any Bahamian." 
Earlier this year the government bought the beleaguered hotel for a purchase price of $65m, with plans to quickly offload it to a viable buyer. 
Dr Minnis assured hotel workers and residents that things will turnaround for Grand Bahama.
"I think Grand Bahama has a bright future …and I think things will work out," he said, referring to the new businesses exhibited at Tech Summit that have been started by Bahamians.
"As you know technology is the future. When I walked through (the exhibition floor) I was surprised at the number of Bahamians that have started their own businesses. They started with just one or two individuals and are now in the process of hiring as much as 25 employees and looking to employ more. So, we are in a digital revolution and we will have Bahamians coming out as millionaires during this time."
When asked about airlift to the island, Dr Minnis admitted that has always been a very difficult challenge for Grand Bahama. 
"Airlift into Grand Bahama has been very expensive, and we have been discussing that regularly with tourism (officials) and Bahamasair to see how we can deal with that. It is challenge but nothing is impossible…but we are prepared to break down those walls and barriers to succeed."