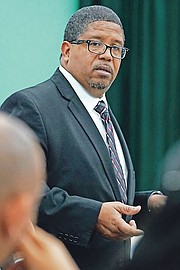 The Deputy Prime Minister has urged top IMF officials to play a greater role in developing "objective" standards for assessing the Caribbean's efforts to combat financial crime and tax evasion.
K Peter Turnquest, pictured, made his call during an October 14 breakfast meeting with the IMF's managing director, Christine Lagarde, and deputy managing director, Tao Zhang. He stressed that The Bahamas and other Caribbean economies continue to be impacted by negative perceptions and historical biases that do not reflect the current strength of their regulatory regimes.
He asked the International Monetary Fund (IMF) to take a become more proactive in developing objective, fact-based assessments of anti-money laundering and counter-terrorism financing reforms in Caribbean jurisdictions.
"We need the Fund, through its own independent research and leveraging of the integrity of the Financial Sector Assessment Programme (FSAP), to bring more rigorous evidence to bear on the benchmarked quality of our regulatory regimes. This intervention must give more credence to the risk-based approach," said Mr Turnquest.
He identified two key research priorities as independently quantifying the economic and fiscal costs imposed on Caribbean international financial centres through initiatives launched by the European Union (EU) and Organisation for Economic Co-operation and Development (OECD), and quantifying how the returns to these organisations compare with such costs.
Mr Turnquest said The Bahamas shares the international goal of combating money laundering, terrorism financing and other illegal activities that could exploit weakly regulated financial centers. He added that this nation has taken significant steps to keep up with the international benchmarks for transparency and co-operation in tax matters, and continues to do so.
Yet The Bahamas' risk profile, in the eyes of international standard setters, is seen as static and little credit has been given for its reforms. Mr Turnquest said this will continue to threaten the correspondent banking relationships (CBR) that are vital to The Bahamas' ability to conduct international commerce and attract investment.
Suggesting that the Fund can play an advisory role through the FSAP process, Mr Turnquest argued: "The weight of the IMF should be brought to bear on more objective, fact-based assessments of our progress on anti-money laundering/counter terror financing reforms; on more quantification of the unintended or, indeed, intended consequences of changing or widening scopes of international tax co-operation initiatives, on CBR outcomes and our economic diversification aspirations."
He referenced anecdotal evidence suggesting that the imbalance of international pressure on the Caribbean was creating growth opportunities for IFCs in larger economies This cannot be ignored, said Minister Turnquest, especially as the IMF has published advice recommending that countries in the region consider, in the extreme, exiting this business.
"The call for Caribbean economies to diversify and become more resilient must consider more the consequences that black and grey lists have on access to correspondent banking, and how being on any list can, in an unintended fashion, undermine our jurisdictions' efforts to attract foreign investments that promote diversity and resilience," said Mr Turnquest.