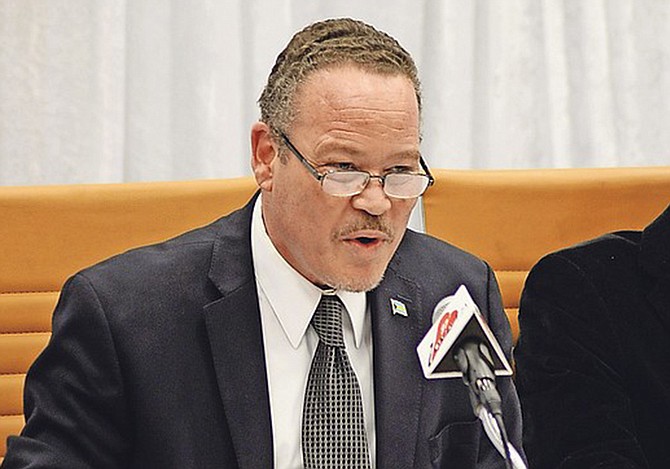 By AVA TURNQUEST
Tribune Chief Reporter
aturnquest@tribunemedia.net
HIGH-profile attorneys on the government's legal team have severed ties with the Office of the Attorney General due to a difference of legal opinion on which strategy to take in its rebuttal to legal action filed over the removal of shanty towns.
Attorney General Carl Bethel issued a statement yesterday, which noted Harvey Tynes, QC, and Robert Adams from Graham Thompson in Grand Bahama are no longer representing the government in its case against those seeking to block the government's shanty town eradication.
Mr Bethel said with the two attorneys gone from the government's legal team, the Office of the Attorney General will now conduct the matter on behalf of respondents "with the government's absolute determination to humanely address the vexing and long-standing problem of irregular, illegal, unsafe and unsanitary housing in shanty towns throughout The Bahamas."
His statement continued: "Based on this firm resolve, we have agreed to part ways with formerly retained private counsel. The government expressed its thanks and appreciation to Messrs Tynes and Adams for their respectful and untiring efforts up to this point."
This comes as shanty town residents have asked the government to rescind revised notices asking them to demolish structures or they will petition the court to have top officials cited for contempt.
The Supreme Court previously ordered the government and utility providers to halt any planned evictions, service disconnections or demolitions in shanty towns pending a judicial review of the Minnis administration's policy to eradicate those communities, filed on behalf of 177 shanty town residents from both New Providence and Abaco.
Prime Minister Dr Hubert Minnis, Minister of Labour Dion Foulkes, Minister of Public Works Desmond Bannister, and Mr Bethel are named as respondents in the ex-parte application.
Attorney Fred Smith told The Tribune yesterday his clients have received revised notices from the Ministry of Public Works concerning the same land as previous notices, which are under dispute.
He explained the revised notices are individually addressed, and purport to have followed an inspection unlike previous notices, adding that the lack of particulars was one of several objections formed by his clients in their application.
A notice, obtained by The Tribune, was issued by Ministry of Public Works Building Control Officer Craig Delancy to Freddie Petifree of Carmichael Road, on August 29.
The notice stated an inspection of premises located east of Bacardi Road at the rear of Alpha Omega Church had revealed a 20 ft by 24 ft masonry structure had been constructed without an approved building permit.
Mr Petifree was given 28 days to pull down and remove the structure, or the minister would remove it and recover the expenses incurred from him, in accordance with the Building Regulations Act.
In an email to the government yesterday, Mr Smith wrote: "Given that the revised August 2018 notices have been served in relation to structures that were already the subject of the July 2018 notices, we infer that you accept that the July 2018 notices were unlawful and of no effect.
"Moreover," Mr Smith continued, "we remind you of the terms of the interlocutory injunction of Mrs Justice Cheryl Grant-Thompson, namely that pending the determination of this action the respondents 'be and are hereby restrained directly or through their agents, appointees or employees from taking possession of, demolishing any building on, or otherwise interfering with the 177 applicants' and other residents' and occupiers' enjoyment of land in shanty towns in New Providence, including by disconnecting any utilities other than pursuant to the relevant enabling legislation.'"
Mr Smith wrote: "The revised August 2018 notices, and the threat they contain to demolish buildings upon the land in issue in these proceedings, are plainly in direct breach of this injunction."
Mr Smith asked for a confirmation the revised August notices would be withdrawn and no action taken; no further notices would be issued pending the determination of the judicial review; and for the government to accept that a notice under the Buildings Regulation Act is not a valid means to take possession of land.
Mr Smith set a deadline of 4pm on Friday, or his clients will seek to apply for a further injunction, permission to amend their judicial review application, and a motion to have respondents cited for contempt of court.
In his email yesterday, before Mr Bethel's statement was released, Mr Smith noted the government had not yet submitted a notice of appointment or appearance by Mr Tynes or Mr Adams.