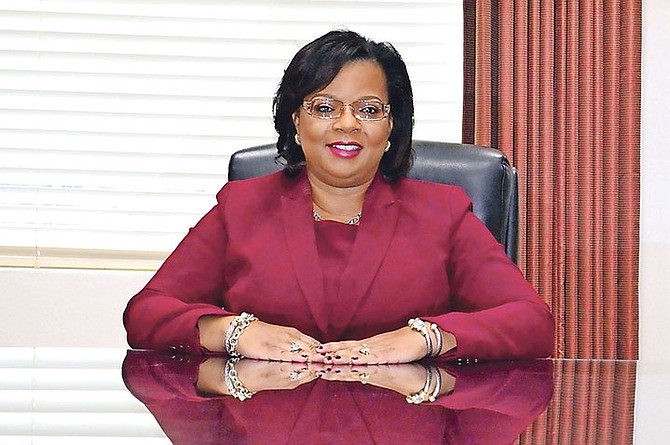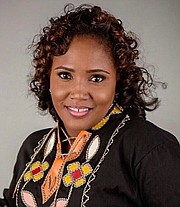 By FELICITY INGRAHAM-DARVILLE
She grew up at the junction of honesty and integrity road – literally. Her childhood home served as a refuge for many. Her mother taught her how to give unselfishly and to consider the needs of others. She did well in school and carved out a successful career in accounting and finance. Yet today, she has become the focus of a controversy that is playing out nationally without most not really knowing who she is or what she is all about.
I decided to find out and sit down Face to Face with Darnell Osborne, former chair of Bahamas Power and Light (BPL).
She is the daughter of Joseph "Joey" Johnson, who was one of the first Bahamians to become director of sales for Loews Hotel. (Loews Paradise Island Hotel and Brittania Beach Hotel sat side by side on what is now the Atlantis Resort). Her mother, Sybil Johnson (nee Toote), was a homemaker and a devoted mother to Darnell and her older brother Dominique.
Sybil was raised Over-the-Hill on King Street by her parents, Eugene Toote Sr and Violet Toote (nee Weech). The couple was well known in the community and raised their six children on this famous street where the Zanzibar sits on the Blue Hill Road side and Wesley Methodist Church sits on the Market Street side, with families like the Coakleys, Murrays and Jenoures.
Eugene Toote was one of those well-known names in the country in his time. Originally a butler by trade, he eventually became an entrepreneur and established several businesses including the Conch Shell restaurant. When the numbers business came around, he became one of the first "numbers men" along with the likes of Percy Munnings. He was able to provide a good living for his family, and they were the first in his community to have things like a motor vehicle and a television. His butler training resulted in an exquisite, refined taste that resulted in many referring to him as "The Baron of Suzuki". This also may have been a result of his upbringing in Long Cay. Back in the day, many families on this island were well-off because of a thriving salt industry and the fact that it sat directly in the path of a major ship liner that would dock there and provide them with all they needed and more in exchange for the valuable commodity.
He contributed generously to the restoration of his church on that island, and also to his church in Nassau – St Agnes. He and Violet raised their children with manners and etiquette but never allowed them to think they were better than others. Their home was always filled with members of the community and children who benefitted from the Tootes' generosity. Eugene also gave generously to his political party, the Free National Movement and was close friends with Sir Cecil Wallace-Whitfield, J Henry Bostwick, Sir Arlington Butler and Cedric Parker.
"By the time I came along, my grandparents had moved to Gleniston Gardens," Darnell recalled.
"He was a very brilliant, self-educated man. I remember having conversations with him… he would watch 60 Minutes every Sunday. We always had to sit together as a family for dinner and you had to drink tea out of a teacup. Their house was very open. He was very old school."
In this same fashion, Darnell was raised in a home that was always filled with family and friends. Her father had ten siblings, all girls, and they all had several children themselves. Her mother had a smaller, more tight knit family with about five grandchildren, but they all seemed to gravitate to her mother.
"Our house was like a refuge for children," Darnell said.
"Family and friends would come and visit and some would stay… some became her children for whatever the circumstance. For example, we had family from Eleuthera who came to visit. The son decided he was staying in Nassau and he lived with us and never went back. Then his two sisters came to stay. My mom had a lot of love to give and was generous to the core. She would give you her last dollar and the shirt off of her back. She was always willing to listen and provide comfort, and she just loved her family."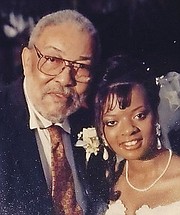 Eventually, Joey and Sybil got divorced, and he relocated to America in the 1980s. Sybil continued to raise her children in their Imperial Park home, located on the corner of Honesty and Integrity roads – virtues which Darnell says describes her mother to the core.
Darnell attended St John's Preparatory School on George Street and then St John's Primary and High Schools, where she graduated in 1984 as head girl with honours. This is where her love for accounting was born. She looked up to her cousins Gerald Sawyer and Ednol Smith, both accountants, and so when it was time to decide what her electives would be, she chose accounting.
"Everyone (in school) discouraged me and said 'Don't do accounting! It's hard!' So I tried to drop out and do commerce instead," she confessed.
"We had a Jamaican accounting teacher who talked me out of it. I started doing it and realised I had a knack for it, so I stuck with it and it turned out to be my favourite subject."
She went on to the College of The Bahamas (which honoured her and featured her in its magazine a few years ago) and then to the University of Waterloo in Canada where she continued in her favourite subject.
By the time she was enrolled in COB, her parents were divorced, but her mother sacrificed to pay for her first semester. She applied and was successful in attaining a scholarship from the International Women's Club, with people like Beverly Wallace-Whitfield and Carolyn Bartlett as members – a start for which she is forever grateful. Back then, COB was only a two-year institution.
She is also thankful for the invaluable experience she gained while working at Jeffrey Beneby & Co. She worked part-time at the firm while at COB and learned much from Mr Beneby, one of the first Bahamian CPAs (certified public accountants). She also worked for a summer with Roy West & Co, an offshore bank and trust company that later became Coutts & Co, and this company awarded her the first scholarship that allowed her to attend the University of Waterloo. She also obtained a government student loan, which she paid back in full, she points out.
While at university, she met her lifelong partner, her husband of 24 years, Derek Osborne. The fact they are both Caribbean natives may have brought them together, but also probably their love of numbers. Derek, a native of Monserrat with strong family ties also in Trinidad and Dominica, is an actuary, one of the few in the region with a specialty in pension and social security. Initially, he was working in Trinidad but he moved to The Bahamas and married Darnell who did not want to part ways with her mother. Together, they raised their son Nagge, who is now 19 and Celine, who is 16.
The community where they live turned out to be much like Darnell's childhood days in Imperial Park. It's a safe community where the children ride bikes freely and because they grew up together, they often are in one another's homes.
The Osbornes built a pool house for Nagge because his friends would come and stay for days at a time. He is now in university studying finance, but doesn't want to become an actuary or an accountant. Celine is completing her last year of high school with her sights set on studying medicine, something her mother had initially thought she would do, but found that the subject of biology and blood did not bode well for her.
She did, however, do well in her field of choice. PriceWaterhouseCoopers recruited her while she was still in university. She obtained her CPA status and and worked at the company's Nassau and Freeport offices. She eventually joined the offshore financial industry and improved her skills by passing the Canadian Securities Course with honours.
From 1993 to 1998, she held various positions at Rawson Trust company as a mutual fund specialist before finally rising to the position of executive director and a member of the company's board of directors. She also acted as the company's money laundering reporting officer. The offshore industry began to undergo many challenges and legislative changes and Darnell worked as a consultant for local and Swiss offshore institutions during this time.
She decided to make a career move and, in 2001, she joined the Insurance Company of The Bahamas as its financial controller. She remained there for 17 years. As a licenced member of the Bahamas Institute of Chartered Accountants (BICA), she has served in several capacities including and chair of the Investigations and Ethics Committee, secretary, first vice president and president (June 2014–May 2017). She also chaired BICA's Legislative Reform Committee from 2013 to 2016, giving countless volunteer hours and working with the Attorney General's office in a collaborative effort with BICA members until the legislation (BICA Act, 2015) was passed, which transformed the accounting profession.
She worked along with leaders in the industry such as senior accountants Wayne Aranha, Phillip Gallanis, Phillip Stubbs and her former boss, Jeffrey Beneby (who recently died), who all gave "tremendous support". The legislation brings the industry up to international standards with regards to investigation and discipline of its members. Darnell is also a member of the American Institute of Certified Public Accountants.
Darnell served for six years on the board of St Andrew's School and on the Board of the Broadcasting Corporation of The Bahamas from 2008–2012. She and her husband, who comes from a strong family filled with successful entrepreneurs, own Family Fun Treats Ltd, which owns and operated the Dairy Queen franchise in The Bahamas. Previously, they owned Mr Pretzels from 2004–2014 before selling the business.
"I have come up through a very disciplined background," Darnell said.
"I always wanted to be of service to my community and the nation and attempted to do it through my involvement in associations like BICA. I didn't want to do it through frontline politics (which can get nasty). Having children, I always wanted to shield them from that, so I stayed out of frontline politics and made my national contribution in other ways.
"My mother taught her children to always do what is right no matter the cost and that is what I try to do in all my dealings. I am not perfect but I try to stay on the straight and narrow. I pay all my taxes, I pay my bills and I try to treat people properly. I believe my steps are ordered by the Lord. I never set out to be head girl; I never set out to be the chairman of any board. I just always tried to do my best."
Without the BPL board appointment, Darnell has found life at a slower pace. Having lost her mother this past April, she has time to "properly grieve" and she also plans to focus on her daughter finishing strong in her last year of high school.
"It's been a challenging year for me," she confided.
"I did all I could do for my mom (who was on dialysis) and I did my best with my duties because my main focus was the Bahamian people."