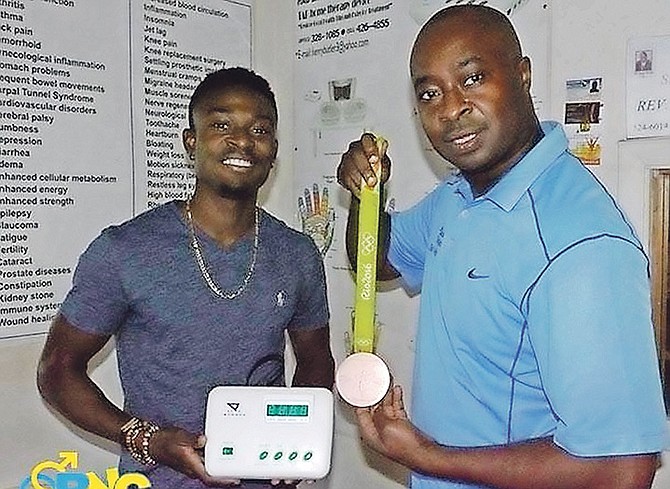 By ALESHA CADET
Tribune Features Reporter
acadet@tribunemedia.net
After his Olympic dreams were shattered by an injury that continued to cause him chronic pain, former javelin champion Henry A Butler turned to a new, alternative form of treatment: magnetic field therapy.
According to the website healthpro.com, magnetic therapy or magnetic field therapy is an alternative medical practice that uses magnets to alleviate pain, treat illness, and maintain health.
The human body naturally has magnetic and electric fields. And all molecules have a small amount of magnetic energy in them. Magnetic field treatment is based on the belief that the body's natural electromagnetic field must be in balance to maintain good health, and that magnetic fields can induce physical and emotional changes in human beings. Types of magnets used in magnetic therapy include electrically charged magnets, which deliver an electric pulse, or static/stationary magnets.
Mr Butler officially launched his TAB Therapy company 2007. He focuses on pressure points that send signals throughout the body and assist in bringing the whole body back to into a state of well-being. He also combines magnetic field therapy with reflexology, sometimes known as zone therapy.
"This therapy is safe, simple, cost-efficient and result-driven. Reflexology is an ancient Chinese technique that uses pressure points that massages usually the feet, but also the hands, to restore the flow of energy throughout the entire body," he said.
Mr Butler explained he was inspired to start this particular venture when he was injured while competing in the Central American and Caribbean (CAC) Games in 2002. He was the national champion javelin thrower at the time.
"I felt that I had the potential to go all the way to the World or Olympic Games. However, due to a severe rotated cuff injury my athletic dreams came to an end, and the injury and constant pain from the injury persisted. I was constantly taking painkillers and enduring the side effects from the medication. I even had a surgical procedure done, which proved fruitless. After extensive research I truly believe that I was led to this device. Once I tried it and saw the immediate results I received, I knew the country needed the same," said Mr Butler.
Since then, Mr Butler said TAB Therapy has treated numerous athletes, including boxer Meacher Major, baseball player Lucius Fox, members of the Golden Knights, the Commonwealth Giants during their playoff games, high school basketball teams preparing for the Hugh Campbell Championship games, track and field athletes, swimmers, and the list goes on.
"Over the past 10 years I have seen this work go above and beyond my expectations. With that being said, the goal for TAB is to allow as many Bahamians as possible the opportunity to experience the wonders that this treatment can afford them. Eventually I will expand to other countries in this region suffering the same medical issues we face here in the Bahamas," said Mr Butler.
Mr Butler claims this form of therapy is likely to benefit those suffering from high blood pressure, stomach problems, erectile dysfunction, carpal tunnel syndrome, arthritis, back, knee and foot pains, whiplash, obesity, infertility and insomnia.
"From the minute persons walk into TAB they feel the energy – good energy; a positive vibe. Because this product is new and many have not experienced anything of this magnitude, I will tell you the initial experience is a tingling electrical pulse that leads to a state of relaxation. Our feedback is always positive because we attack the source versus treating a symptom. We have repeat customers on a weekly or monthly basis. We have extended our services to the Family Islands, with visits to Freeport monthly, and the response is always overwhelming. This is because people want relief from pain and suffering. And whatever they have been doing over the years has not worked," said Mr Butler.
Web MD advises that it's not a good idea to have magnetic field therapy if you: use a pacemaker, have an insulin pump, or are pregnant. Some people who have magnetic field therapy have side effects like pain, nausea and dizziness.
While there have not been sufficient scientific studies done to draw solid conclusions on its effectiveness, some clinical trials have shown that magnetic field therapy can be a potential treatment for back pain and osteoarthritis-related pain, stiffness and physical function.
TAB Therapy is located on the corner of Mount Royal and Rosetta Street. Contact 328-1085 or 426-4855, or e-mail at henrybutler3@yahoo.com for more information.