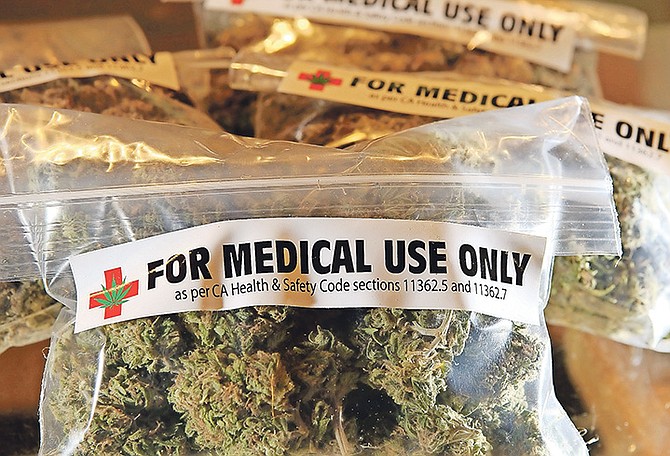 By JEFFARAH GIBSON
Tribune Features Writer
jgibson@tribunemedia.net
TWO of Nassau's Rotary Clubs are teaming up to educate the general public on medical marijuana with a special symposium to be held this week.
The symposium is a joint effort by the Rotary Club of Old Fort and the Rotary Club of New Providence. And with medical marijuana being a hot topic in the country and elsewhere right now, the clubs want to engage the public and keep the discussion going.
The symposium, which will be held at Poop Deck West this Thursday beginning at 7pm, is one of several events happening this week to advance the conversation surrounding medical marijuana.
"It began as a conversation between former Member of Parliament Phenton Neymour and myself on how medical marijuana improved his quality of life during his protracted battle with prostate cancer. After his death, which was the day after he agreed to speak to the Rotary Club of Old Fort, we decided to expand on it and turn it into a full symposium in his honour, and in partnership with the Rotary Club of New Providence," said Shanley Toote, president of Rotary Club of Old Fort.
Speakers during the event will include Dr Marvin Smith, president of the Caribbean Pharmaceutical Association; Dr Lynwood Brown, medical practitioner and leading activist for the legalisation of medicinal marijuana; Krishnan Wignarajah, COO of Weed Advisors, a marijuana advisory and consultancy firm based in Canada, and Elliott Hepburn Marshall, a prominent voice in the movement toward the legalisation of medical marijuana and owner of Proper Rx Collective.
"There are different perspectives to the medical marijuana debate. There's the purely medical aspect and the financial ramifications. (Questions include) 'How was this rolled out when legalised in other countries? 'What are the social impacts of marijuana legalisation', to name a few," he Mr Toote.
This symposium, he added, is essential as it will give those in attendance an opportunity have their questions answered and they will "gain critical knowledge to form an educated position on the topic."
"The discussion is happening. The public needs to have credible information at their disposal to form an intelligent position. Rotary, being an organisation of business and civic leaders, wants to facilitate the conversation," said Mr Toote.