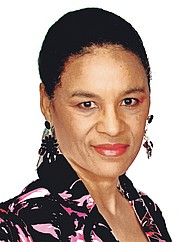 By TERI M BETHEL
What is it that you always wanted to do but could never find the time to pursue? This seems like a common thread in conversations today; people lamenting over what they want to do but not getting around to doing it. Years pass but the stories remain the same. You say you always wanted to make handbags, study law, bake cakes, fly a plane, but you can't seem to find the time or the drive.
It's quite interesting that most people find the time to watch more than four hours of television on a daily basis during the week and even more on weekends. Some people allocate a portion of their week to spending time with friends and family, just to keep in touch. That's quite nice, isn't it? Spending time with loved ones is necessary, but is so much socialising really good when you could be working towards fulfilling your goals?
The point is, when you tally the time you spend socialising or being entertained by television, how much closer to fulfilling your aspirations are you? What about social media? You said you would budget your time, but 15 minutes has turned to two hours nightly. Are your habits stunting your growth or robbing you of your ability to finally make headway in life?
What do you want to achieve in this season of your life?
You bought a sewing machine, took a purse-making course, but you are still talking about the bags you're going to make. In fact, you're still wearing someone else's brand! The online certificate course you wanted to take to improve your position at work is still knocking on your door; will you answer it?
What about the book you keep promising to write? Should we talk about the garden? You know the potted plants you bought several years ago with the intention of developing a home nursery? It's not too late to get to it. There are times we complicate our dreams by trying to implement Phase 4 before establishing Phase 1. Dream big but start small so that you are not overwhelmed.
Too tired to function?
There are those who are legitimately too tired to think much less expend additional energy towards their goals. What can people facing this challenge do? Put on your cleats—the shoes that keep you grounded for running a swift race without losing your footing:
• Connect with God in prayer—from peace flows productivity
• Learn to laugh—laughter is like medicine to your bones
• Exercise—the circulation can give you that extra boost of energy
• Always eat foods that build you up—your diet affects how you function
• Take your vitamins/supplements—many foods are void of nutritional value
• Speak positively—your words can influence how you feel
Your journey begins with the first step
This is not to shame you, but to encourage you to set aside a few minutes daily to work towards your dreams. By turning off the television for 60 minutes every day you have added seven hours to begin working towards your goals. When you see how beneficial it is to do so you will begin streamlining your slack time for conversion to productive time.
Instead of watching others become successful, you can invest in your success. Instead of complaining that others are advancing on the job and you aren't, think about how you can use your free time to improve your skills. Too many people think promotions are handed out based on the length of time they've spent on the job rather than the value they are bringing to the organisation. Take the step towards increasing the value of your service instead of just marking time.
Don't give up on your dream
A busy person once told me there are 24 hours in a day; you get to choose how many of them you will be productive in. I thought about it and realised that there are certain times I can work later or get up earlier to squeeze more productivity in my day. The truth is, when I need to push a project out, I could sacrifice some sleep time several days per week.
What I also realised was when our home was bustling with activity I could delay some projects until everyone was asleep. If this meant taking a nap and working through the night, then so be it. You just have to make the opportunities if they don't naturally present themselves. My novel, "Love On Maruba Island", took years to write—many times in the wee hours of the night. I didn't give up on my dream and now readers are calling it a page-turner.
Waiting for God to make your dream happen for you without putting your hands to work won't yield a smidgeon of success. You just have to jump in and get started. Don't expect to have it all together when you do. What you can expect though is that you will learn how to manage your time more effectively as you move closer to achieving your goals. Instead of investing time and money into watching someone else's story unfold, you can create your own.
So about those dreams and goals…are you ready to take that first step?
• Teri M Bethel is an author as well as a publisher of books that seek to entertain, empower and promote healthy lifestyles for adults and children. Additionally, she provides a free online directory for local authors to showcase their family friendly books. Teri and her husband serve as marriage and family advisors for a local ministry. The couple has two adult sons. Visit her website, www.BooksByBethel.com, or e-mail tbethel@booksbybethel.com.