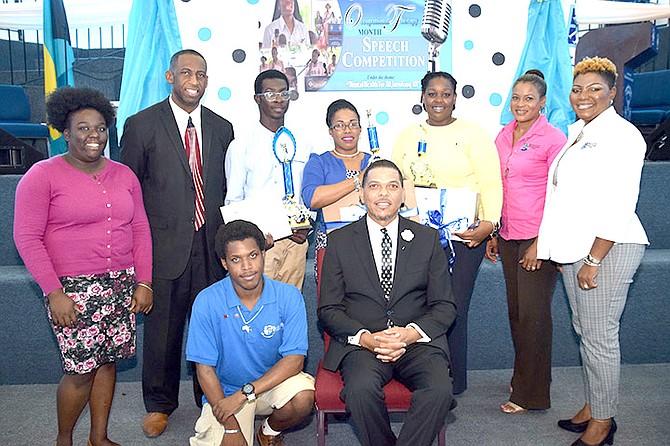 Three students of the Bahamas Technical and Vocational Institute placed first through third in the recent Sandilands Rehabilitation Centre's Occupational Therapy Month speech competition.
Office administration student Kemel Mitchell won in the Community Division, followed by office assistant student Naomi Adderley, and placing third was information technology management student Augustina Ferguson. The topic was "Mental Health for All, Involving All."
For Kemel, who walked away with a trophy, certificate and an iPad, the competition goes beyond winning a title.
"I'm ecstatic, not because I won, but because I was able to research and share what I learned to help someone," said the 18-year-old.
Kemel said addressing mental health issues is important.
"Mental health creates a stigma and so many people face it and don't even know. A lot of our people really need to know about it. It plagues so many lives," he stated.
Meanwhile, Naomi said her participation in the speech contest was an opportunity to share information about an area that is personal to her.
"I personally suffer from a mental illness. I suffer from depression and I decided to use me as an example in my speech so people will know that you don't have to hide your illness. One out of four people has a mental illness, and yes, I am one. I exposed my illness to people who knew nothing of it, and I felt relieved," she added.
Assisted by head of the Student Success Learning Lab, Brent Kemp, Naomi said even if she did not win, she took a giant step forward.
"I would have still felt like a winner because I overcame something I never did before and got the opportunity to express my personal illness that may have caused someone to express theirs," said Naomi.
Kemel and Augustina's English instructor, Ayla Roberts, expressed pride in the students' performance.
"I am a psychologist, so I too have an interest in the topic. Mental health is something that we need to be more educated about as it impacts us all. Both students did a great job sensitising the audience to mental health," said Ms Roberts.
Kemel, who entered the Junior Minister of Tourism competition back in 2017 while still an Anatol Rodgers High School student, admitted that initially he had no intention of entering the contest, but decided to do so at a late stage.
"I am so grateful for my English teacher, Ms Roberts. She believed in me," he said.
Ms Roberts noted that although she provided information and coaching support, the students did the work.
"A part of this semester's syllabus for English 1100 focused on debates, and I've been able to witness and identify their strength as enthusiastic speakers… upon hearing about the competition, I knew that they'd both be well suited," she said.
"I provided both students with some information that I had about the topic and referred them to relevant resources. More specifically, I was able to review, provide feedback and a coaching session for Kemel. Both students, however, did significant individual work to acquire success. What the audience witnessed was a product of their diligence and commitment to hard work."
Ms Roberts said both students were passionate about representing themselves well, which resulted in a positive representation for BTVI.
"Augustina's excellent performance in previous speeches in class was a good indicator of her ability to excel in a competition of this scale. Kemel similarly approaches his work with a positive ethic and unstoppable rigour, which were evident that day at the competition. He also has debate experience. Whether they received awards or not, I along with their peers knew that they'd excel," she said.
"They did the work. The achievement is theirs…I was so happy for them, knowing that it is not easy to speak about such a sensitive issue. They rose to the occasion. I, without a doubt, see competitions in their future."