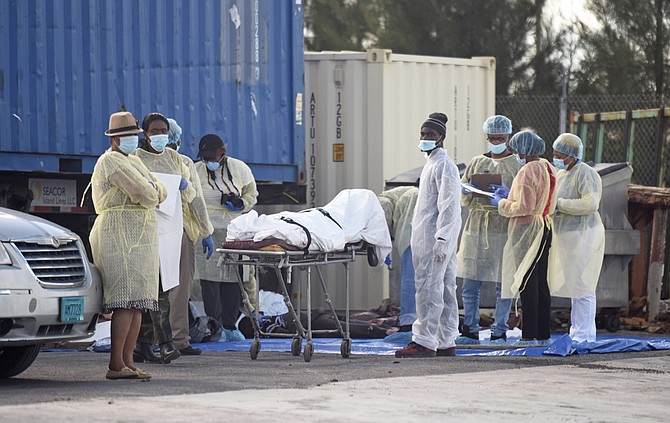 By KHRISNA RUSSELL
Deputy Chief Reporter
krussell@tribunemedia.net
The final death toll in the Abaco boat disaster could rise to as high as 65.
For days unofficial figures have pointed to a much higher death toll but a statement released yesterday by the National Emergency Management Agency (NEMA) revealed there are approximately 35 people who were on board the stricken vessel who remain unaccounted for.
Another body was recovered yesterday, bring ig the number brought to shore to 30 with 18 confirmed survivors.
NEMA reported the ship was carrying approximately 83 people - 76 men and seven women, all of whom were Haitian. There were no children on board.
The Immigration Department on Sunday said 87 people may have been on board but this number has been challenged by volunteers involved in the rescue operation who said many of the survivors put the number at 45.
Adding to the uncertainly on Monday Dr Jean Paul Charles, president of the League of Haitian Pastors said he had unconfirmed reports the number onboard could have been as high as 96.
Yesterday's figures from NEMA provide as close an answer as we are likely to get.
Rescue and recovery operations are continuing but as time drags on chances of survival will diminish for the passengers unaccounted for unless they somehow make it to shore.
In NEMA's statement Director, Captain Stephen Russell thanked all those involved in the tragedy.
"First, let me on behalf of the Commonwealth of The Bahamas extend condolences to the people of Haiti and to our Haitian brothers and sisters thought The Bahamas," said Capt. Russell.
"... It is believed that the tragedy occurred as a result of engine problems and the vessel ended up in the cays of Abaco.
"We are saddened by this terrible loss. We know that an incident of  this kind has happened before in Abaco. But it was never to this magnitude where so many lives were lost..."
Hours before NEMA's statement Pope Francis sent "affectionate thoughts" to the Haitian people and relatives of those who died in the Abaco tragedy as he ended his General Audience in Vatican City.
As Roman Catholicism is the official religion of Haiti, the Pope recognised the tragedy and asked parishioners to join him in prayer for the victims.
"Last Saturday, near the Bahamas archipelago, a boat sank, carrying dozens of migrants from Haiti in search of hope and a peaceful future. My affectionate thoughts go out to the families who are in pain, as well as to the Haitian people affected by this new tragedy. I invite you to join me in praying for those who have tragically lost their lives and for the wounded," he told the thousands gathered in the Paul VI Hall.
The Pope's remarks came as National Security Minister Marvin Dames called human smuggling and trafficking "grotesque" acts.
He said boat captains and others who facilitate these "terrible" acts are greedy and should receive whatever the law has to offer for these kinds of offences.
"Smuggling and trafficking in human beings is grotesque, it's terrible and these are just greedy individuals who care nothing more than to put a few dollars in their pockets, you see what happened," Mr Dames said when he was asked to respond to calls from some in the general public for the boat captain to face charges over the deaths of the Haitians who drowned when the boat they were on struck a reef last Friday.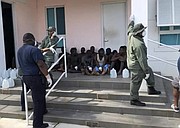 "They don't care, they put people's lives at risk and they ought to get whatever the law has to give to them," Mr Dames said. "This is sad very sad."
While the incident highlights the dangers of the journey from Haiti to the Bahamas and other areas, it also raised questions about the Sandy Bottom Project's functionality, according to Progressive Liberal Party Leader Philip "Brave" Davis on Tuesday.
Mr Dames was asked to respond to Mr Davis yesterday outside the House of Assembly.
The Royal Bahamas Defence Force project was commissioned under the Christie administration and cost taxpayers $232m.
Mr Dames said: "It hasn't been successful to this point, (well) I shouldn't say hasn't been successful because when we came in we met a mess.
"Where do you want me start from? It was a total mess. We had to work assiduously to bring it to some semblance of order. Do you want me to give you the run down on the mess that we met?
"We still have vessels that have to leave Nassau, travel south and when they run low on fuel guess where they have to go? They have to come back to Nassau. That's the Sandy Bottom Project that we met. That's one of the mess that we met when we came into power.
"We still have vessels down at the (Royal Bahamas) Defence Force base where the Bahamian people's monies have been invested and there is no shore power.
"This is when you invest in something and there is no foresight as it relates to planning so we spend on average $10,000 a month to provide fuel to keep those boats powered while they are at the base. So you can imagine the wear and tear that it is putting on those vessels. Now we have to find close to $400,000 to correct that problem. Do you want me to go on?
"Investing and taking on projects is one thing but having some concept as to how you plan and prepare to accommodate is another thing.
"You could imagine, these big vessels they are out there and these officers are engaged in operations they run low on fuel they have to come back to Nassau. That's the kind of mismanagement and convoluted planning that went around.
"I can go on and on and on but we are beyond that point now. We have to fix what we met in place and we are doing a good job at it. We have to ensure that when we spend people's monies that we're spending it wisely and that every dollar counts. This is what this government is seeking to do."
President of the League of Haitian Pastors Jean Paul Charles told The Tribune on Tuesday the bodies of the dead are in the process of being turned over to the Haitian Embassy in Nassau and the league.
There are plans in the works to bury them on Sunday, he said.