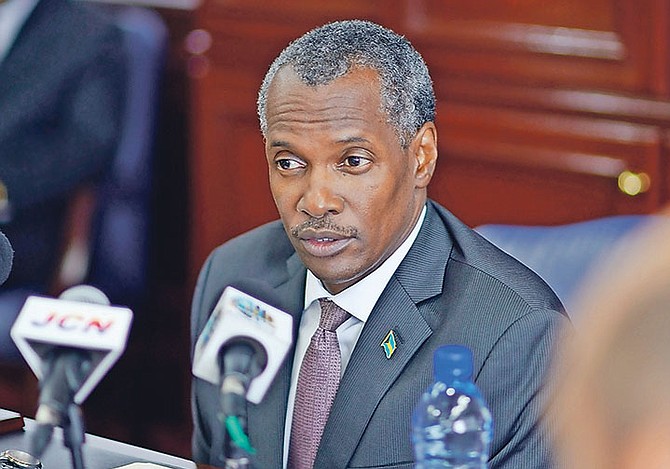 By KHRISNA RUSSELL
Deputy Chief Reporter
krussell@tribunemedia.net
THE government yesterday passed amendments to the Road Act giving it teeth to clamp down on utility companies that have been lax in restoring public roads to an acceptable standard.
Works Minister Desmond Bannister said such companies will now also be held responsible for injuries or damage caused as a result of their actions. In its original form, the Act allowed a fine of $75 for cutting into the road and similar acts. However, the new change if passed in the Senate will increase the fine to $10,000, an increase of 13,233 percent.
The fine has also increased to $10,000 from $75 in instances where the minister restricts the use of a particular road or specifies certain maximum speeds where there are safety concerns for a particular thoroughfare.
The same hefty fine will apply where there are obstructions to public roads, but an additional $5,000 will be enforced for every day the nuisance continues.
Mr Bannister moved the amendments in the House yesterday, telling members  he recently saw infractions in two Family Islands that would warrant the new fine.
He placed much of the blame for the country's pothole problem on utilities that cut into the roads but do not restore them back to their original state.
"I want the utilities to know of their vicarious liability for the actions of their service from independent contractors," Mr Bannister told Parliament.
"Mr Speaker, this is a welcomed amendment because, as I have indicated, utilities have by and large been too lax in restoring roads properly. This amendment will bite them in the pocket book if they are lax and will ensure that they pay attention to the safety needs of road users."
Mr Bannister said no matter the material from which a road is constructed, overtime it will require maintenance and at times requires reconstruction.
But this, he said is exacerbated when roads are cut into or weakened, which Mr Bannister said was the driving force behind the amendments.
"So, for example, utility companies have to cut trenches to affect new installation or repair existing installation and consequently the majority of the potholes, which form in our roads are the result of poor trench reinstatement practices.
"Majority of them are caused by people who cut into the roads for good purposes and don't restore them properly. As a result of these challenges, my ministry has created a pothole hotline which is monitored by dedicated officers who have been able to respond quickly to hundreds of calls complaining of potholes.
"For the benefit of those who have not recorded the number of the pothole What'sApp line the number is 376-0939. Nobody should be calling the minister about potholes. Send it to our What'sApp line and you will get urgent and immediate response
"My ministry has also developed an updated standard specification for the reinstatement of trenches and training courses will shortly be held for all utility companies for the in house work crews and those contractors who are hired by utility companies. Certificates of completion will be coming at the end of the training and persons who have not obtained such a certificate will not be granted approval to undertake work on public roads."
Mr Bannister said there will be a lengthy list of changes to the Road Act which will hold road users responsible for their actions, allowing the government to better tend to the roughly 800 miles of road in New Providence and those all over the Family Islands.
"Section Seven of the current act gives the minister authority to make regulations or to post notices imposing restrictions on the use of roads. So the minister has the power to prohibit the passage of certain categories of vehicle or vehicles in excess of a particular weight or to restrict vehicles on that road to a maximum speed which is less than the maximum speed that is posted in the Road Traffic Act," Mr Bannister.
"When someone contravenes such regulations, a notice or the notice of fine is currently $75 so you see why people do it with impunity. We all appreciate that where the minister restricts the use of a particular road or provides for certain maximum speeds on that road, there must be safety concerns so a fine of $75 is totally inadequate. This amendment increases that fine to $10,000.
"So where persons wantonly disregard such notices they will now be required to pay a sum to ensure they will not repeat the offence.
"I want to emphasis that where the minister posts a notice and that notice is disregarded the fine now will be $10,000.
"Section nine of the act is directed at people who make excavations in or under the roads. Most often we find utilities cutting into the roads for any number of reasons and my colleagues at the various utilities companies know how annoyed I get. I go on any number of roads and they get calls from me when I drive around New Providence and see how people have just carelessly cut into the roads no concern for the motoring public and then leave the roads as they are. That's a huge concern."
He continued: "Most often we find the utilities cutting into the roads for any number of reasons. The law requires them to first obtain the consent of the minister but they don't do it because the fine for excavating a road without consent is only $75. Mr Speaker, this amendment does several things."
First it provides an application form in the schedule for anyone who wishes to excavate a road. This form must be completed and submitted with the prescribed fee for the minister's approval. The Ministry of Public Works will then issue a permit, which will give permission to excavate the road.
Mr Bannister said technical officers will review the applications and they will begin doing that as soon as this bill becomes law. Once they are satisfied that the proposed work can be carried out safely and in a timely manner that excavation permit will be issued upon payment of the prescribed fee.
There will also be mandatory trench reinstatement training for selected contractors who will be required to have completed a pre-qualification exercise.
Applicants will also be required to have their application certified by Bahamas Power and Light, Water and Sewerage, Cable Bahamas and Aliv confirming the utilities will mark out the existing services in the area of the proposed excavation. They also further required to will have a representative on site while the work is in progress.
Applicants must also have certification that the police are aware of the location and will assist as necessary to minimise any traffic disturbance.
"The second thing that this amendment does is that it creates consequences for anyone who excavates a road without permission or does not restore roads properly. We do that by increasing the fine for those offences from $75 to $10,000 and the person will also be liable to additional penalties that may be imposed by the minister.
"Thirdly, where someone does in fact excavate the road legally they must immediately and immediately means immediately, they must immediately after the work has been done and must restore the surface to the satisfaction of the minister. Until they have fully restored the road they must take all necessary precautions to prevent injury, damage or loss to any person using the roads.
"This provision is particularly important because people frequently write to the Ministry of Public works to seek compensation for damage to vehicles or injury caused by improper restoration," Mr Bannister said.
No one will be allowed to remove or cause or permit the removal of any sand earth or rock from the sea cost or any such place within in 100 feet of the sea at high water mark.
The current law says 20 yards, but the change will be amended to 100ft.
"To the unlawful excavation that I saw recently in Exuma and I was really disappointed in what I saw. And that cause for several challenges that we saw in Eleuthera will now face a fine of $10,000 instead of $75," Mr Bannister said.