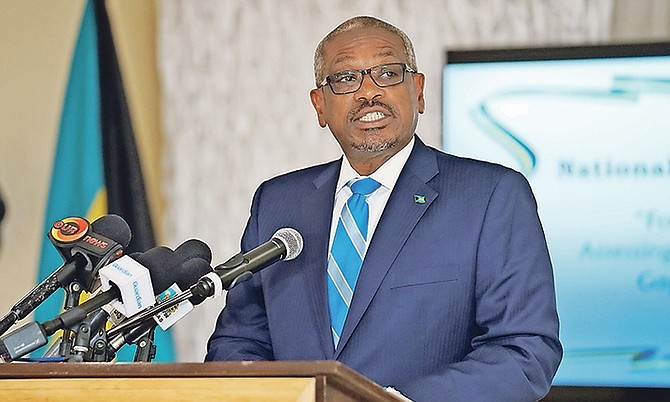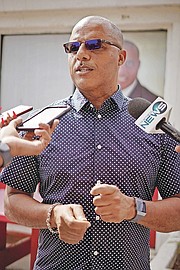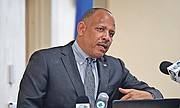 By DENISE MAYCOCK
Tribune Freeport Reporter
dmaycock@tribunemedia.net
Dr Hubert Minnis said he will address public calls for the removal of two Cabinet ministers involvedin the Frank Smith bribery and extortion trial tomorrow.
His comments came as Health Minister Dr Duane Sands broke his silence over the matter, calling for his resignation and called the Opposition's parliamentary boycott a desperate political ruse yesterday.
The Progressive Liberal Party has called for the resignation and/or firing of Dr Sands and National Security Minister Marvin Dames for their involvement in the case, now set for appeal.
"The PLP finds itself with a serious issue of credibility," Dr Sands told The Tribune. "They are seeking to revive history by pretending to be who they are not. And as much as the leader of the PLP would like to disassociate himself from their dismal record, he can't, because he was the Deputy Prime Minister.
Dr Sands said: "And so the Christie-Davis administration, unless they re-imagine themselves, re-define themselves, will remain and unpalatable option whether they wrap it up in pretty colors or pretend to have the interest of Bahamians at heart.
He continued: "They are operating under that pseudonym but they are neither progressive nor liberal, and they wouldn't understand those principals if they tripped over them.
Opposition members in both the upper and lower houses have boycotted parliament indefinitely over the matter.
Meanwhile, two backbench Free National Movement MPs have suggested there ought to be repercussions for Health Minister Dr Duane Sands and National Security Minister Marvin Dames' involvement in the matter.
When asked by reporters in Grand Bahama about his response to the repeated calls for their removal by the PLP, Dr Minnis said: "The PLP can ask for anything, that is their job. They are the opposition; they have to oppose everything with sense... somethings they say do not have sense. So for those who listen to us on Friday they will hear."
The prime minister is expected to address a special meeting in Grand Bahama at the party's headquarters on West Atlantic Drive on Friday.
The prime minister was also asked about claims made that the government was going after the PLP, particularly regarding the arrest of former deputy director of Urban Renewal Michelle Reckley of Grand Bahama.
Dr Minnis responded saying: "You are trying to commit to say things today that I am going to say on Friday."
Chief Magistrate Joyann Ferguson-Pratt acquitted and discharged Mr Smith of all 15 criminal charges after finding fault with numerous "inconsistencies" and "discrepancies" in the Crown's case, which she further said was "undermined" by its own witnesses.
In particular, the chief magistrate said there were "inherent inconsistencies" throughout the evidence of the virtual complainant in the matter, Barbara Hanna, and that her claims were "manifestly unreliable" and ran contrary to "reason and all common sense".
Chief Magistrate Ferguson-Pratt also criticised both Dr Duane Sands and Mr Dames for the "egregious" way in which they interacted with Mrs Hanna prior to a police investigation into her claims, charging that their conduct gave the appearance of a "political favour to a curious bystander".
In response to questions over his involvement in the trial yesterday, Dr Sands said: "I'm not going to comment on that, there would be absolutely no point in me commenting on it. As long as it's sub judice I'm not going to comment on it."
Last week, Centerville MP Reece Chipman and Golden Isles MP Vaughn Miller suggested Dr Sands and Mr Dames should face consequences for their involvement in events leading up to Frank Smith's bribery and extortion trial.
Mr Chipman told reporters outside the House of Assembly if the Westminster system is what the country follows then "what is good for one should be good for the other".
For his part, Mr Miller urged the government to treat the ministers the same as he and two others were treated according to the Westminster system, when they were fired for their stance against the government's decision to increase value added tax last year.