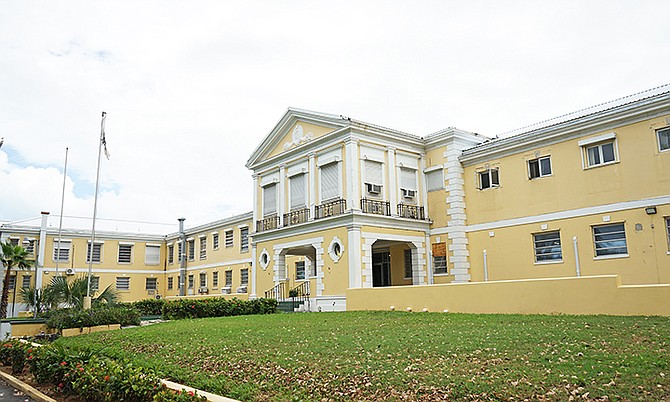 By RASHAD ROLLE
Tribune Staff Reporter
rrolle@tribunemedia.net
JOHNS Hopkins Medicine, one of the world's top medical institutions, has expressed interest in exploring the merits of a strategic "Nation Health Services Agreement" with the Bahamas government to create a Caribbean Centre of Excellence to transform the delivery of healthcare in our nation, said Health Minister Dr Duane Sands yesterday. 
Calling a possible partnership "exciting" - with the possibility of cross-training and educational opportunities, access to cutting edge treatment and public health collaboration with Johns Hopkins University School of Medicine, School of Nursing and Hopkins/Bloomberg School of Public Health - Dr Sands said consideration of the proposal is in the earliest stages, with an initial letter submitted a few weeks ago. 
"We have had site visitations, we've had discussions, we've had meetings but we are certainly not there yet," he said.
"We have ongoing discussions with several universities right now, major medical centres to hopefully ink a strategic relationship which does not surrender sovereignty, which does not surrender control but which allows us to significantly elevate the quality of care that we provide to Bahamians. This is very much in the early stages."
Dr Sands said a "rough analogy" of the possible partnership would be the Lynden Pindling International Airport, which is owned by the government, but operated by the Vantage Airport Group.
He said there is no timeline for the government to make a decision on the proposal.
"It requires review and digestion and discussion and consideration," he said.
"We have to agree at the level of the board, cabinet how we move forward. There are additional proposals for a medical school in Grand Bahama, so how does this align with that? Where do we see the University of The Bahamas going, dealing with the issue of training of nurses and other technical people for health?
"The holistic approach to the transformation of healthcare is certainly something we believe is critical. You have what seems like an outrageous idea on the face of it, but using the analogy (of LPIA), not a lot different from taking Nassau International Airport and transforming it into a world leader in terms of facility with the right strategic partner. I am sure there were naysayers who said we don't need that but in retrospect it has certainly been a win-win for The Bahamas. Whether we ultimately decide to go this road I can assure you it will be only after careful consideration of the implications and making sure we are maximising benefits for Bahamian patients and protecting individual professionals."
Johns Hopkins Hospital has partnerships with hospitals in many countries. At the Al Rahba Hospital in Abu Dhabi, for example, it manages day-to-day operations, provides oversight and engages in programme development for clinical services, education, training, human resources and capital equipment.
However, Dr Sands admitted consideration of a partnership with Johns Hopkins could be a contentious issue.
"You now have the same discussion about have we given up our patrimony, our birthright, have we surrendered our services to a foreign entity," he said.
"Bahamians can do this and I accept Bahamians can do this. The question is, as we look to improve our healthcare services, would we, might we, could we benefit from some strategic assistance from the world leader in the provision of healthcare services? They have done this in other countries where they have exported the Johns Hopkins brand with tremendous impact on the local community. I don't think we should sell ourselves short particularly as we look at the renovation and revitalisation of our city. Conceptually, it is a massive stretch for a lot of people. Baha Mar was a massive stretch for a lot of people. Atlantis was a massive stretch for a lot of people. Now you're watching Global Ports about to transform the waterfront, we're discussing novel approaches in Grand Bahama, a whole new approach to Exuma and Abaco and you cannot get around having excellent healthcare."
Dr Sands discussed the proposal against the backdrop of considerable improvements that have been made to PMH in the last year.
"You had gutted walls," he said. "There were holes in the roofs where you could look out the children's ward and see the sky. The imaging department was not there, the cat scanner was a disaster, the plain X-Rays were a disaster. You now see the generation of the business office, the Corey Newbold Ward has been redone, the maternity ward has been redone and we're about to do neo-natal and the newborn area."
PHA is preparing to begin renovations of the Accident & Emergency Department of the hospital. During the first phase, the front area of the A&E section will be redone, including the drive up onto Elizabeth Avenue. The department itself will be expanded by 50 percent, Dr Sands said.
"In the process of major renovations to accident and emergency," he said, "we're trying to create the next tower of the phased redevelopment of the Princess Margaret Hospital facility which would be a $160 to $180m project to be done through a public private partnership."
Improvements and sources of frustration
Robert Carron, deputy chairman of the Public Hospitals Authority and head of the strategic planning, infrastructure, redevelopment and PR sub-committee of the board, took reporters on a tour of PMH yesterday, highlighting improvements and continuing sources of frustration.
According to Mr Carron, considerable progress has been made by the hospital's managing director, Catherine Weech, deputy managing director, Lyrone Burrows; members of the PHA/PMH teams and various public/private partnerships to resolve years of "unconscionable neglect". He pointed to enhancements in the radiology department where a new CT scanner has been installed, bathrooms refurbished and an artificial sky ceiling installed to improve ambience of the place.
"Jackson Memorial Hospital in Miami is a state-owned facility, but it's called the Bascom Palmer Eye centre because the man donated the money and it's the best in the world," he said. "It's called the Ryder Trauma Centre because of all these benefactors. It's a private partnership. Sadly, when you have politics and all sorts of other special interests, you do not get what you wish to achieve."
Despite the improvements, Mr Carron noted the children's ward of the hospital remains closed and the laundry's operation is limited. During a tour of the former children's ward, which was badly affected by Hurricane Matthew, beds were untidily strewn around the rooms, the bathrooms were unkempt, the number of available beds for children are still well below former levels. Billing operations at the hospital remain problematic, Mr Carron explained.
"The receivables are between $400m to $800m," he said, "that means charges for applicable patients, those with private insurance, those with government insurance, tourists. We couldn't even issue a credit card to tourists. We have 11,000 tourist bills. If you send more patients here, we can't bill them," he said.
He said until the improvements are made to the hospital, national health insurance would not be feasible.
"At some point, you need a chicken to get an egg," he said. "NHI is all great, but don't you need a hospital and a hospital needs a roof? Otherwise you can't have any wards and if you have no wards, you can't have any beds. If you are going to have NHI and if you implement this, can you imagine what you will have if you have no capacity here? NHI needs to be delayed. This is not the time to be doing that."
Mr Carron suggested that it would be far more sensible to wait until the PMH's new billing and financial systems were in place so that accurate figures would be available, and modern vaccine legislation to govern their use, transportation, storage, and administration would have been enacted before the cost of VAT would be considered.