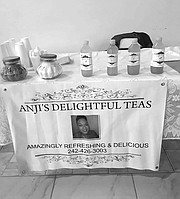 By ALESHA CADET
Tribune Features Reporter
acadet@tribunemedia.net
To find relief from a health condition which was increasingly making her life miserable, Angella Stuart turned to nature; her own backyard, to be exact.
There, she found all she needed to not only cure herself but to also launch a lucrative company selling home-grown, all-natural herbal teas.
For Angella, becoming a business owner was farthest thing from her mind. It was not until an inspiring conversation with a friend that she became motivated to use what she considers a gift from God to take on the path of on entrepreneur.
Angella initially became interested in tea making after she was diagnosed with acid reflux, also known as heartburn. In order for her to heal, she had to cut out all caffeinated drinks and sodas from her diet.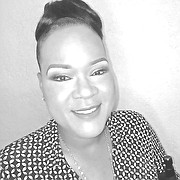 "I needed relief from the constant burning of my stomach, chest and vomiting. It was so bad, sometimes I felt like I was having a heart attack. The pain was unbearable at times. The last time I ended up in Doctors Hospital. I felt as if I was about to die, as the acid was running up and down my chest and oesophagus," said Angella told Tribune Health.
At this point, she knew something had to change in her life. She researched natural relief methods and soon came across the benefits of fever grass. Until this day, Angella swears by the herb, which also known as lemongrass.
"I have gotten relief and I am no longer on Nexium, the purple pill. I have not had a flair up in the last eight to nine years. In doing my research, I found that a lot of the trees in the Bahamas that we regard as bush or weeds, or as insignificant, are really the healing of the nation, as scripture dictates. So that's when I decided to share my healing experience with as many people as I can. All of my teas are loaded with health benefits – from healing common colds and flus to cancer-fighting agents, diabetes and energy boosters," said Angella.
At first she only made teas for herself and her friends and family, but with encouragement from Apostle Brenda Pratt, Angella took her passion to the next level. It has now been a year since she began selling her teas to the public under the Anji's Delightful Teas label.
The brand offers hot and iced herbal teas. Flavours range from fever grass to mango, passion fruit, Spanish thyme and ginger – all grown in Angella's backyard.
"It's been wonderful since launching. The responses from family, friends and strangers have been awesome...One of my clients calls my products the 'miracle tea', and they speak of how good it makes them feel," said Angella.
For those who are not usually no tea drinkers, Angella recommends trying the passion fruit with ginger tea, as it has a pleasant fruity flavour and can be consumed hot or cold. Anji's Delightful Teas can be found on Facebook and Instagram, or call 426-3003 or e-mail at anjidelighfulteas@gmail.com.