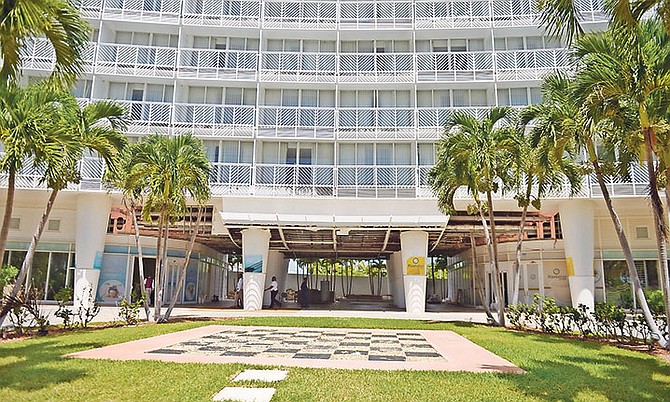 By MORGAN ADDERLEY
Tribune Staff Reporter
madderley@tribunemedia.net
PRIME Minister Dr Hubert Minnis yesterday addressed the Grand Lucayan severance pay dispute, saying his administration is "law-abiding" and will ensure those employees who are eligible will receive what they are entitled to.

Speaking to reporters on the sidelines of the 2019 Bahamas Business Outlook forum, Dr Minnis also admitted he has not been directly involved in the matter.

When asked about a possible meeting with Trade Union Congress President Obie Ferguson regarding the payout for Grand Lucayan managers, Dr Minnis replied: "With respect to (the) Our Lucaya (as the hotel was formerly known) payout, the laws are there. We will follow the laws. What individuals are entitled to, we will ensure that they receive their entitlements. We are a law-abiding government."
When pressed on whether he will meet with Mr Ferguson regarding the matter, the prime minister told the press his representatives know their responsibilities.
"I have not been dealing with that matter personally. But those who represent me know that they're supposed to follow the laws."
The Grand Lucayan resort and its management union have an ongoing dispute over the value of voluntary separation packages.
Two hundred and twenty-seven workers — 90 mangers and 137 line staff— have applied for voluntary separation packages (VSEPs).
Last month Mr Ferguson, who is acting for the Bahamas Hotel Managerial Association (BHMA) in its negotiations with the hotel's government-appointed board, said different legal interpretations may have contributed to the divide between the two sides over how much is due to middle management staff wishing to exit.
He also said the Grand Lucayan is "hell bent" on using the wrong formula to calculate staff operation packages for middle managers.
Warning that the union will not compromise on this issue, the TUC president said it had nevertheless made concessions in other areas that had slashed the value of its compensation demands by more than $1m.
Mr Ferguson said this had cut the total value of the BHMA's desired package from an initial $5.4m to "roughly about $4m", with the association also willing to work out a deal for essential workers who wanted to leave to stay on temporarily so that the Grand Lucayan was "not left high and dry" on guest service.
However, Michael Scott has argued that the BHMA was feigning reasonableness" by suggesting it had reduced its VSEP payout demands by $1m when its opening $5.4m offer was "absurd from inception".
Mr Scott is chairman of Lucayan Renewal Holdings, the government-owned special purpose vehicle (SPV) that controls the resort until a buyer is found.