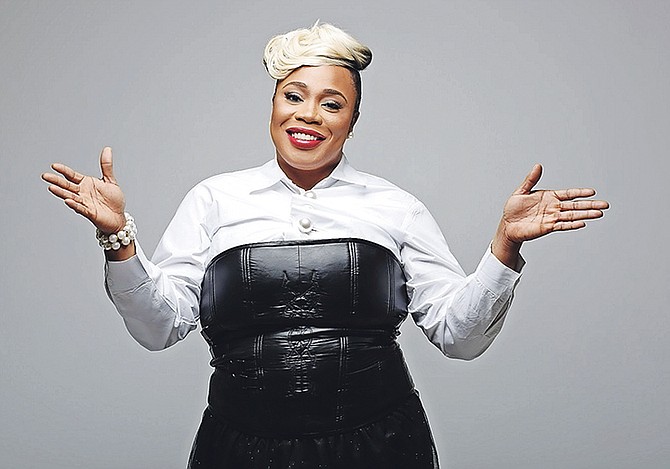 Marketing guru Eldri Ferguson-Mackey knew it would take more than sheer determination and fortitude to get ahead in the male-dominated world of telecommunications. So, for more than a decade she has given it her all – she worked harder, smarter and longer hours than most around her. And she did with a smile on her face.
That work ethic and her innate ability to think and plan ahead for the next step paid off. She climbed the corporate ladder, impressing new bosses as she had older ones at the former Bahamas Telecommunications Corporation as it transitioned from state-owned monopoly to the privately-held competitor that is BTC.
Eldri was not just the go-to person for customers, vendors and suppliers, she was becoming one of the most sought-after top executives in the Bahamas, at one point managing a marketing portfolio of over $11 million.
"I was as loyal as you could be," she said of her old employer. "I never considered another offer. I did what I did because I was emotionally vested and passionate about my craft. I also knew that when it was time to move on it would not be for someone else, it would be for me—I'd be my own boss."
That is precisely they path she took. And she's doing it her way, becoming a partner in the award-winning public relations firm Diane Phillips & Associates (DP&A) where she is already demonstrating her communications and marketing skills.
"Eldri is a wonder. She's a bundle of highly disciplined energy and intelligence. I am already getting used to her 2am e-mails with a marketing plan laid out for a client we just met with that day," said Mrs Phillips.
Along her way to the top, Eldri managed to marry, give birth to a boy who is now four, and never miss a step.
"I can be a career woman and executive with my eyes closed because it fits with my DNA," she said. "I've admired the work produced by Diane Phillips & Associates for years and knew that the firm would be a good fit, but I wanted partial ownership and was delighted when the two partners, Di (Phillips) and Alex (Dorsett), welcomed the idea."
This time, Eldri is employing her skills as master of the transition inwardly, re-branding herself and paving the way forward where her creativity and drive will be the "ca-ching" in her cash register.
Throughout her communications career, starting as a research intern with the Pan American Health Organisation, later as a contractor at NASA, then taking a senior position at a top public health research firm in Virginia, she has helped shape brands but never with more national impact than in her last 12 years, as an industry lead and female icon in telecoms marketing.
Conquering a man's world
Eldri takes pride in having made a difference in what is still largely a man's world in telecommunications, helping to lead industry innovation and change conversations.
Mastering the dynamics of the telecommunications landscape, she empowered others. She not only charted change through new technological advancements, but she embraced teams and empowered people, making her work even more impactful. Managing huge portfolios in communications, marketing, customer service, research and business intelligence, she is often referred to as a marketing powerhouse. Notwithstanding her accomplishments, she wants the partnership at DP&A to provide room for her to focus on what she's most passionate about—marketing and communications; shaping brands, personal and corporate imaging and strategic marketing.
Every experience along the way has prepared her for this move. The climb to the top in the "boys club" of the corporate world has been challenging.
"Whether they admit to it or not, there is this boys club culture in some corporations," she said. "That puts extra pressure on women, especially if the male at the top is insecure or ego-challenged. A misplaced tonal slip and the woman can be seen as an angry or aggressive where the same behaviours in a man is hailed as assertiveness."
Transitioning to a new life
Now as she moves from being a corporate giant to a more exclusive and customised offering, she said one thing is important to her in this shift—family.
"There are days that I have to consciously ask myself how much time have I spent with my family," she said. "I have to make a mental schedule and stick to it because when I'm on a project I can become so laser-focused on finishing, that I will block everything else out."
If it sounds like a balancing act, and that's because it is one. But she has a secret that works for her and it's her own little miracle—her son.
"If I ever lose focus, I remind myself how God saw fit to bless me with him," said Eldri.
Her son born two months early, barely weighing two pounds. Her love, she said, was wrapped up in a bundle that weighed just about the same as a Bible.
"His birth and the memories surrounding his birth bring everything back into perspective for me," she added.
Her other evolution—from a world of corporate challenges to one of personal consultations—may be a bit easier compared to balancing motherhood and marriage. But moving back to a more personalised setting is something she prefers. In fact, fresh out of college she started as a consultant.
"I've also always been disciplined and never had an issue with time management, setting priorities and managing deliverables," she said. "My motivating statement has been for years: on time and on-budget."
Now this career woman is continuing her command of the conversion with her next move. And she's still going to be working just as hard as before.
"This is a new chapter of my life and I feel that everything has led me to this," she said.
So even though she's back where she started as a consultant, one thing that won't change is that she will be working twice as hard. The difference—now she is on a new journey as her own boss.