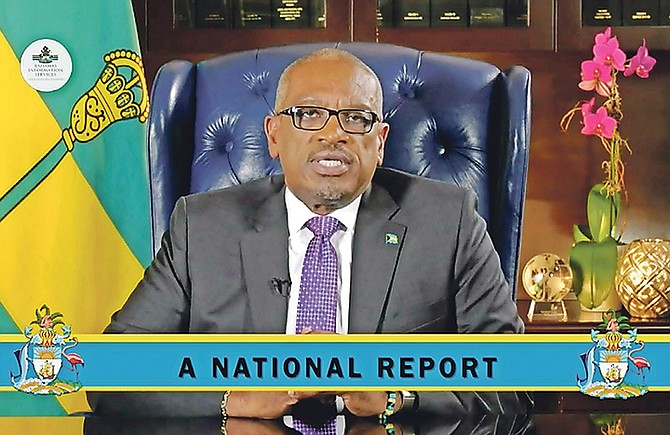 By RASHAD ROLLE
Tribune Staff Reporter
rrolle@tribunemedia.net
PRIME Minister Dr Hubert Minnis promised an aggressive job growth agenda last night during his first national address of the year.
He discussed tourism projects he hopes will arrest the high unemployment rate the country has experienced since the Great Recession. However he detailed little in terms of new policies and his address was largely a summary of projects previously revealed to the public along with data about the economy.
Dr Minnis said he will give two additional reports in the coming weeks that will focus on combatting crime, education, health care, housing and homeownership, the environment and climate change, energy reform and land reform.
Although the recent labour force survey showed unemployment increased from 10 percent to 10.7 percent from May to November 2018, Dr Minnis said the 6.7 percent decrease in discouraged workers is proof of the economy's increasing strength. 
"This indicates that more Bahamians have confidence in the country's economic recovery...more people are actively looking for work," he said. 
In New Providence, unemployment increased from 10 percent to 11 percent, according to the latest survey. 
To fight this, Dr Minnis highlighted several projects. These included the condominium hotel and marina at the Pointe which is expected to be completed next year, the $120 million Wynn Group condo-hotel project on West Bay Street, construction of which began last July, and the Sterling Hurricane Hole Community Resort and Marina, a $250 million development that promises to provide 3,000 construction jobs over the next five years and 500 full and part time jobs upon completion; a ground breaking ceremony was held for the project last week.
Dr Minnis also mentioned a Rose Island Community Resort and Marina but he did not provide details about the previously undisclosed project.
The prime minister said: "There are also a number of large-scale New Providence based Bahamian-owned tourism projects which include Paradise Island Lighthouse and Beach Club, Athol Island Entertainment Facility and the Heritage Tourism Project. The owners of the Heritage Tourism Project are a group of Bahamian businessmen. Their objective is upgrading and operating several historical sites, transforming them into major attractions for Bahamians and the international tourism market."
Dr Minnis highlighted the increasing strength of the tourism sector. According to the Ministry of Tourism, he said, air arrivals increased 16.5 percent through September 2018. Preliminary stopover numbers for the year through October 2018 was 1.33 million, he said, a 10.4 percent increase over the same period the year before. He said Expedia reported a 32 percent increase in room night sales for this country and a 22 percent increase in gross hotel bookings year-on-year for the period January through November.
"The outlook remains favourable for continued growth in air arrivals," he said, "with bookings for the first quarter of 2019 forecast to be ahead by 10.3 percent for international arrivals. International airlift capacity increased by almost 9.8 percent in December, with air seat capacity from the USA and Canada scheduled to increase by 21 percent and 19.9 percent respectively in the first quarter of this year."
Dr Minnis cited the International Monetary Fund's projections that the Bahamas economy would grow by 2.3 percent in 2018 and 2.1 percent in 2019.
"This is the first time in 12 years, and the first time since the Great Recession of 2008, that the Bahamas has enjoyed projected growth of more than two percent for two consecutive years," he said. "This is a milestone. But we need even more robust growth to bring down unemployment across the board."
Dr Minnis also said he has asked ministers to "address the unacceptable amount of time it takes for Bahamians and foreigners alike to open a bank account."
He said: "Yes, the know-your-customer rules are important. But just as important is that Bahamians should be able to go to a bank and open a bank account with little hassle once they have proper identification to prove who they are. Instead of finding excuses as to why it cannot happen, I want the Central Bank, the Ministry of Finance, the commercial banks and the private sector to tell me how it will happen."